Week Four in a Nutshell
'If you do something just for money, you'll never have enough' –Darina Allen
Yoohoo! Apologies for my lack of posts since last Monday. A lot has happened since my fritters! Let me start my giving you the best excuse ever for not posting this past week- my parents were in town! They arrived on Wednesday so between school and eating fabulous meals with them, the blog just had to wait.
Last week was another one that was jam packed (pun intended). Tuesday was lecture day which meant that we had Wednesday, Thursday and Friday in the kitchen. On Tuesday, Darina did a beef and lamb demonstration which had my mouth watering. You'll see why after looking at the pictures. Luckily the demo was in the morning which meant we got to eat everything she cooked for lunch!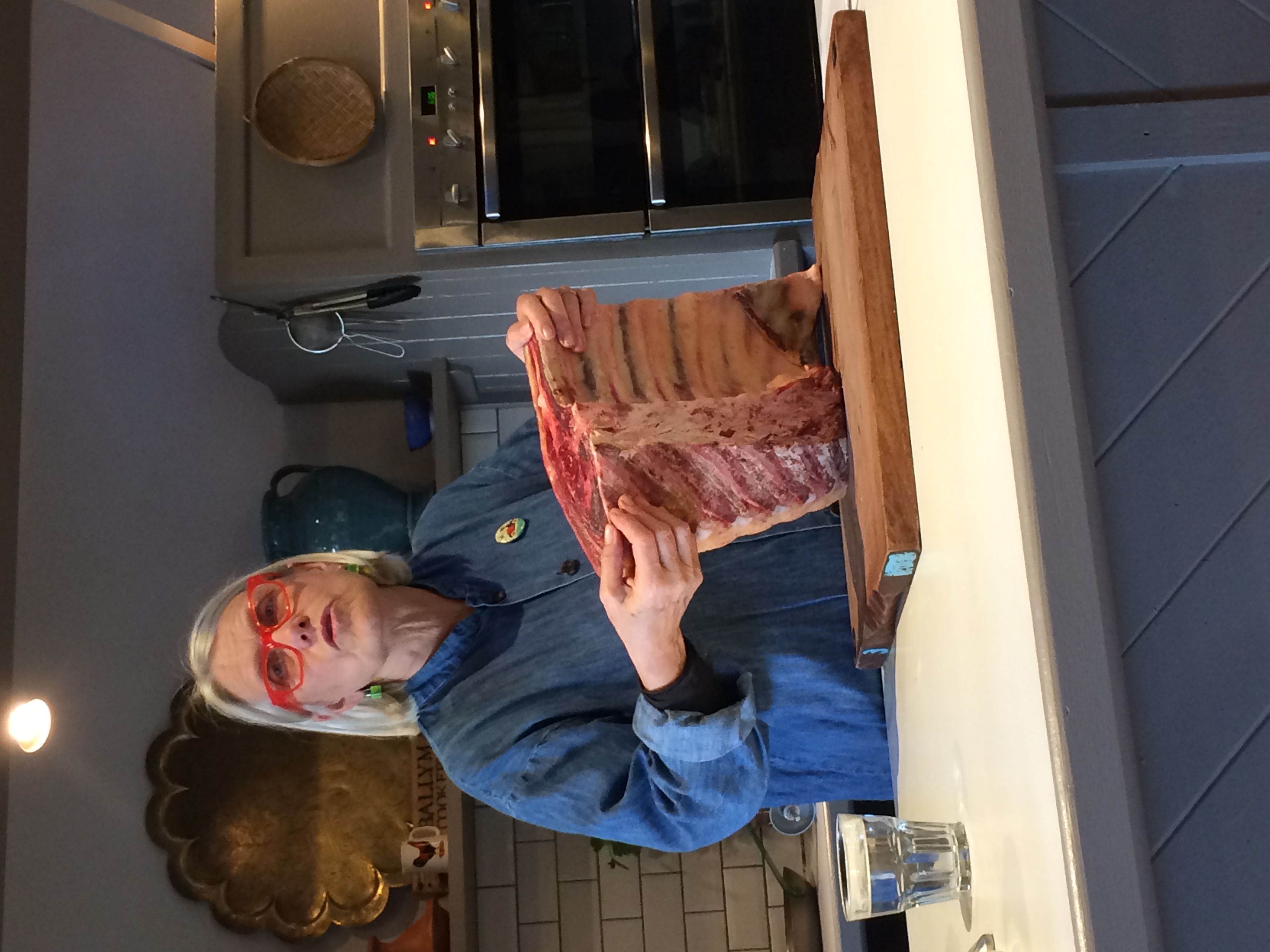 That afternoon Darina gave a lecture about menu planning and job opportunities. Ohhhh right…I have to get a job after this! Next topic.

Wednesday I cooked traditional roast chicken as well as a tomato granita with crab mayonnaise. The roast chicken was stuffed with an herb stuffing which gave it so much flavor and was super easy. A granita, if you're not familiar, is sort of like a sorbet but with a coarser texture. It can be made in a sorbetier but I did it the old fashioned way in the freezer. They recommended serving this as a starter or as a palette cleanser between your entrée and cheese course.

The demo on Wednesday afternoon was layer cakes. YES. I've been looking forward to this all week! Pam did the demonstration and it was fabulous. All the cakes were based around a traditional sponge cake recipe with a glace icing but there were several variations- lemon curd sponge cake, coffee sponge, chocolate sponge and orange sponge. Pam also announced that there would be a contest in each kitchen (there are 4) for the best layer cake. I am assigned to make the lemon curd- challenge accepted.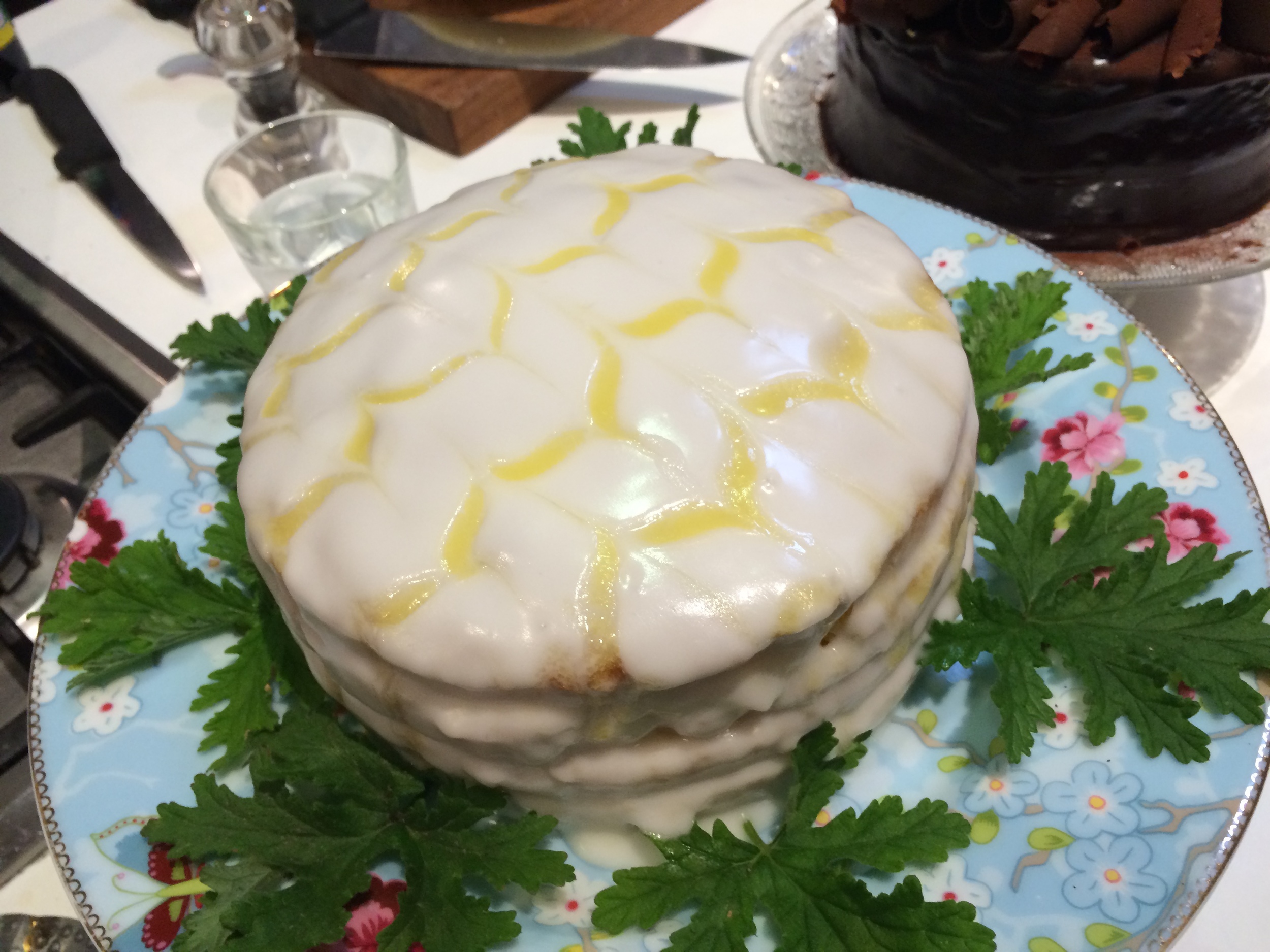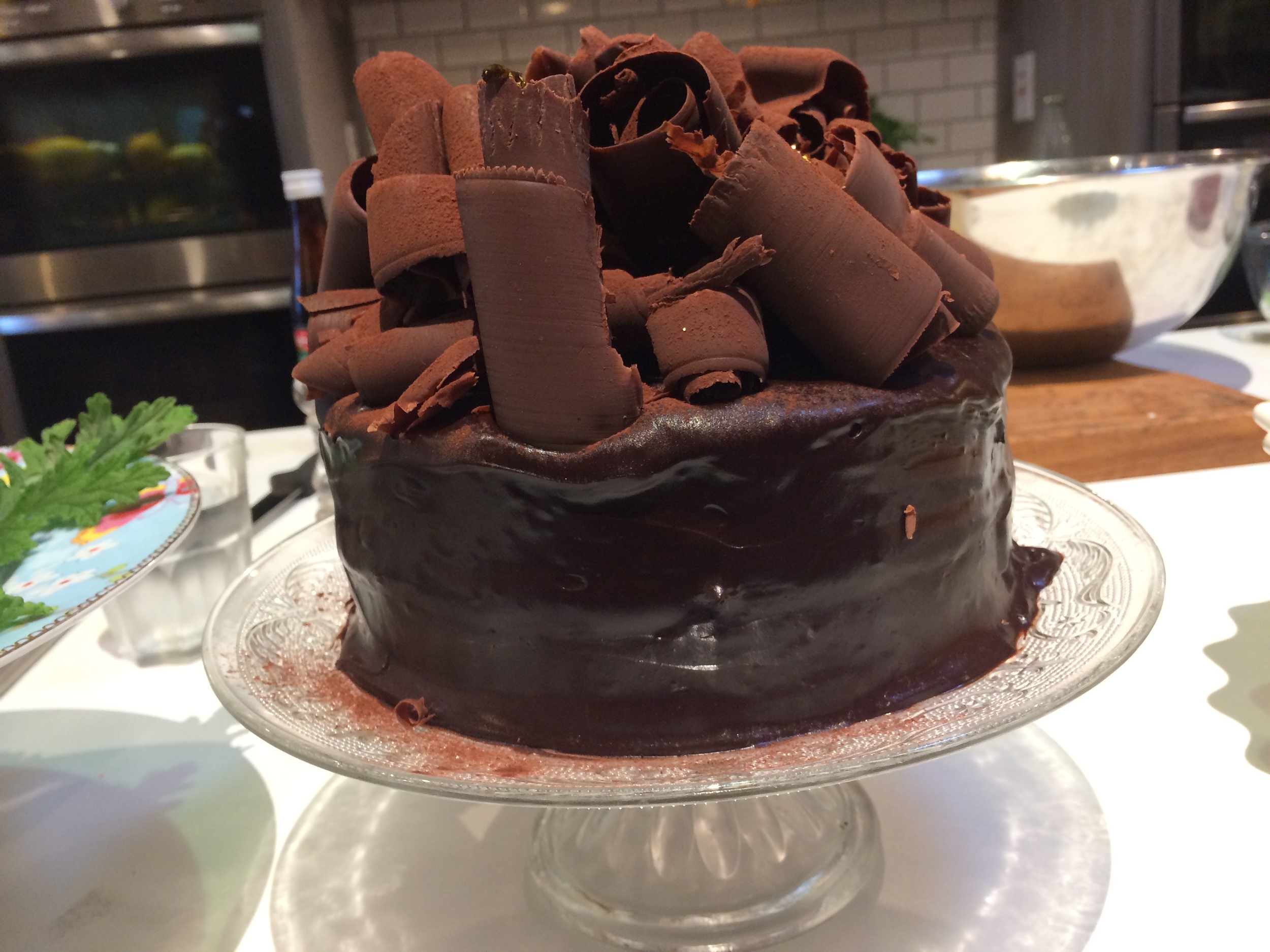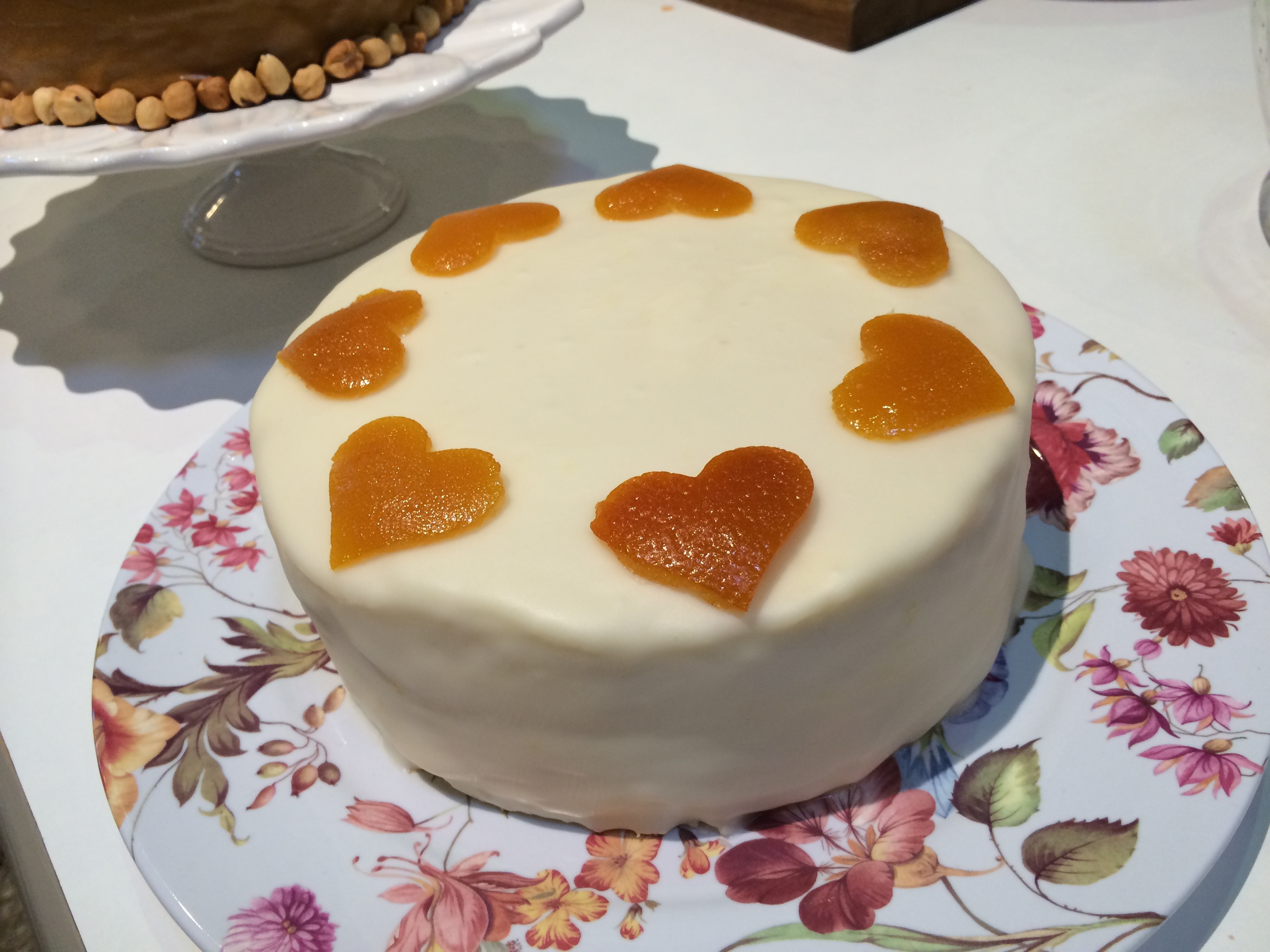 Thursday morning I arrived super early. Along with the cake I was also assigned to make butter, creamed kale and to start on a batch of strawberry jam (which takes 2 days). Welp, I got around to making half of that. This cake was quite a project but it was SO much fun to make. To make matters a bit more difficult, we don't use electric mixers to make the cakes…everything is done by hand. A major part of making the sponge cakes is having your butter appropriately creamed…not an easy task when the butter starts out cold. So once I got the sponge cake in the oven, I started on the lemon curd. While the cake and curd were cooling, I made both a buttercream frosting to line the sides of the cake and to use for decoration then I made a glace icing to go on top of the cake.
This really was a labor of love. But luckily, the final product turned out well AND I won the cake contest in my kitchen! This was the most exciting thing to happen to me in a long time. Luckily I had just enough time to start on my jam for the next day.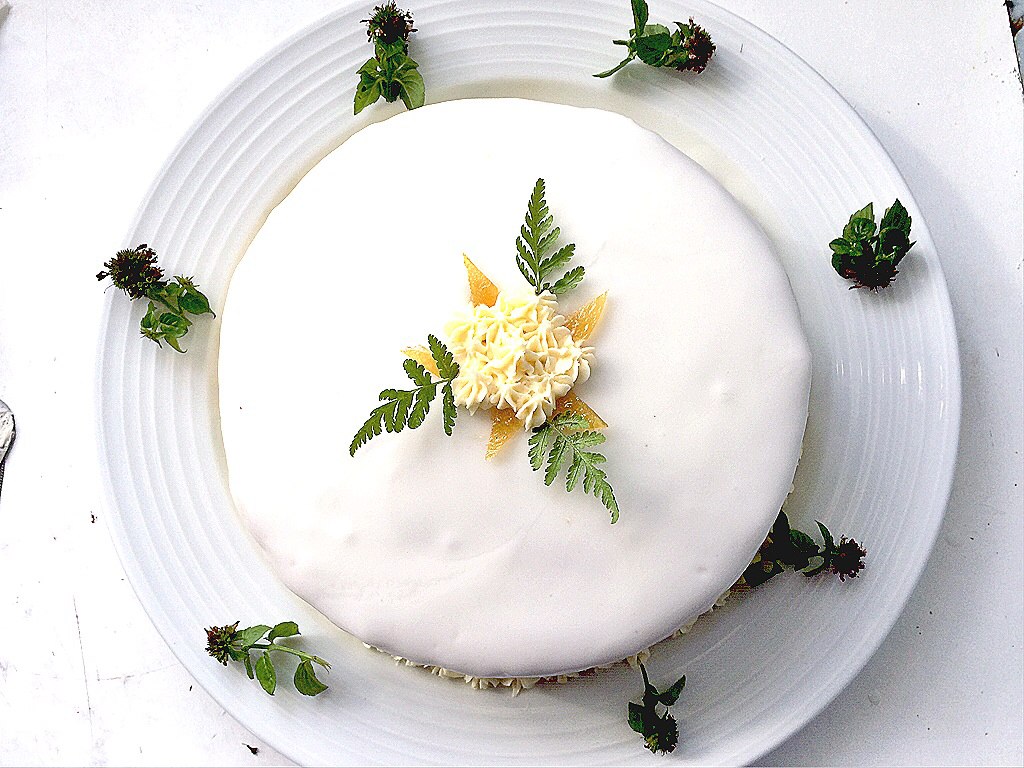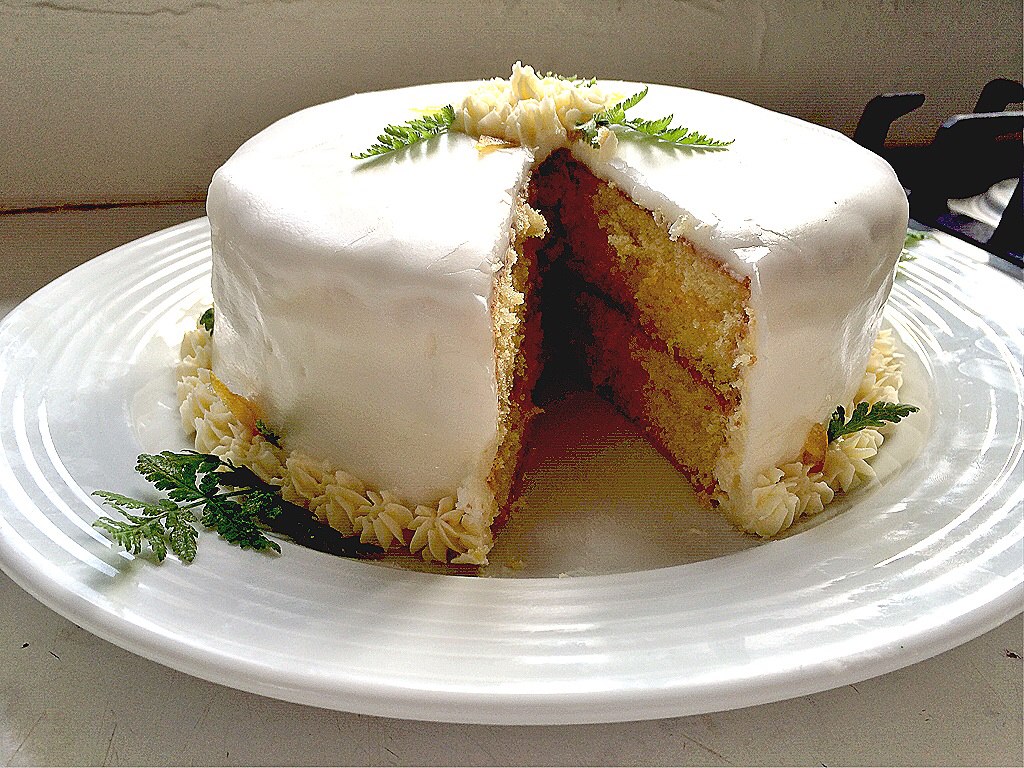 The afternoons lecture on Thursday focused on soups, apple tarts and bacon. The star of the show was definitely the bacon though. It was baked with brown sugar and cloves which gave it a super crispy crust on the outside and a really warming flavor. It was of course served up with some potatoes…what else?
Friday morning was more low key than Thursday which worked in my favor as I was still recovering from the cake making frenzy on Thursday and because I might have had a few too many glasses of wine the night before…maybe. I made brown soda bread, strawberry jam and cabbage soup.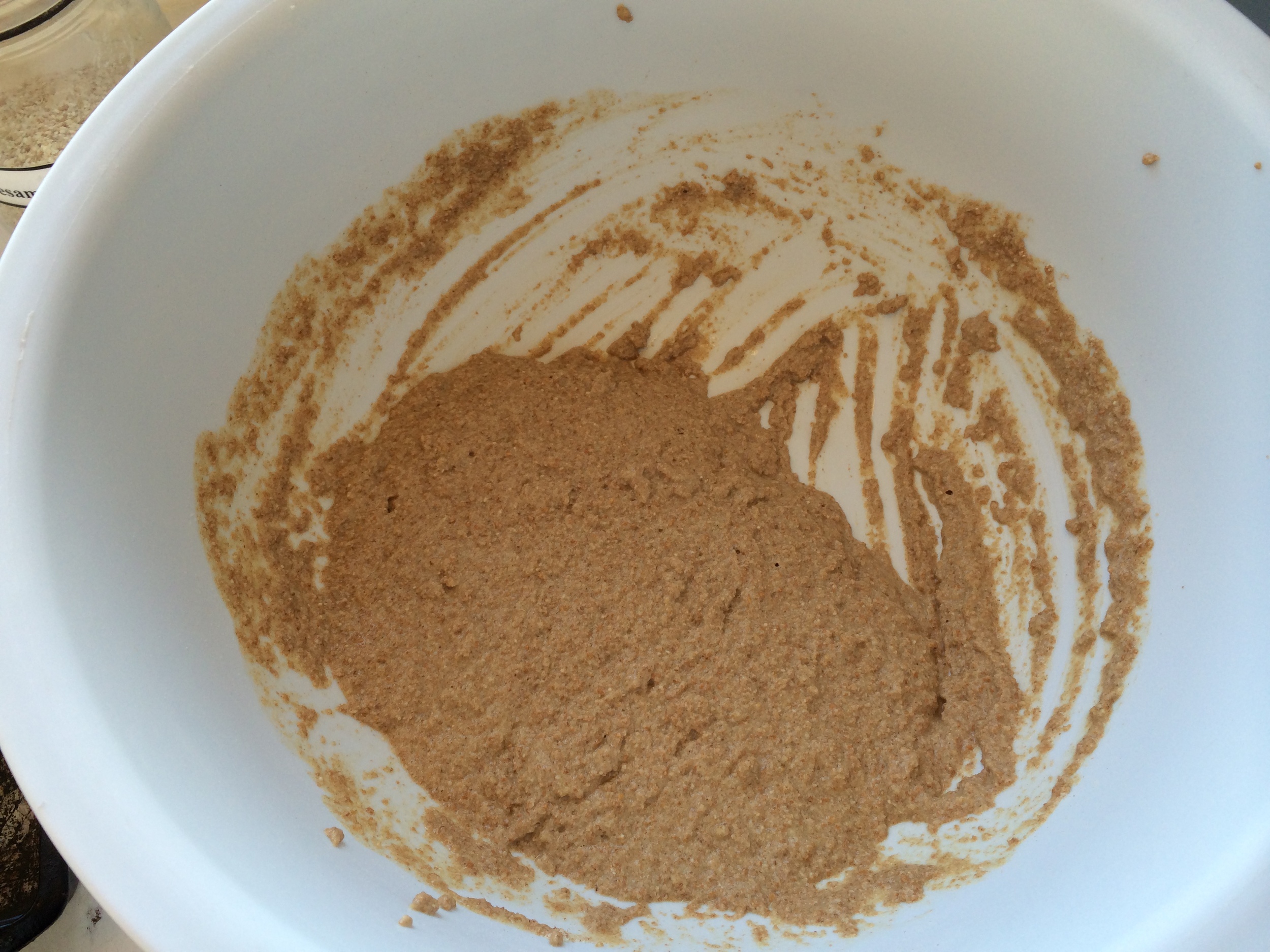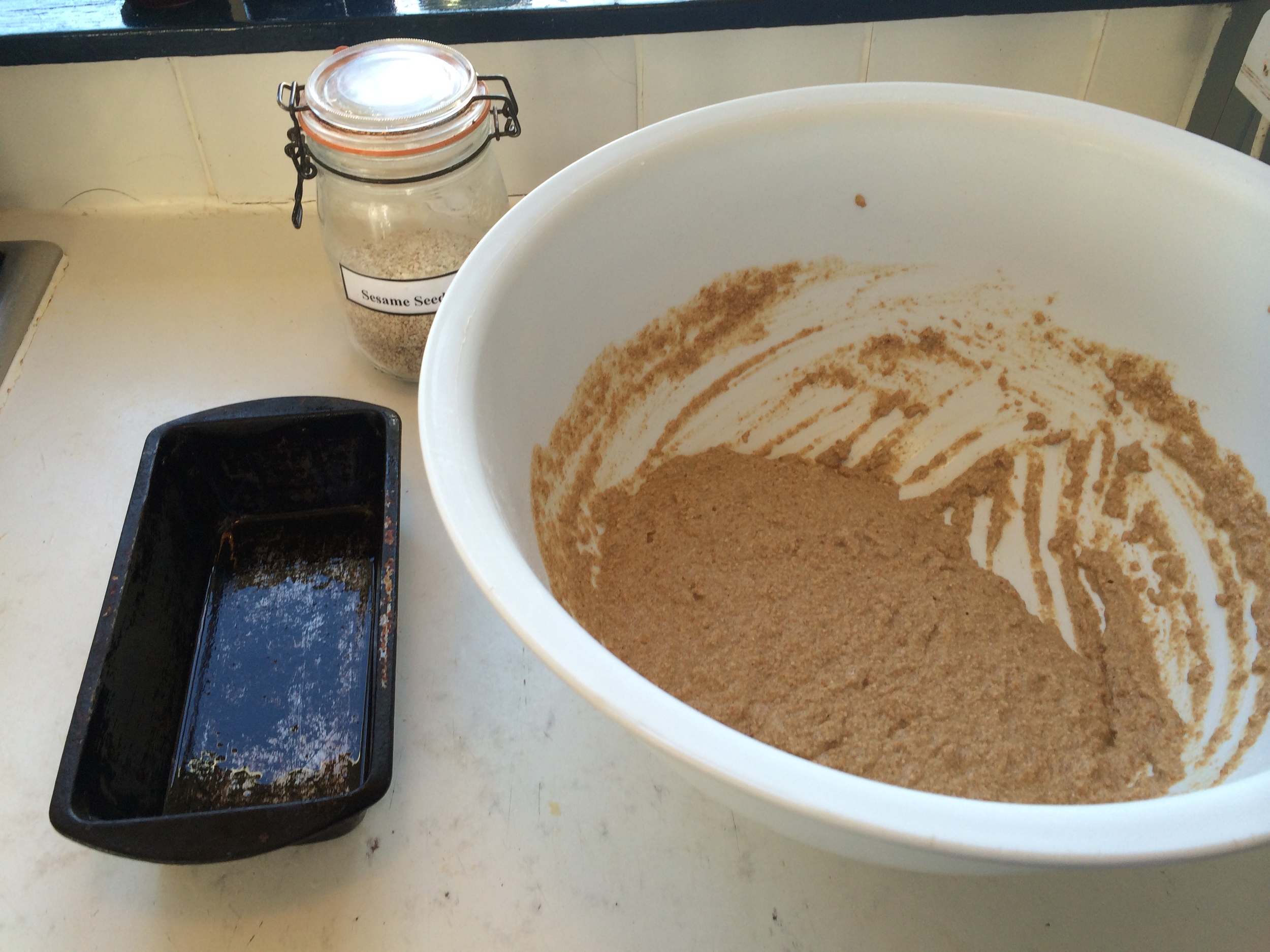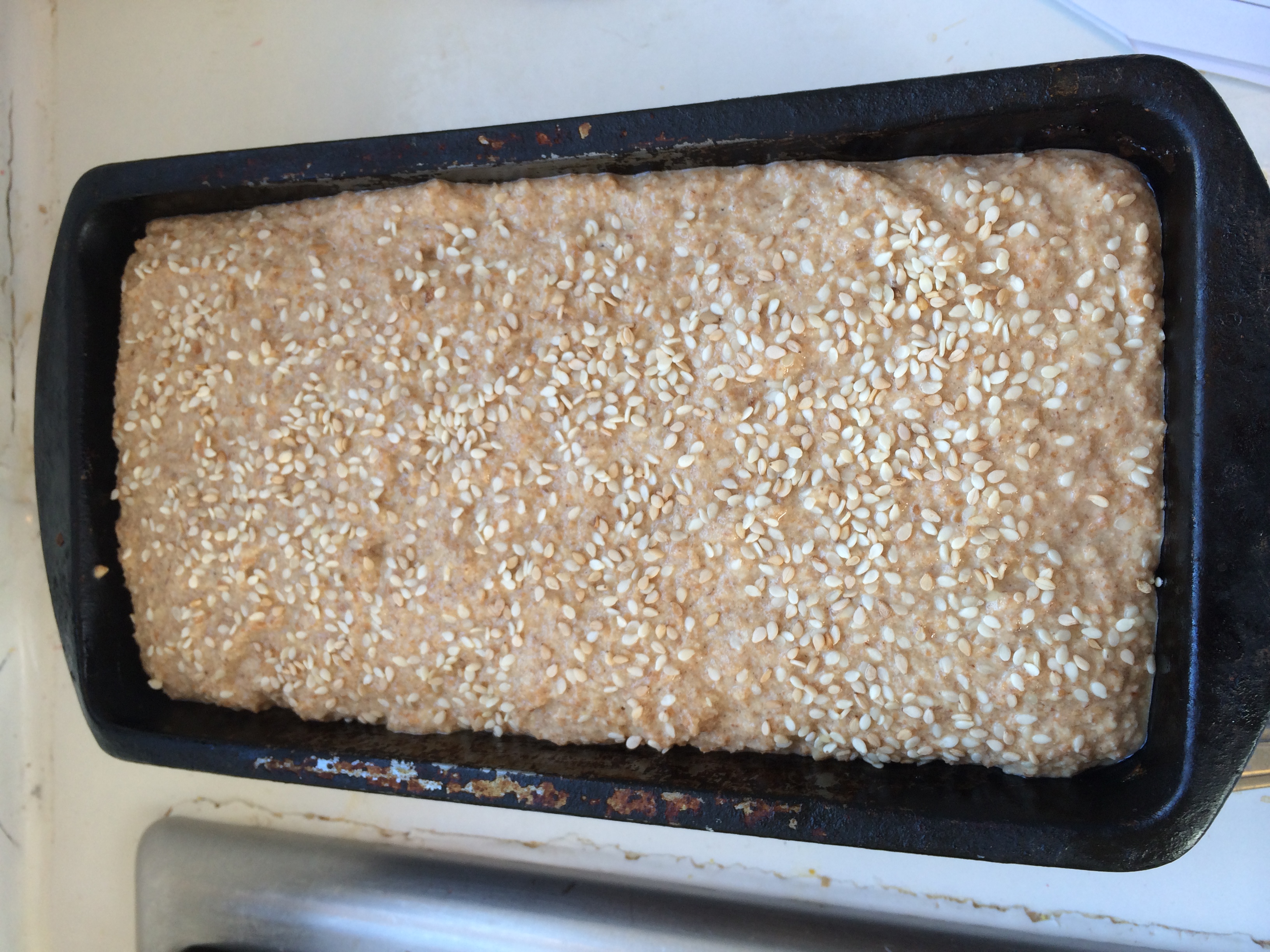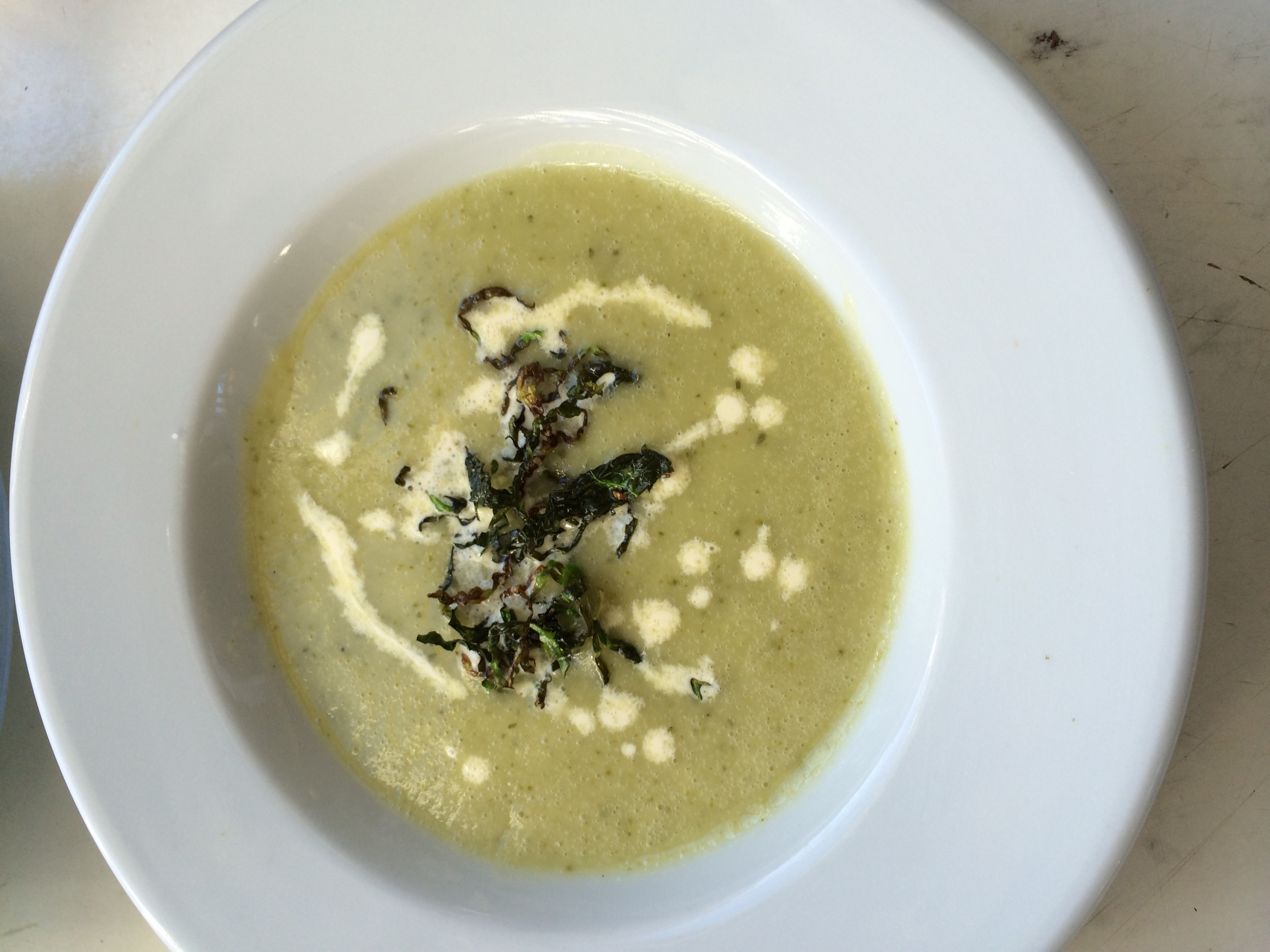 Rachel did the demo on Friday afternoon which was pretty amazing. Everything from fudge to rosewater marshmallows (l'amazing) to eclairs to stews to chili to fish filleting all in 3 hours. I'm sure I don't have to tell you that the eclairs were my favorite thing she made. Luckily I get to make them on Monday! Caramel eclairs and plaice goujons (aka fried fish)…the perfect combination.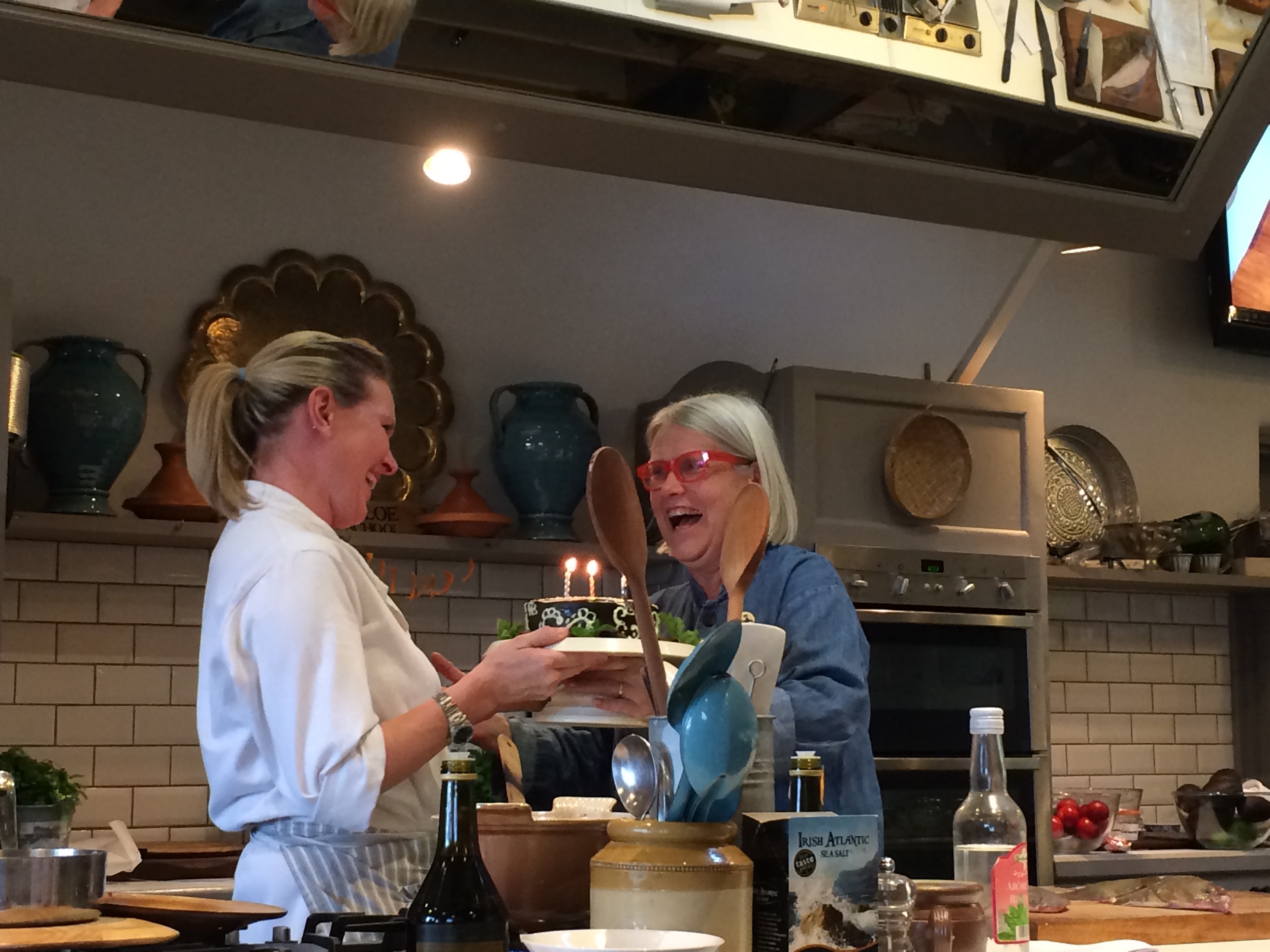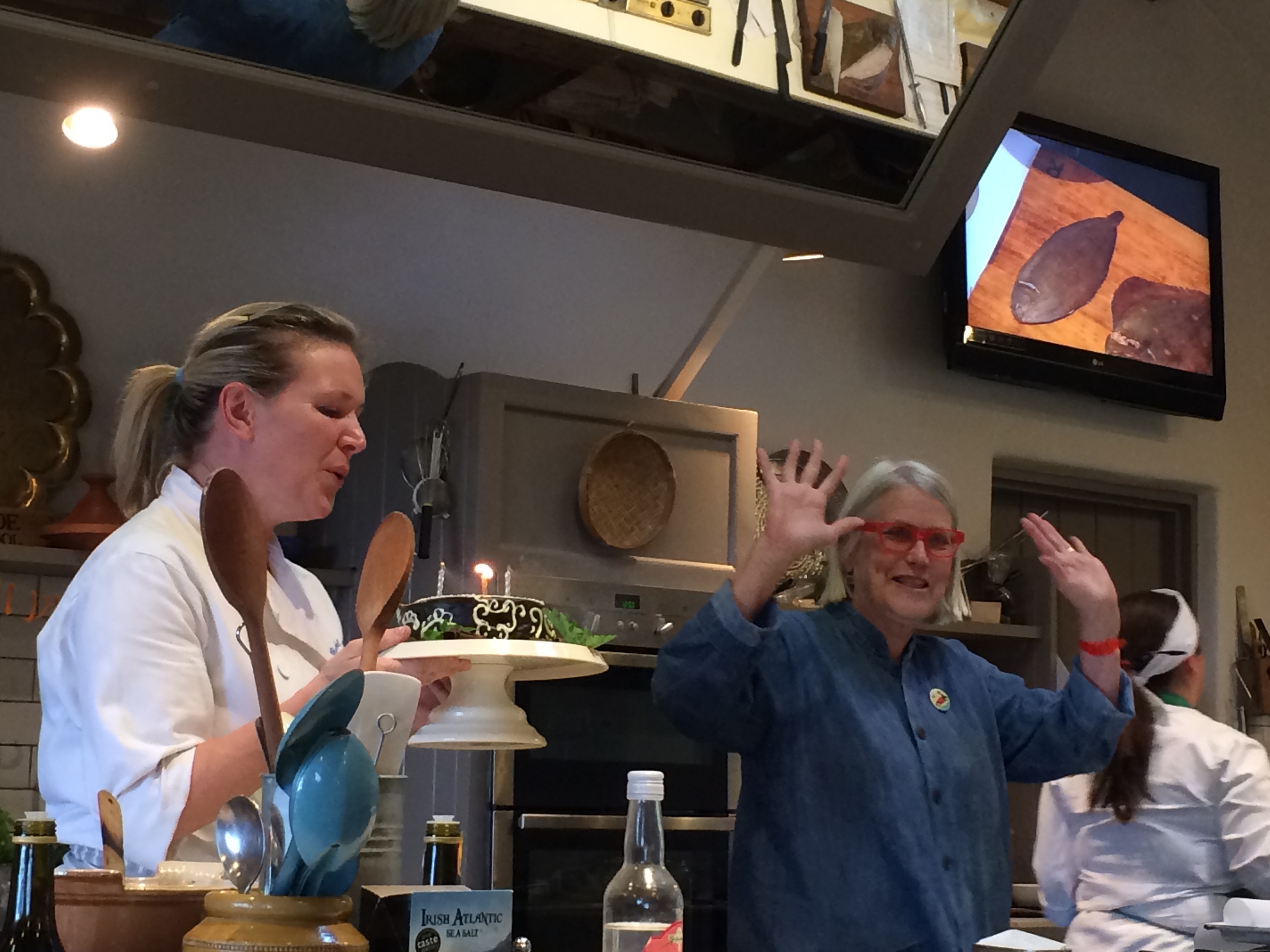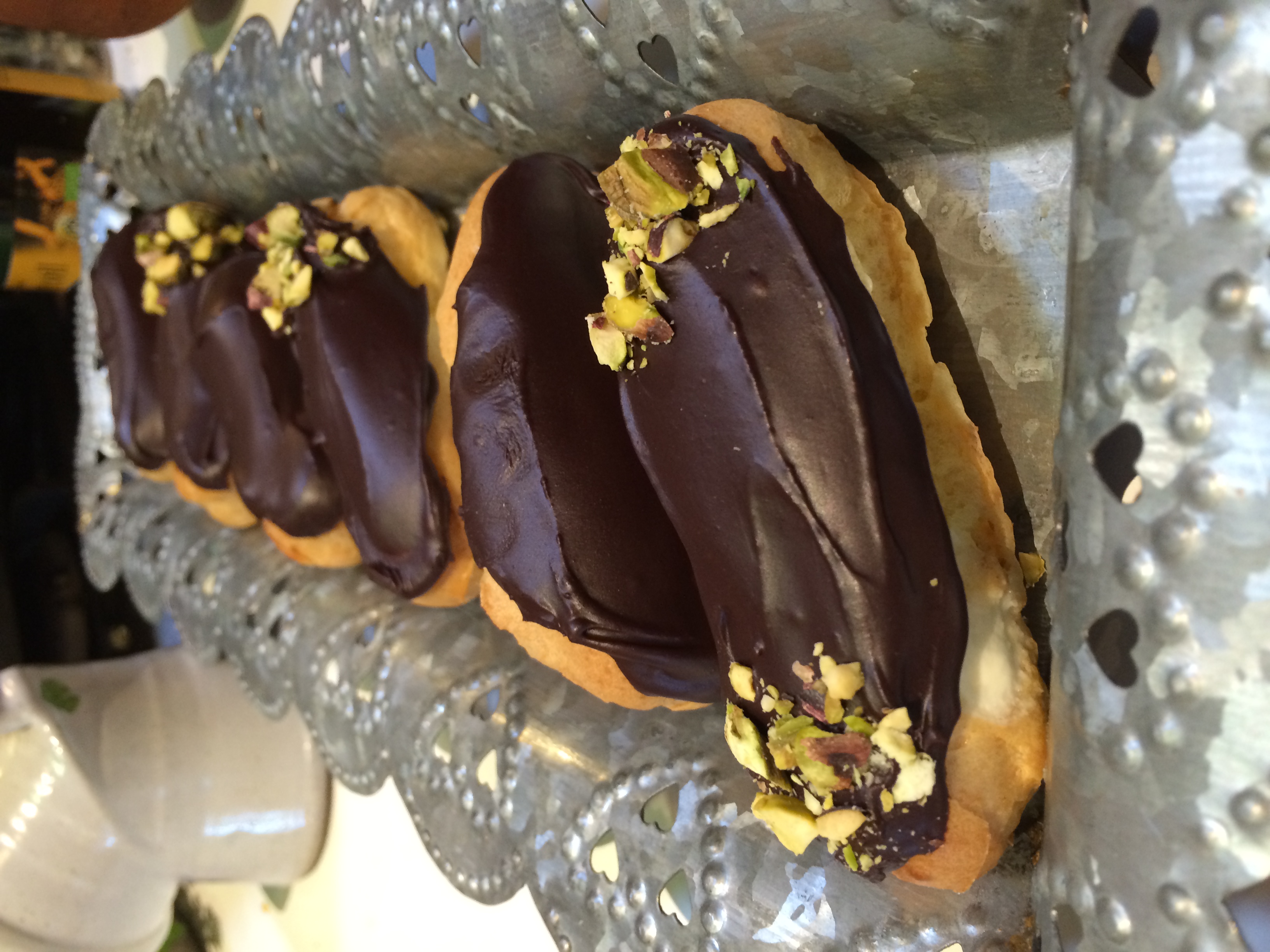 Well those were all the highlights from last week at the school! Stay tuned for a post about my adventures in Kilkenny and Dublin with my parents. Cheers!