Sherry, Tapas and Carrot Cake
Welcome to week 6! I can't believe this course is almost halfway over. I think everyone is starting to realize how quickly everything is going by and that before we know it we will be back in the real world. We have our midterm exam on Friday which consists of herb and salad leaf recognition and a technique exam. I'm feeling pretty confident but have a lot of reviewing to do before Friday. Luckily this coming weekend is a three day weekend so we are making plans this week to take a trip up to County Clare/Galway area. But first I have to get through week 6 :)
This week I am in the demo kitchen and it's so great. There are only 6 people in the kitchen and my friend Chloe is my partner. Pam is our teacher and she is very helpful and knowledgeable. She also keeps the kitchen fun and relaxed which is very helpful. Today I made French Peasant Soup along with a Country Apple Tart. The tart was very tricky because the shortcrust pastry was extremely buttery (aka short). So, while the crust was delicious, it is very crumbly so you have to be super careful. My pie turned out well in taste but honestly I wasn't super happy with the appearance.
And here is my French Peasant Soup. I decided to spice it up with a little pesto.
Tuesday morning I was assigned to make roasted casserole chicken with marjoram butter along with mushroom a la creme. I decided to make a batch of sweet scones as well to practice for the exam on Friday.
We had another fantastic Wednesday starting with my fave- wine lecture! We focused more closely on the wine regions of France today which was a good refresher. Bordeaux to Burgundy to Loire to Alsace to Rhone to Southern France (saving the best for last...Champagne!). We focused a lot on Rieslings and tried two delicious Rieslings from Alsace and Eden Valley in Australia so that we could see how different Rieslings can taste. It's a very common misconception that Riesling is always a sweet wine. Technically, most of the Rieslings that taste sweet on the palette are, in fact, dry wines, they are just categorized 'off dry' rather than sweet. Wines that are categorized as sweet are actually made using a slightly different method where the sugar level is increased. Back to Riesling though. I am a huge fan of Riesling and think it can be a really amazing compliment to food (think crab or a seafood starter) or great on its own. As I mentioned before, Rieslings will vary in their levels of dryness and sweetness but they are always citrus fruit dominated and high in acidity. Because of this, they would be a great wine to serve at the beginning of a cocktail or dinner party because the acidity will get your taste buds working and will make your guests hungry! Riesling is the dominant white grape grown in Alsace and that's no surprise given it's proximity to Germany, Rieslings homeland. Alsace Rieslings, however, tend to be richer and drier than their German counterpart. Alsace has an excellent climate for growing Riesling because of its proximity to the Vosges Mountains and actually has more Michelin star restaurants per capita than anywhere in the world. Raise your hand if Alsace just got added to your bucket list? Take me with you!
We spent the second half of the wine lecture talking about Sherry- a perfect pairing to the tapas lecture that was planned for Wednesday afternoon. A brief Sherry lesson for you. Sherry is a fortified wine made from white grapes grown in Andalusia, Spain. It differs from Port in that a neutral high alcohol grape spirit is added after fermentation is complete. There are various styles of Sherry ranging from a lighter Fino to a very robust Oloroso. There are also very sweet styles of Sherry such as Pedro Ximenez which has a sweet molasses like texture and is delicious served over vanilla ice cream. Sherry is actually a very trendy drink at the moment and is one of the most underpriced wines for its value on the market. I recommend trying one next time you go to a tapas bar-it's a really excellent pairing :) This brings me to my next topic...tapas!
Does anyone know where the word tapas came from? Allow me to enlighten you. Tapas means 'to cover' in Spanish. Years and years ago when people would sit outside in Southern Spain to enjoy their glass of Sherry, the wine would attract lots of fruit flies. So to solve the problem of getting a fly stuck in your delicious glass of Sherry, you would need something 'to cover' your glass which ended up being a slice of bread, a piece of chorizo...whatever worked! Thus, Tapas were born.
Darina taught the Tapas demo and talked about the fact that Ireland is one of the only countries in Europe where people drink just to drink and don't eat anything to accompany it. Yes...I've certainly found this to be true :) She made everything from quince paste and manchego crostini to octopus to spiced marcona almonds to chorizo to garlic shrimp to pimentos to patatas bravas...it was all so delicious and it was great to have a little glass of Sherry to compliment all the Tapas.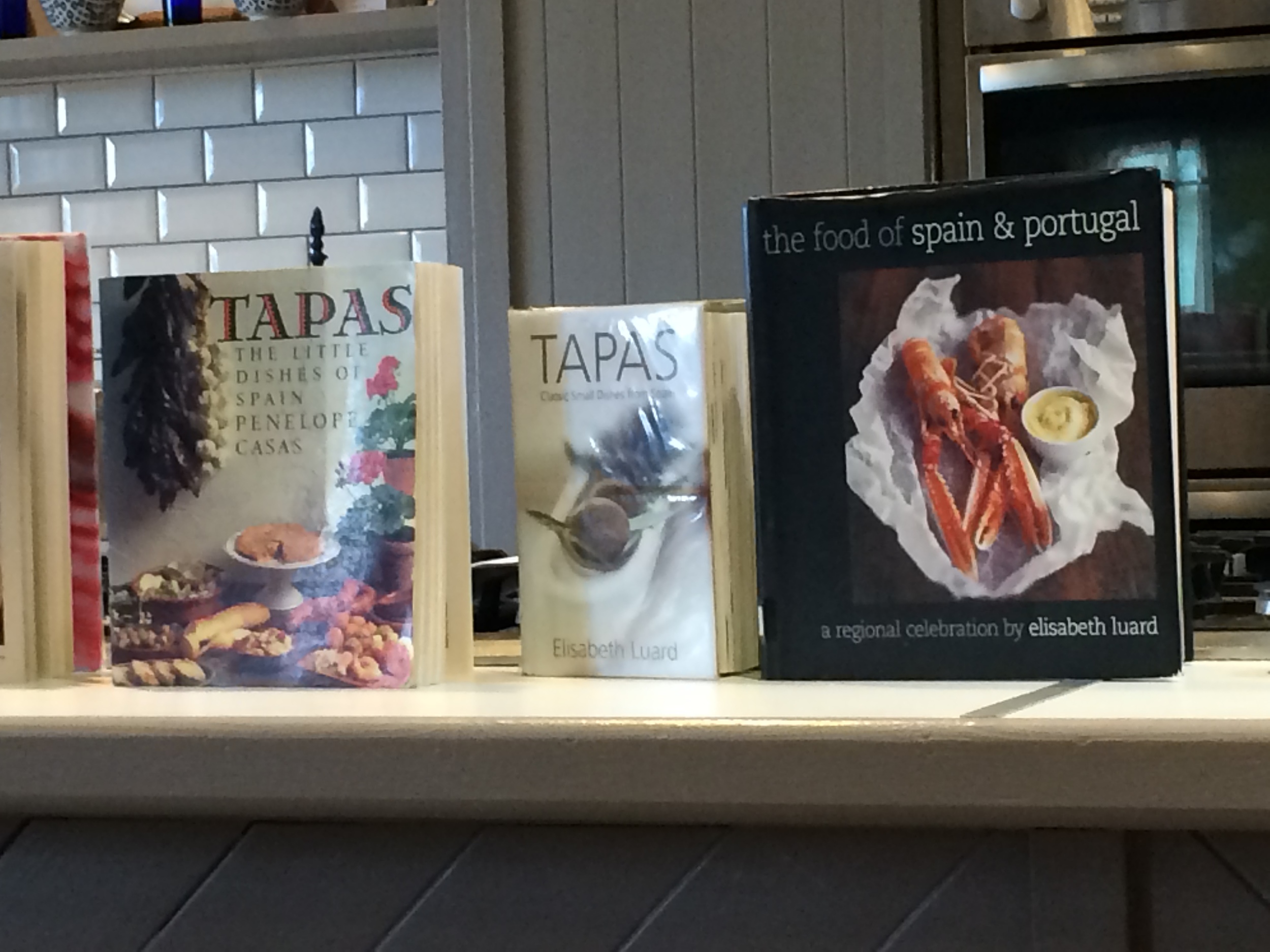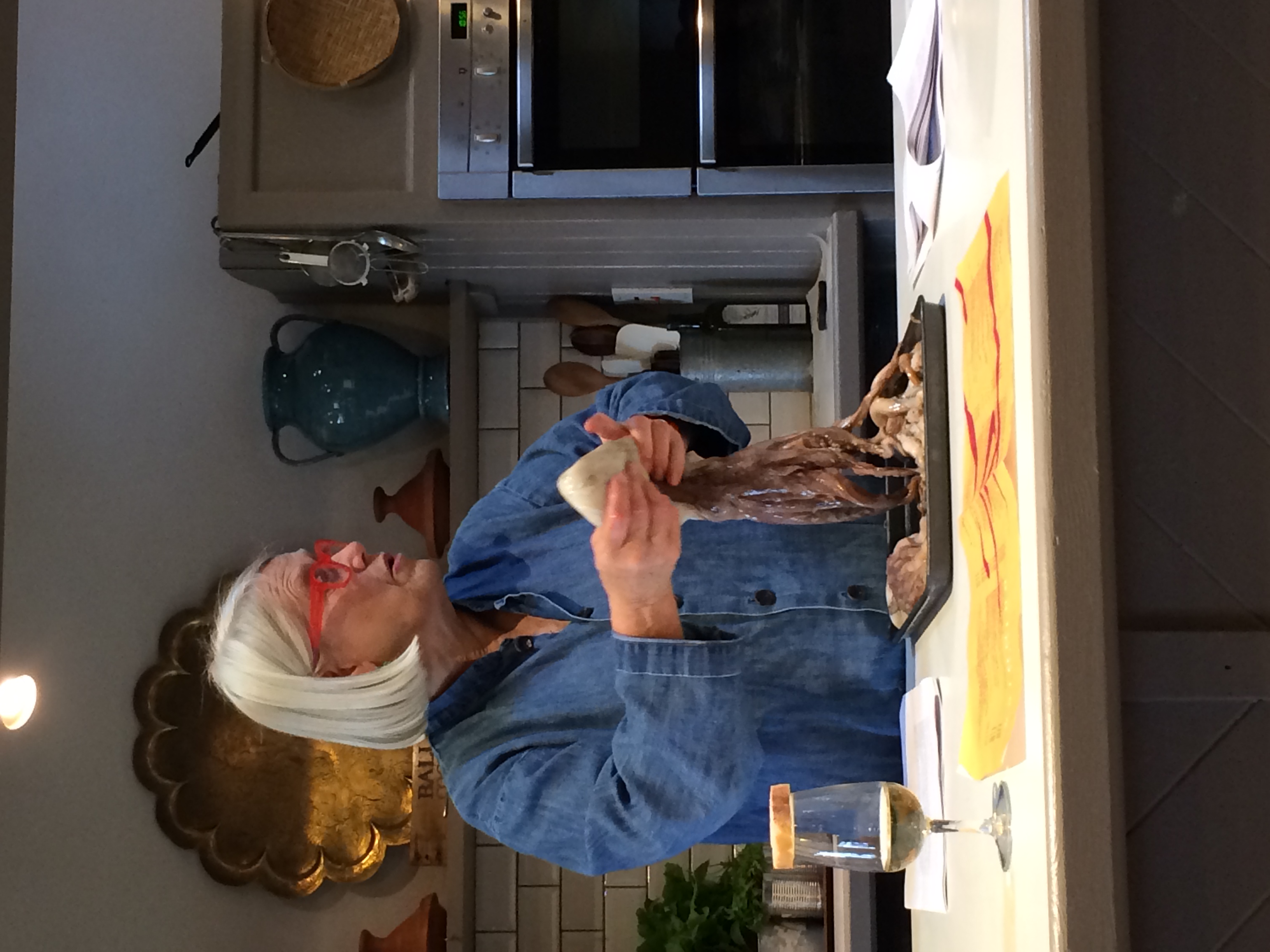 Thursday morning was amazing because I got to bake another cake! I think if I could bake a cake everyday for the rest of my life I would be a very happy person. If anyone would like to pay me to do that for them, please email me. Today I made a carrot cake with orange cream cheese frosting. The carrot cake had sultanas, walnuts, coconuts, orange rind and of course grated carrots! I topped it with a some toasted almonds and coconut. My teacher told me it was delicious but that I put a bit too much icing on the top..ain't no such thing, girlfriend.
I also made a chard and gruyere gratin. Cheesy goodness.
I also shucked my very first oyster today..not an easy task!
Rachel taught the demo this afternoon and kept things short a sweet knowing that we were all anxious to get some last minute prep in for our midterm. She made two different kinds of vegetable curries with various raitas and rices, a caramelized plum upside down cake, an apple upside down cake, parsnip soup and parmesan risotto. I loved all of the curries..brought me back to my time in Asia! I'm hoping I get to make one of these on Tuesday.
Well folks- that's all for this week! We are heading to County Clare and Galway for the holiday weekend so lookout for some posts and pictures about that soon. Before I get there, however, I have to get through this midterm. Checkout tips below and wish me luck!
Slainte!
Tips:
-All seaweed is edible and full of minerals as opposed to some river algae which can be poisonous
-Native Irish oysters are some of the best in the world
-Cheddar cheese originally came from England
-Alsace has more Michelin Star restaurants per capita than anywhere else in the world
-Burgundy red wines are made from 100% Pinot Noir grapes. Beaujolais is considered to be in Burgundy but thought of as its own region and made from the Gamay grape.
-Pouilly Fuisse is a white Burgundy made from the Chardonnay grape. Pouilly Fume is from the Loire Valley and made from the Sauvignon Blanc grape.
-If you serve red wine with fish, serve a low tannin wine such as a red Burgundy. If you serve a high tannin wine such as a Cabernet Sauvignon, it will be very imbalanced and could give the fish a slightly metallic taste.
-Light sherries will only last up to a week once opened. Treat them like a bottle of wine!
-Tumeric is the highest antiseptic of any spice
-Tempering something means to make it more stable
-The three main types of curry in Thailand are green, red and yellow.
-When you freeze something sweet, it tends to get less sweet; when you freeze something salty, it tends to get more salty.