Trust is good, control is better
'Trust is good, control is better' -Chef John Desmond
Week 10 is over and done with which means I am faced with the unfortunate truth that there is only one more real week in the kitchen. I've really come to enjoy my schedule these past ten weeks- wake up at 7, in the kitchen by 8, cook until noon, enjoy an elaborate lunch with my classmates, watch a fantastic demonstration, relax and drink wine with my roommates, do some homework, sleep, wake up, repeat! I'm also going to miss working with all of our amazing teachers every day. Even though I feel much more confident in my cooking skills than I did at the beginning of the course I am still quite reliant on them. They are also really wonderful people so I will greatly miss their company.
The other unfortunate truth that I am faced with is the fact that exams are right around the corner. Our wine exam is this coming Wednesday, my practical exam is the following Wednesday and our written exam is the last Friday of the course. I'm feeling pretty confident about my wine exam but a bit worried about the other two. For our practical exam, we have three hours to cook a three course meal plus a bread that is drawn at random the day before. The meal should be balanced, seasonal and should be meant for a specific occasion. It also needs to have specific wine pairings. I'm sure you're all on pins and needles waiting to hear what I've decided to cook so without further ado....
Occasion- A Latin American dinner party to celebrate the Christmas season with close friends
Starter- Chickpea and chorizo soup (wine pairing- Pinot Blanc from Alsace)
Main- Sirloin steak with chimichurri sauce, rustic roast potatoes with smoked paprika and a green salad (wine pairing- Cabernet Sauvignon from Chile)
Dessert- Homemade vanilla ice cream with Pedro Ximenez sherry (paired with an espresso)
I hope you all approve. If you're nice I might cook it for you.
Onto highlights from this week! It was very pork heavy which I can't complain about. On Monday I made seared squid with garlic, parsley and chili butter. This trick with squid is to either cook it on a very high heat very quickly or on a low heat very slowly, anything in between will give you very tough and rubbery squid. Today we went the high and fast route. I also cooked lamb curry that was made with homemade almond milk.
Monday afternoon we had a guest chef in for the demonstration. John Desmond owns a fabulous restaurant called Island Cottage on Hare Island with his wife. The restaurant is open three months a year and is in a fisherman's cottage that serves 24 people. There is one seating a night at 8pm and you have to take a ferry to get to the restaurant. Everyone sits down for cocktails together in the garden room. While they are enjoying their drinks, John's wife observes the crowd and strategically plans where each party will sit in the dining room as there are three communal tables. John plans the menu every day around 2pm. There is one menu option, no substitutions and everything is decided based on what is in season and available. If fish is on the menu and you don't eat fish..too bad! As John puts it, you would never go to a vegetarian restaurant expecting to order a sirloin steak. True dat, John. When is comes to drinks, John offers six wine options which he changes every year. The wines range in price point and variety. It's a simple and strict business model that only works if they are booked every night. In order to keep this up- quality quality quality! It's all about the food. John cooked a typical meal for us during the demonstration starting with salmon carpaccio marinated in a garlic aioli and lemon vinaigrette. For the main dish he cooked slow roasted duck leg, potatoes gratin and sea spinach. For the dessert he made a traditional tart tartin. Everything was simple, seasonal and delicious- as promised! He has a very elegant style of cooking that is very approachable at the same time.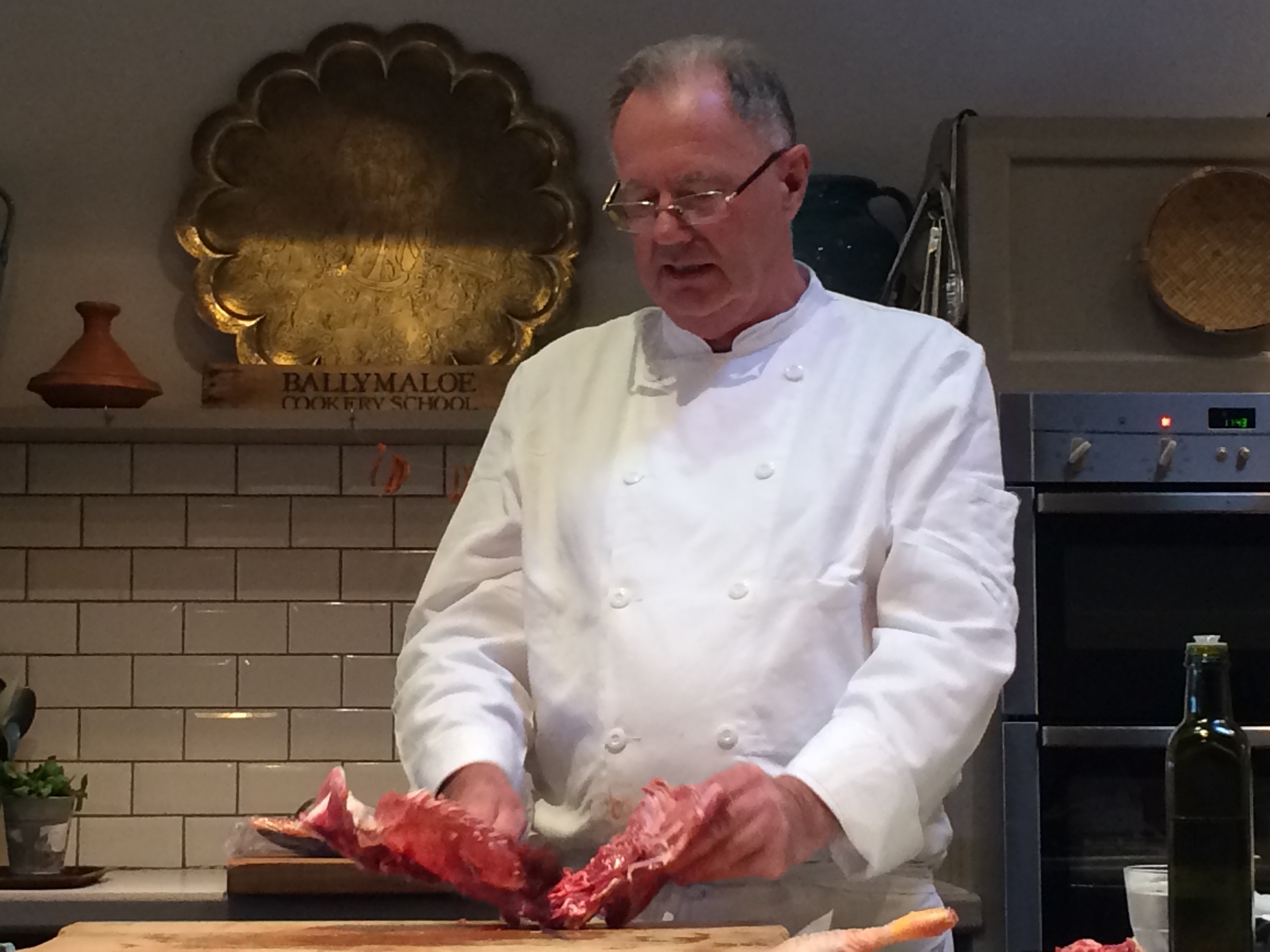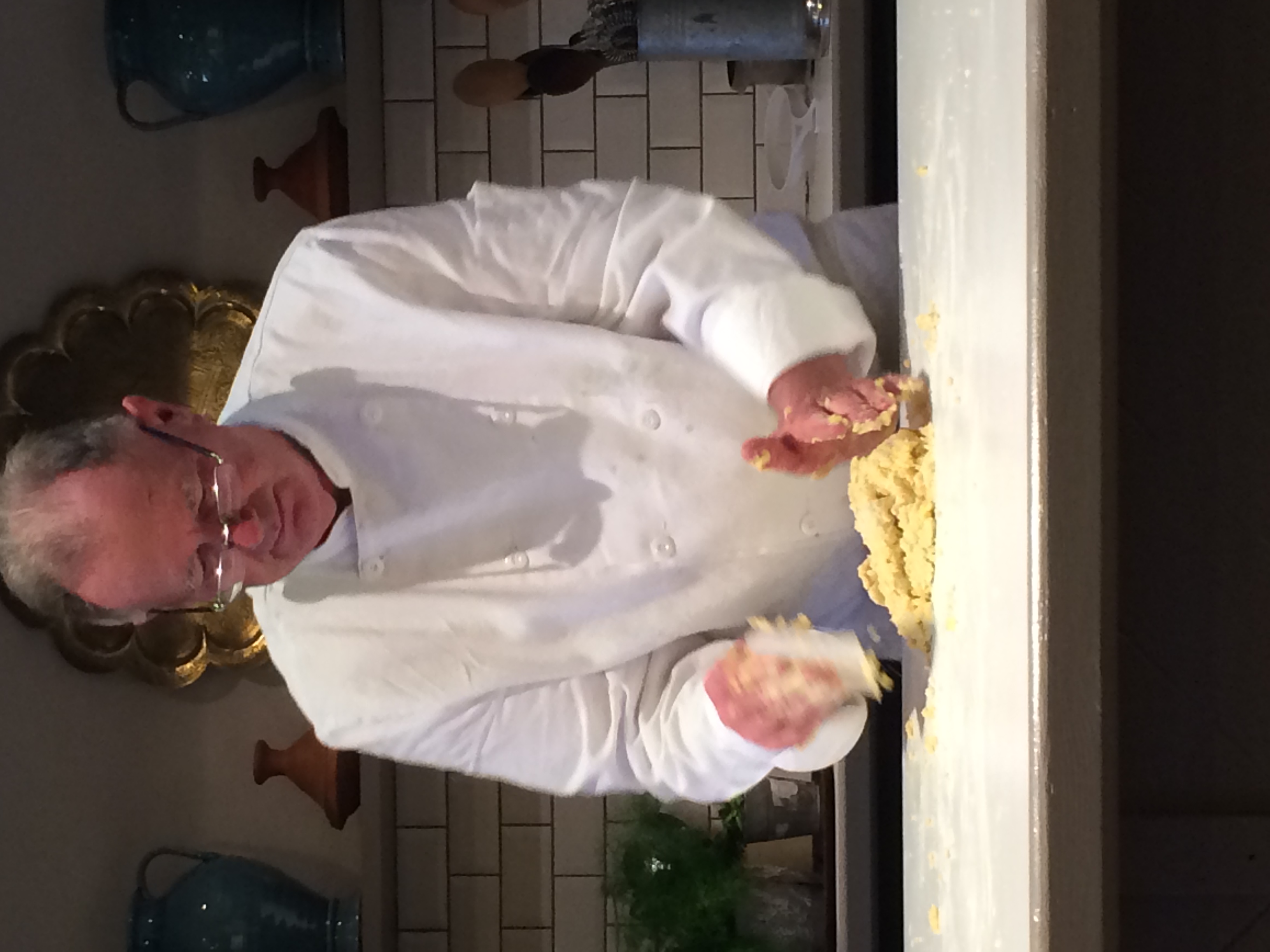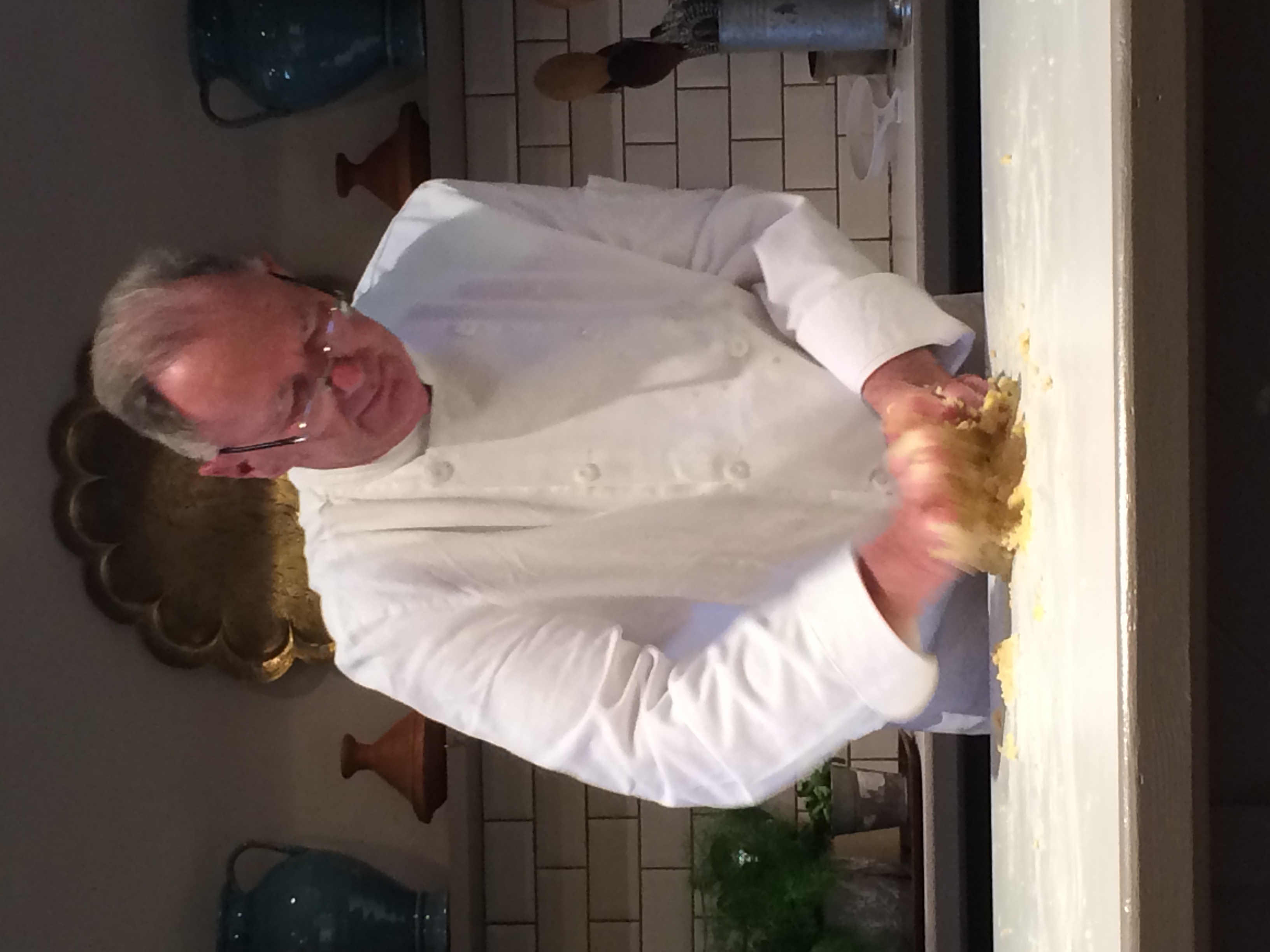 On Tuesday I made glazed bacon, caramelized onion and mushroom salad and praline ice cream. The bacon- oh.my.gah. So good. It is cooked with a brown sugar and pineapple glaze and seasoned with cloves. I mean- I don't really know how to describe to you how good it is and I'm sorry to show you this picture without giving you a taste. It's cruel, I know.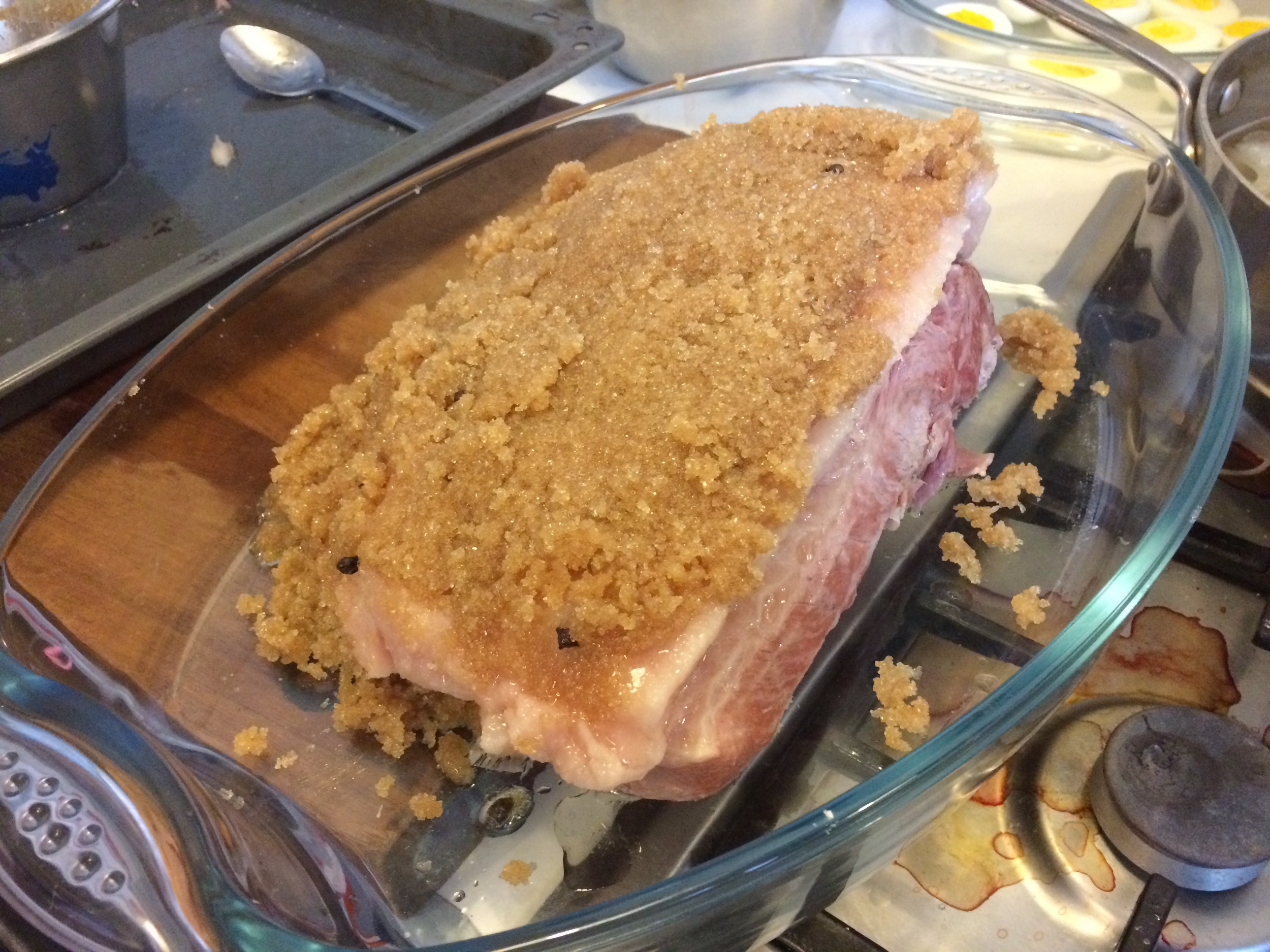 The ice cream was also delicious and similar to the ice cream I'm making in my final exam so excellent practice.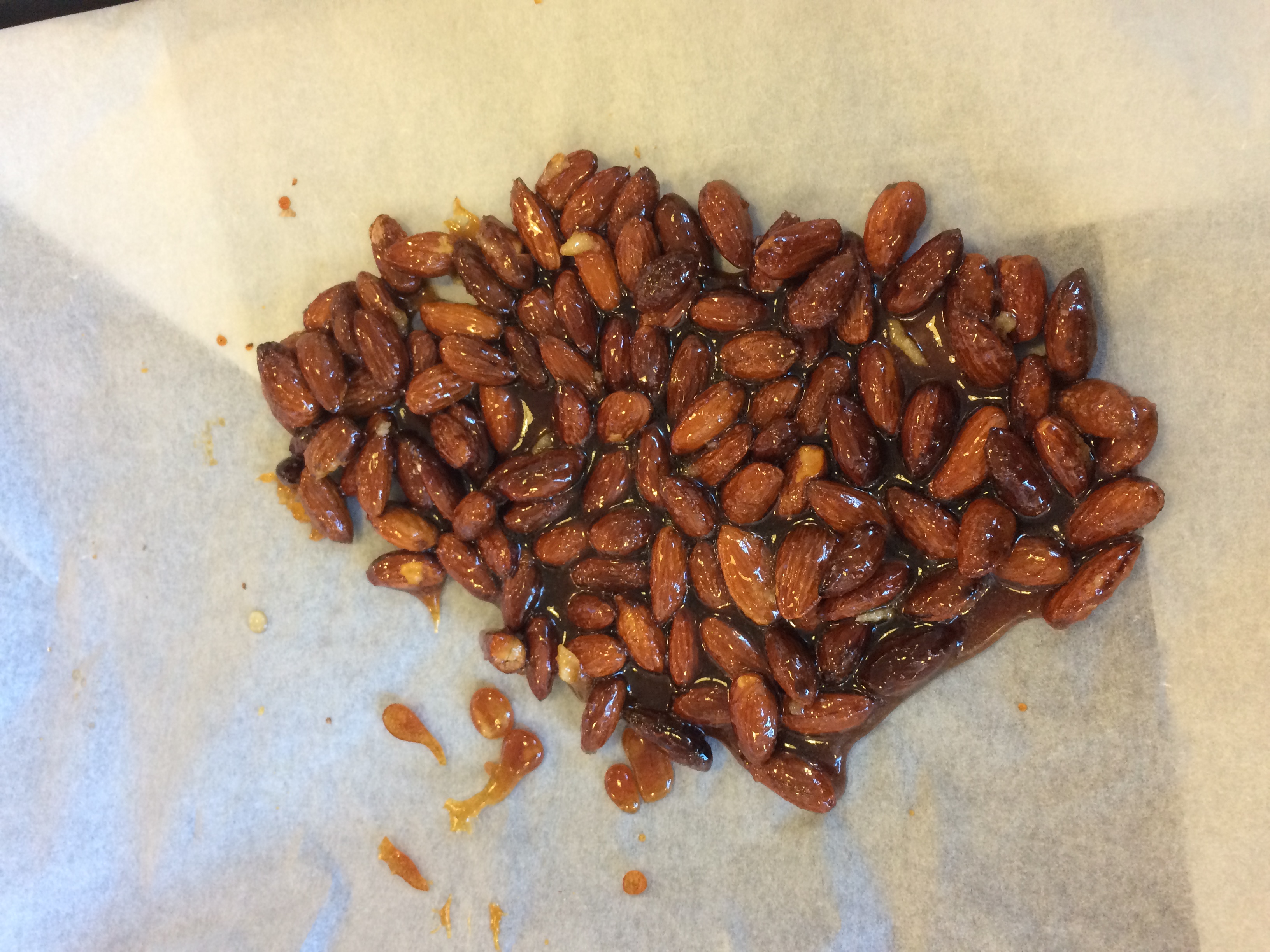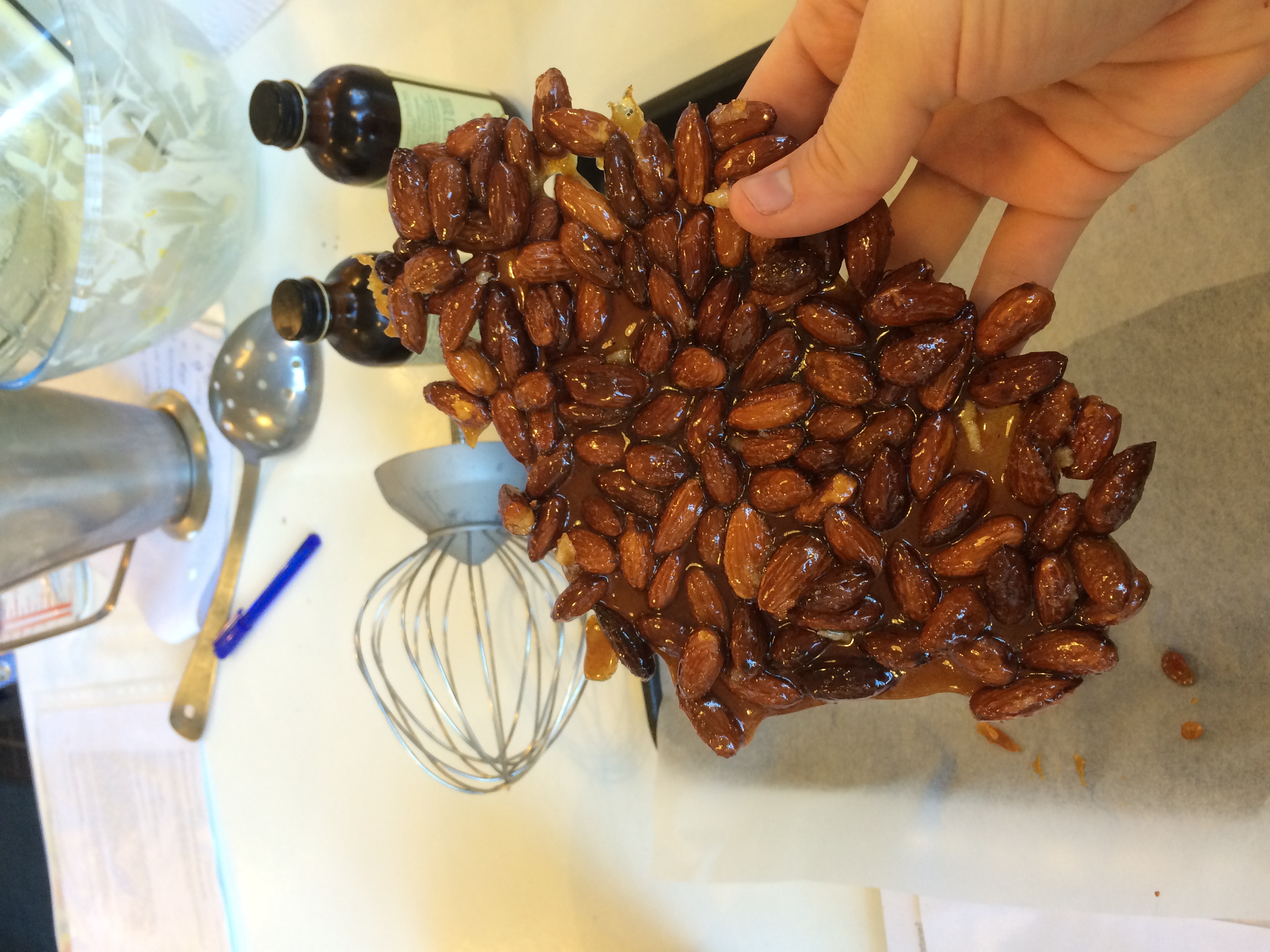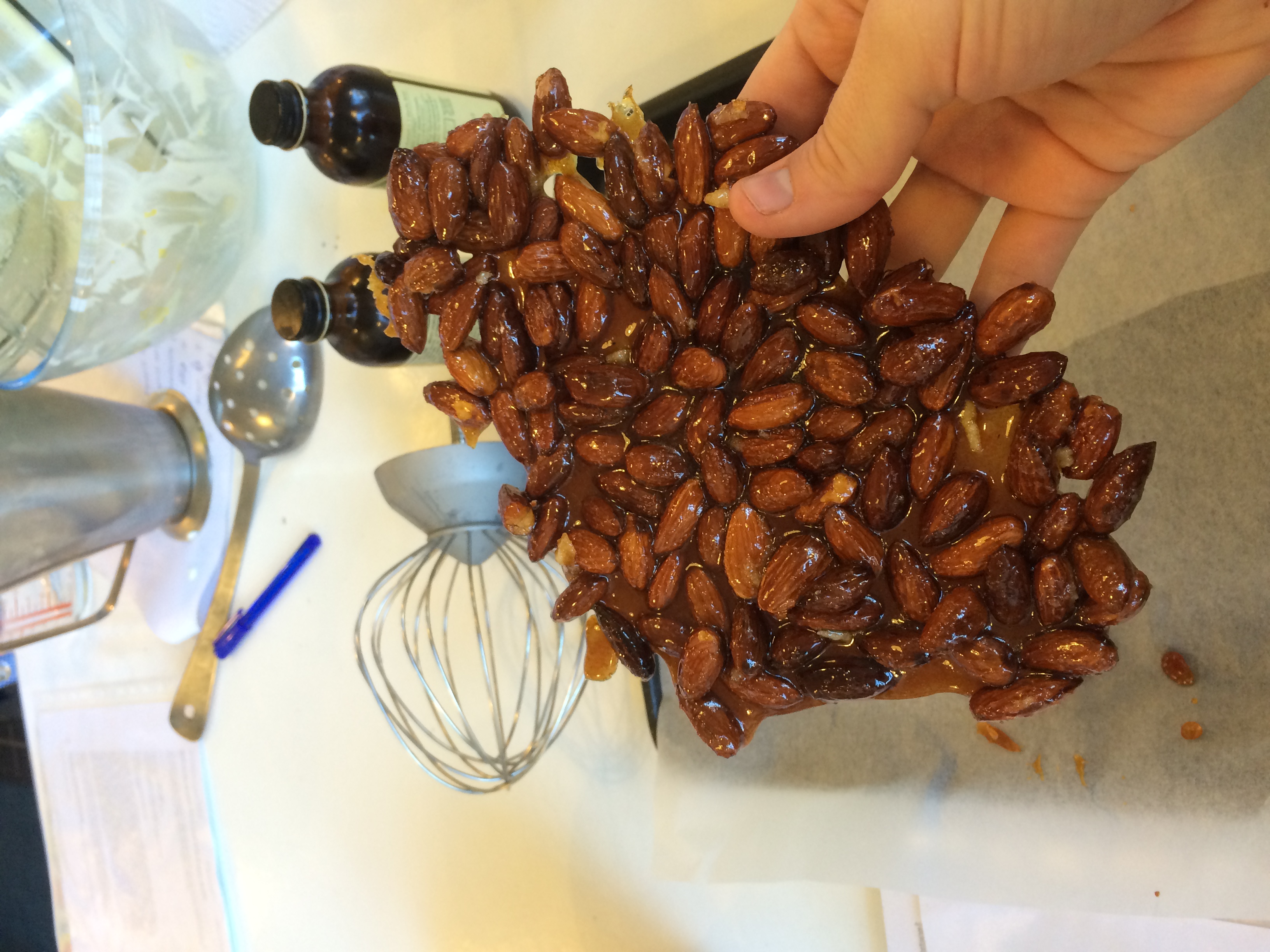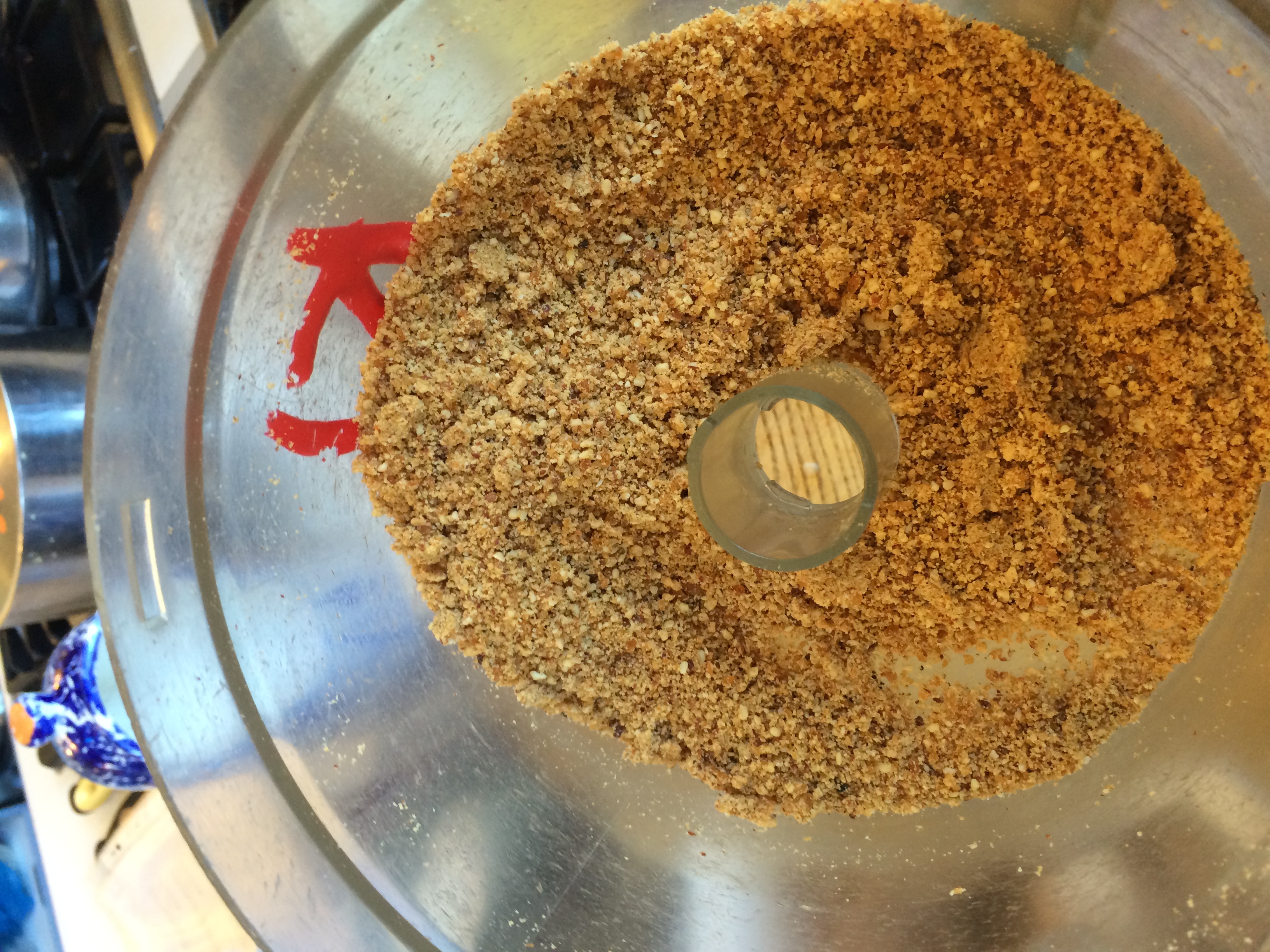 Other highlights from the week were French onion soup, pork belly with crackling and honeycomb! I will definitely be making honeycomb when I come home. It would go perfectly with an amazing sundae with brownies, salted caramel sauce, maybe some hazelnuts...my mouth waters. Back to the honeycomb. It tastes like light and fluffy caramelized honey. It's pure genius.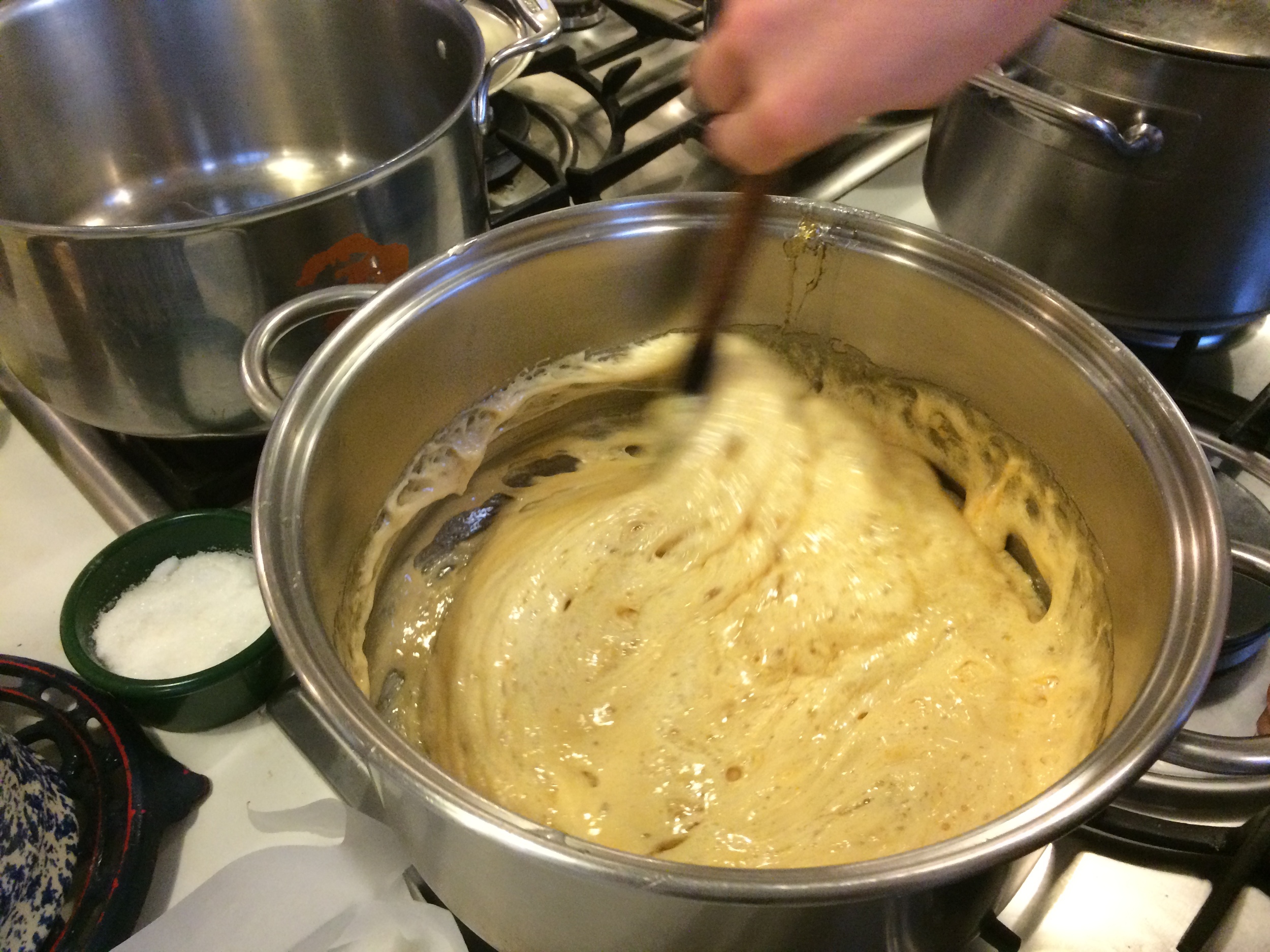 And how could I forget Beaujolais Nouveau Day! Colm was nice enough to come over to the school with a few bottles of Beaujolais Nouveau AND Moscato Nouveau.
Lastly, we were lucky enough to get a lecture from the Danish chef Trine Hahnemann. She gave an amazing demonstration and spoke to us about the resurgence of the Scandinavian food movement in the past few years, of which she has been an extremely integral part. She talked a lot about the food she ate growing up, chefs and restaurants that inspire her and well as her career so far. She also explained that until recently, the majority of the food produced in Scandinavia was exported and not necessarily used by the chefs there. Most people would have rather gone to a French restaurant for a fine meal. Chefs in Scandinavia slowly started realizing the amazing quality of their produce and reinventing cultural recipes on which they were raised and a new movement slowly emerged and started gaining recognition in the culinary world.
That's it for highlights from week 10! Although I can hardly stand to think about the fact that week 11 is here, I am SO excited because Rachel and Caroline get here on Wednesday! We will be having a lovely Thanksgiving dinner at the Ballymaloe House. Apologies in advance if I blow up your instagram feed. Ciao!
Tips from Week 10:
-Adding any acid to milk with sour it (vinegar, lemon juice, etc) and will turn it into buttermilk
-The more you chop the bones in a stock the more flavor you get
-Egg whites will toughen your pastry, use water instead
-Using sugar helps to brown your pastry
-Always score pork in the direction it will be carved
-Cook scallops in a non stick pan without butter or olive oil- the scallops taste sweeter and will maintain their flavor better
-Grated garlic is garlic at its finest and strongest
-Tuna carpaccio was created at Harry's Bar in Venice in the 1960's (along with Bellinis!)
-Tuna needs sharp acidic flavors to cut through the oiliness. Don't serve tuna with a creamy sauce!
-Keep seed oils (sesame seed, pumpkin seed, etc) in the fridge or away from light because they will go rancid very quickly once opened. It's also smart to try to buy them in tins because it keeps the light from getting in.
-When cooking with soft leaf herbs (parsley, cilantro) always keep some back to put in right at the end of cookings. When using hard leaf herbs (rosemary, thyme) put into cook at the beginning so they have a change to infuse and breakdown.