Bali Time!
OH.MY.BALI. I really can't think of a more appropriate time to drop my least favorite hashtag- #BLESSED. The feelings I had upon my arrival in Bali can only be compared to those when I visited Capri five years ago. They are twofold; why have I never been here and how do I extend my stay? Now, in Capri we actually did manage to extend our stay within 15 minutes of arriving on the island (shout out to Rachel, Caroline and our BFF Fat Late Night #chainsmoking). We basically got to the top of the island, saw a Prada store to our left and a wine bar overlooking the Amalfi Coast to our right then looked at each other with the same thought- two days is not nearly enough! Great minds, great trip, great memories. I digress. Technically I'm supposed to leave Bali on Sunday so we'll see if that plan comes to fruition.
I'm started my time in Bali in Ubud. This is the cultural center of Bali and has been made more popular as of recent because of the book Eat, Pray, Love. I was actually traveling solo in Ubud so decided to really eat, pray, love my way through the town(don't get your hopes up on the love part, I encountered no one resembling Javier Bardem). I was really excited to be traveling alone on this part of the trip because I really value you my 'me' time. I recently took a 'me' weekend in NYC and spent the entire time by myself which I found very liberating, especially in a place like New York. At the time, it wasn't exactly what I wanted to be doing all weekend given that part of the reason I took a 'me' weekend was because I was on a juice cleanse, but looking back now I'm glad I did. However, when I was in Ubud, I was most certainly NOT on a juice cleanse.
I arrived at my hotel, the Cinta Inn, around 2pm on Wednesday. The traffic in Bali is actually horrible so it took almost 1.5 hours to get there from the airport. My hotel was great, just a small place in the middle of the town which was perfect because I could walk everywhere.
I hadn't eaten all day so I was starving. I had clearly already done a ton of restaurant research so headed to a place that was right down the road from the hotel called Ibu Rai. First things first, I need a mojito (don't mind if I do). I then ordered some panko crusted eggplant sticks that were basically eggplant fries (...don't mind if I don't). I also got the spicy Thai beef coconut salad. All were delicious and very fresh. The highlight was definitely the eggplant. The Thai beef salad was good but could have been a bit more substantial.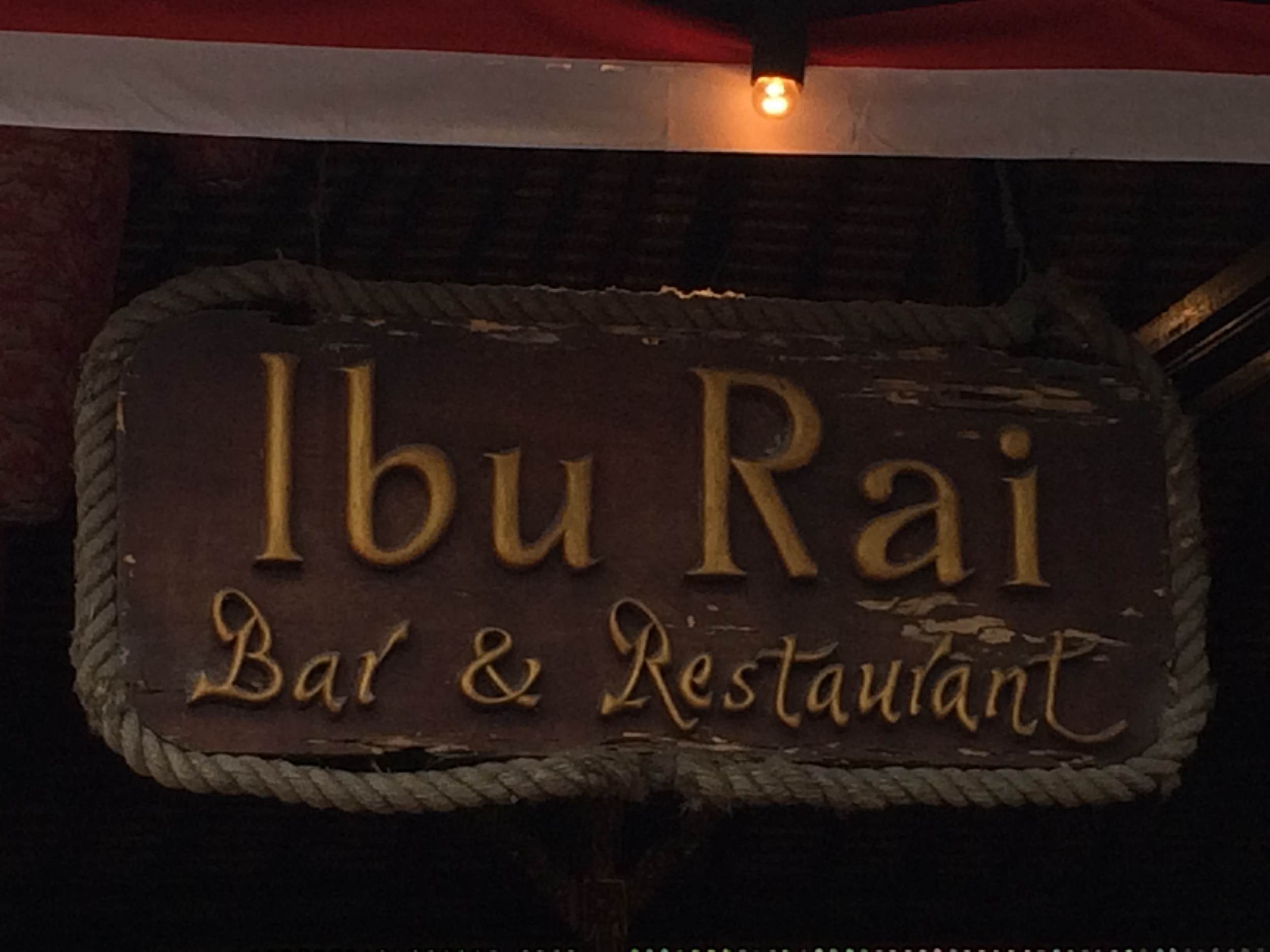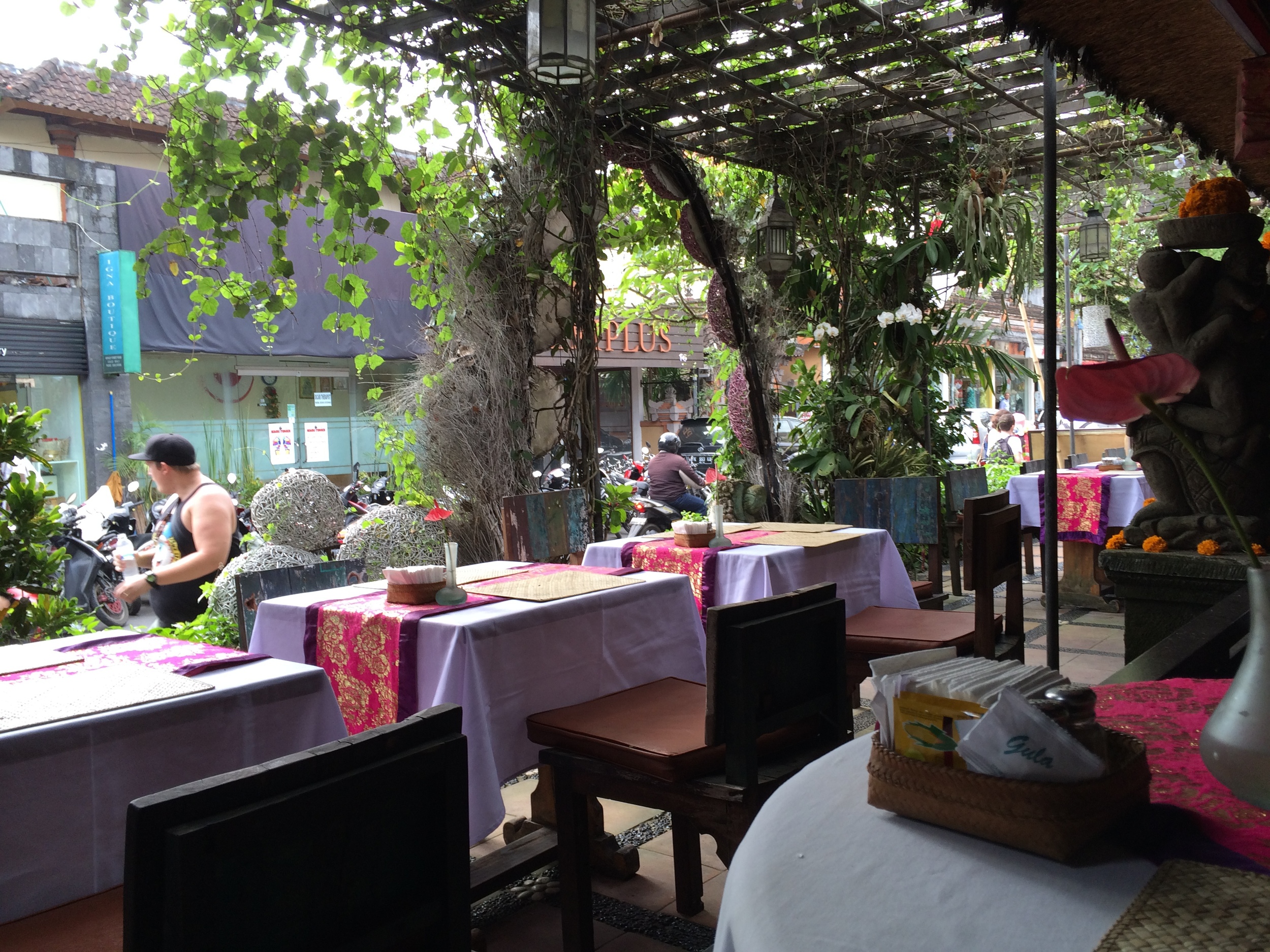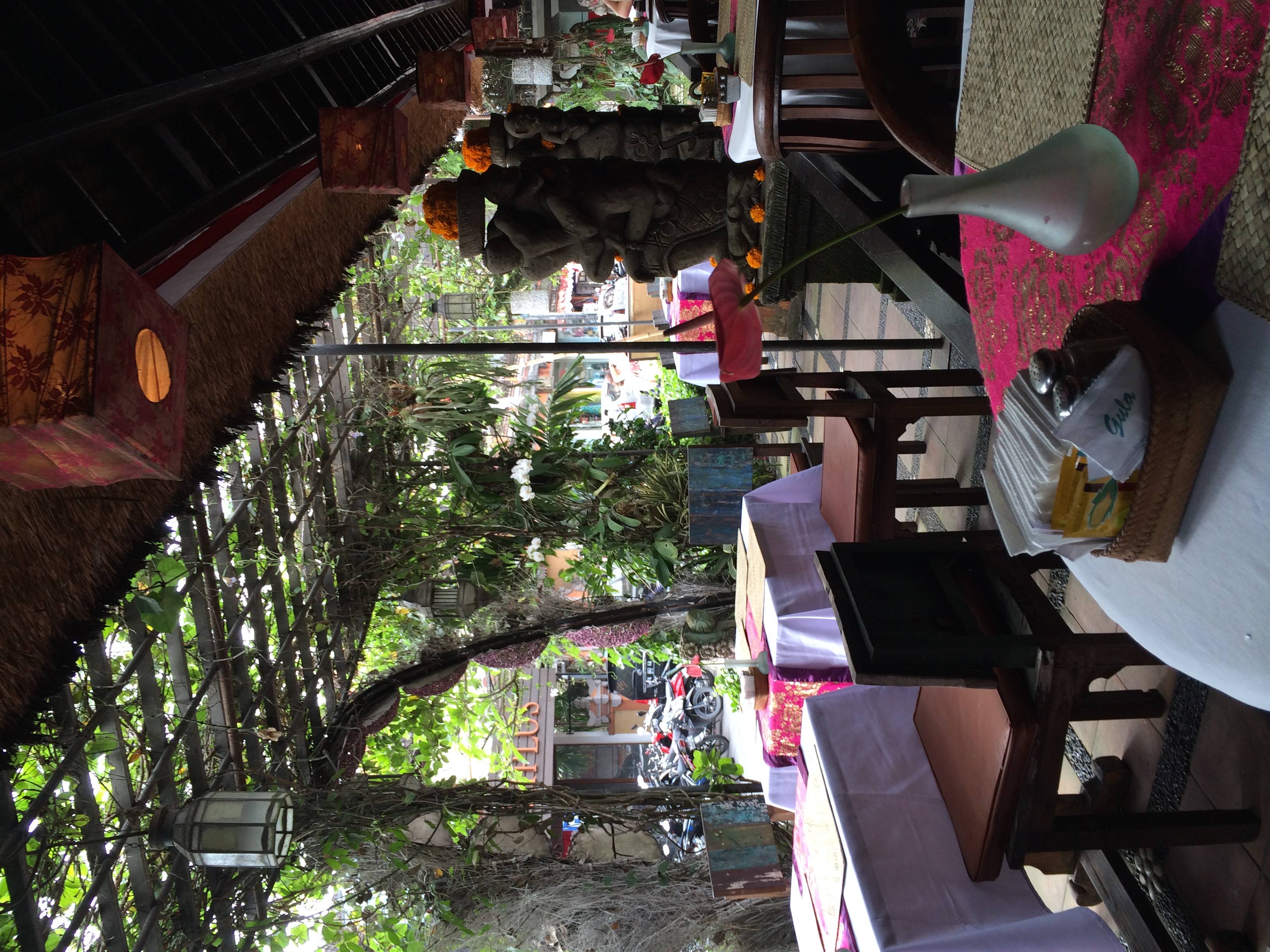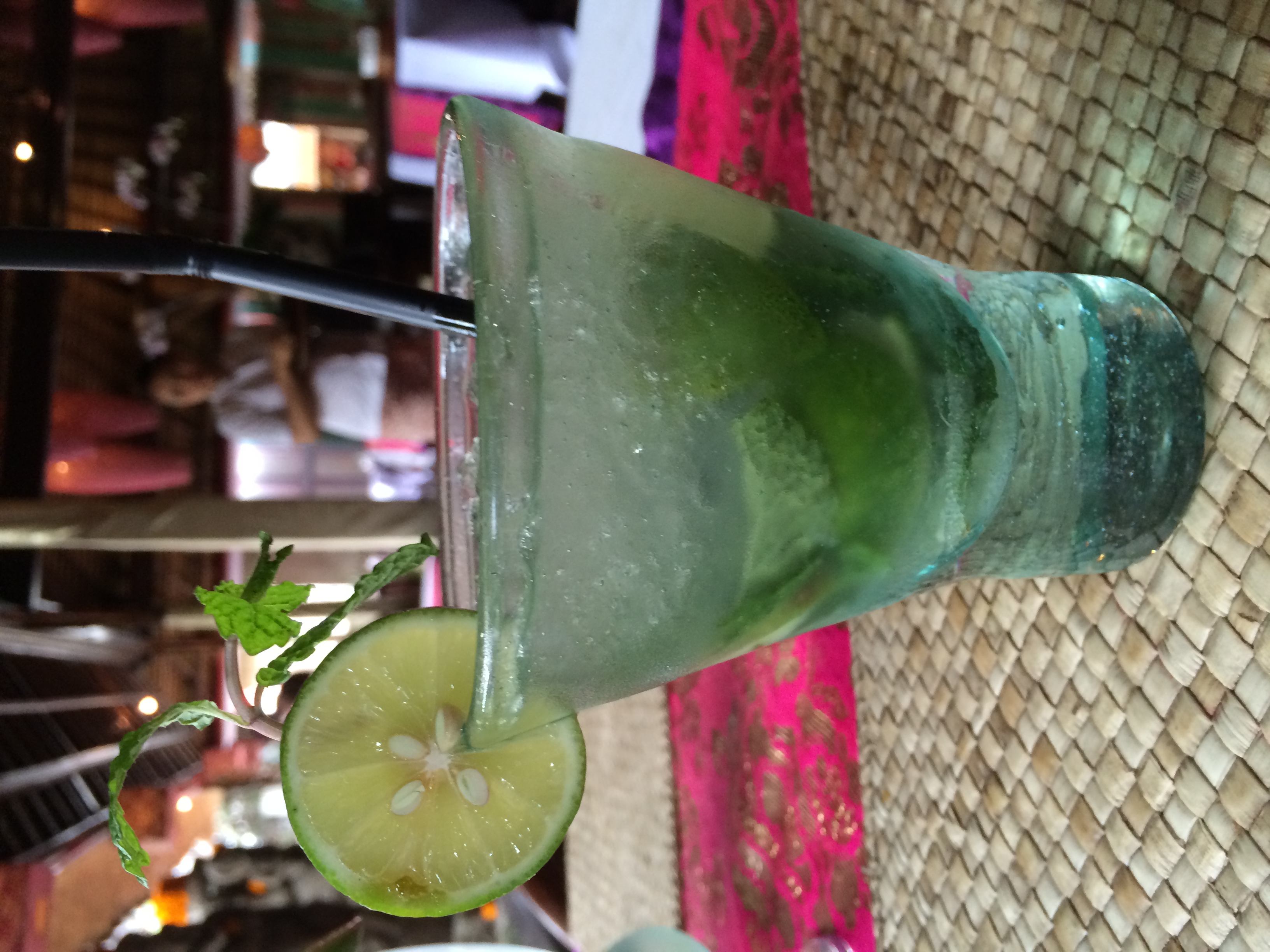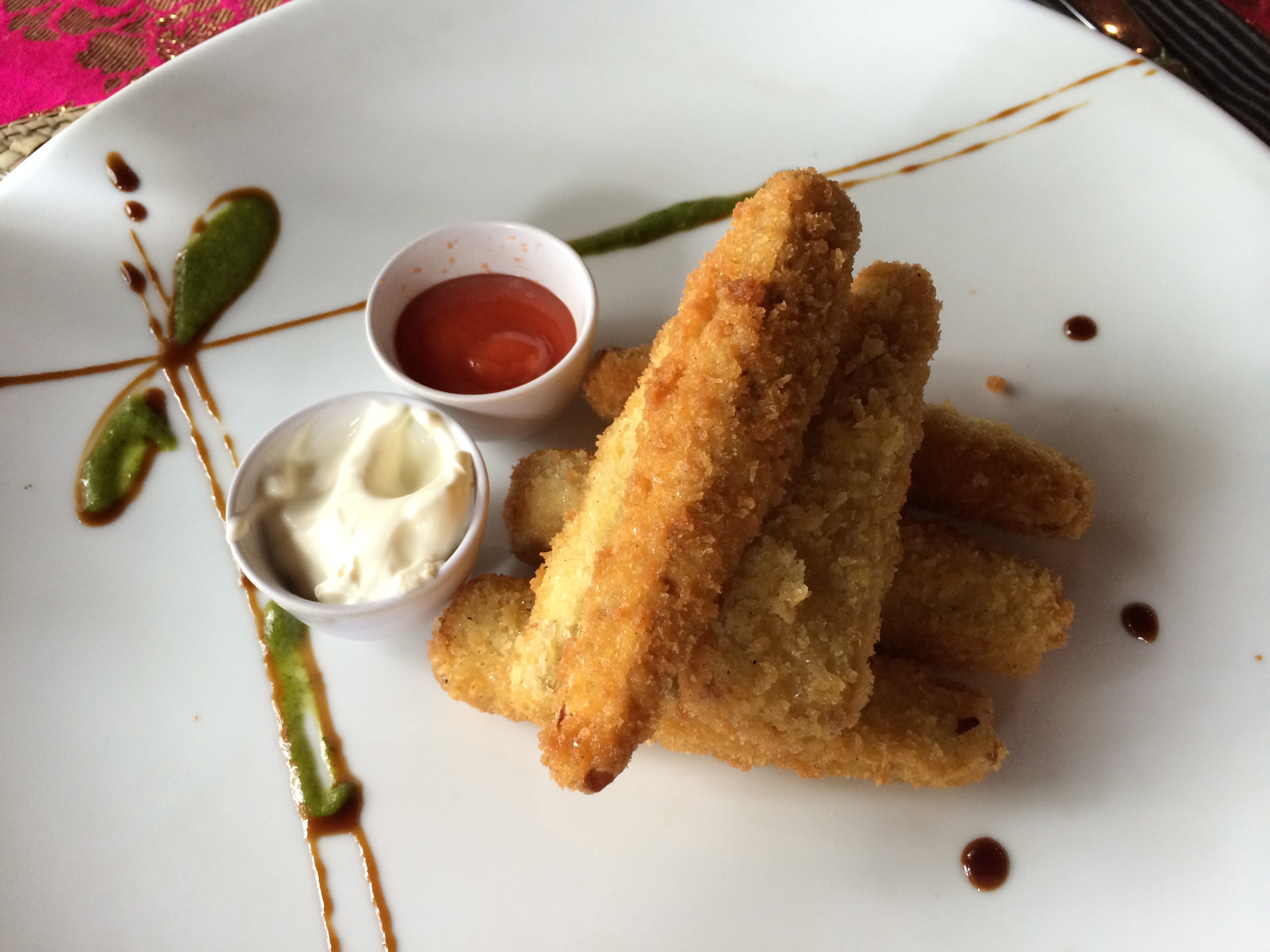 After lunch I headed up to the market to do some shopping. The market is full of all kinds of clothing, wraps, bags, art, etc. You have to be careful though because the woman selling these things are relentless. I literally would touch something and they would race up, grab my hand and ask me how much I would pay them for it. That got old really fast so I started to wander through the other shops outside of the market which were really great and much more pleasant places to shop.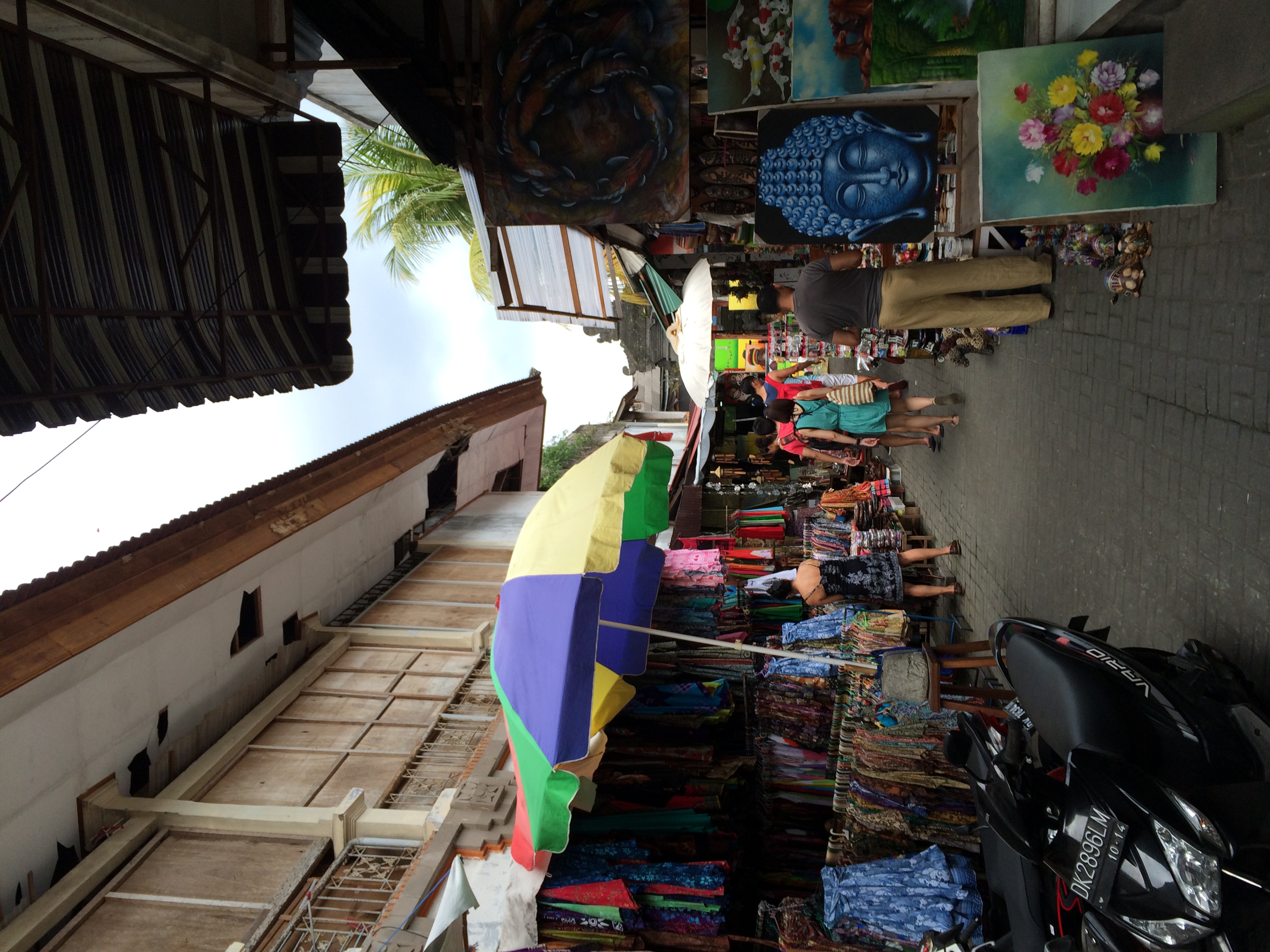 Post shopping I wandered back to the hotel to rest for a bit and get ready to go to dinner. I went to dinner at a place called Lamak. It's a really beautiful open air restaurant near the hotel that had traditional but more upscale Balinese food. I started with a Lychee Martini that had the best presentation. It was a stemless martini glass sitting in a small fishbowl full of ice. L'amazing.
Then I ordered three small plates: edamame, asparagus and sesame crusted tofu salad, a coconut crepe with seared duck and grilled prawns and gnocchi. Everything was outstanding minus the prawns which had all the right ingredients to be delicious but not the right execution in my opinion. Overall the restaurant was great and I would definitely recommend it. Post dinner I was tired from my early flight and day of shopping (white girl problems) so I called it a night.