Cooking Bali Style
In keeping with my eat, pray, love theme in Ubud (…and since I'm going to culinary school in two weeks)- I had to take a Balinese cooking class. I signed up for a half day class at Casa Luna- a restaurant and hotel in Ubud which also has cooking classes. The class started at 9:30 and there were about 10 other people in it. We started with Hibiscus tea (literally red hibiscus flowers soaked in hot water with some lime juice and simple syrup- YUM-O). Our teacher, Aman, started the class by taking us through the list of ingredients we would be using. Most of them we were familiar with (cloves, coriander, nutmeg, garlic, ginger, turmeric) however they were Balinese variations of each ingredient so to find these in America you would need to go to a specialty Asian food store. It was really interesting because many of their ingredients that are so pungent in America (garlic and salt for example) actually have a softer and more natural flavoring to them in Bali. They also sweetened everything with palm sugar that was turned into syrup. This was incredible and tasted like a mild maple syrup.
The first item we made was Rujak - a sweet and sour salad. The ingredients for the salad are melon, pineapple and cucumbers and the dressing consists of chilli, shrimp paste, tamarind, palm sugar syrup and salt. We watched Aman make the salad and quickly realized that instead of following recipes and measurements, everything was just 'Bali sized ' aka a lot. Bali sized cup of garlic, Bali sized pinch of salt, Bali sized tablespoon of palm sugar. Fine by me! The salad was really interesting and dynamic. Luckily the chef held back on the chili flavoring for us amateurs, however, he said Balinese people usually have three times the amount of spice that he used. Yikes.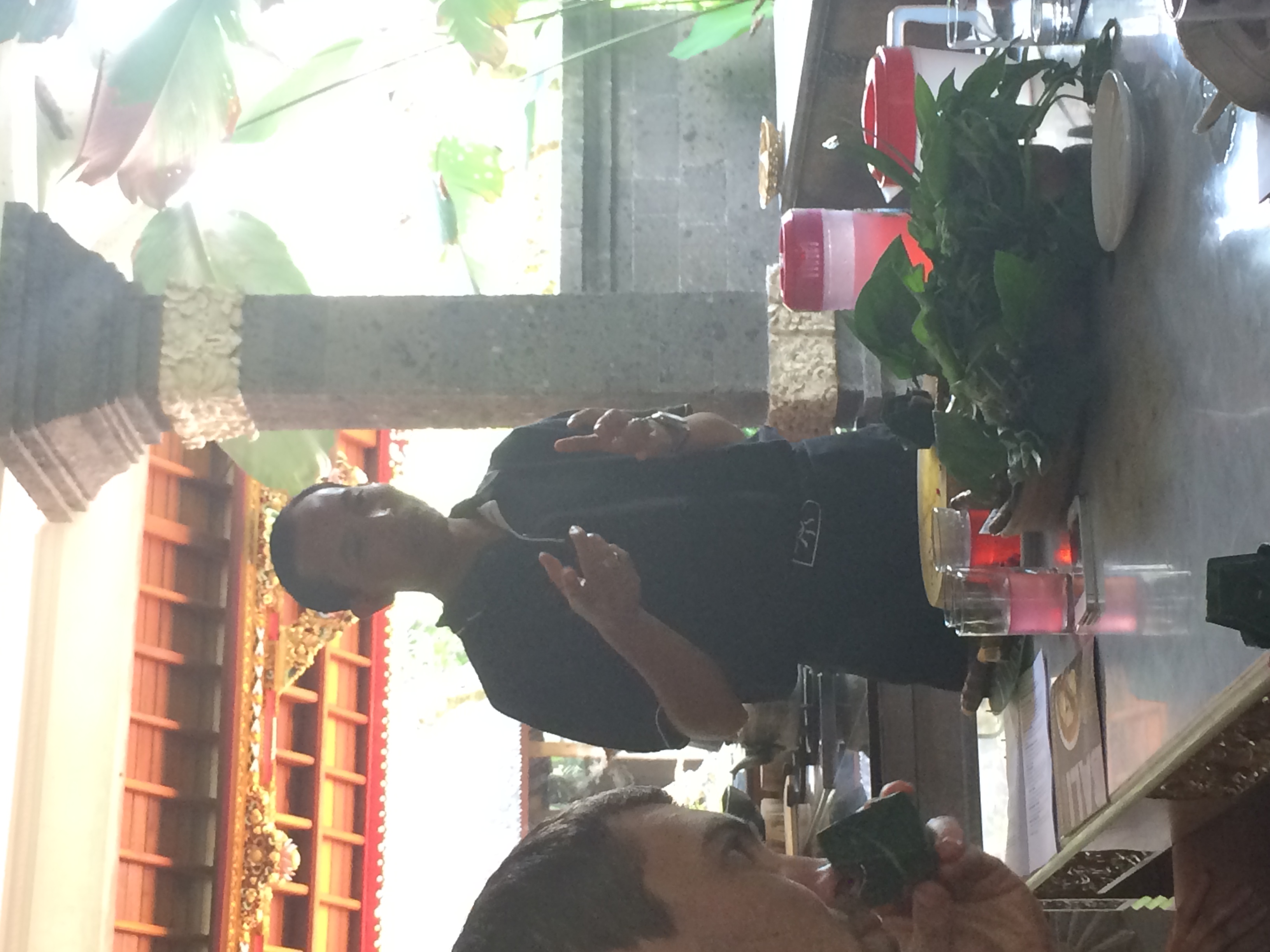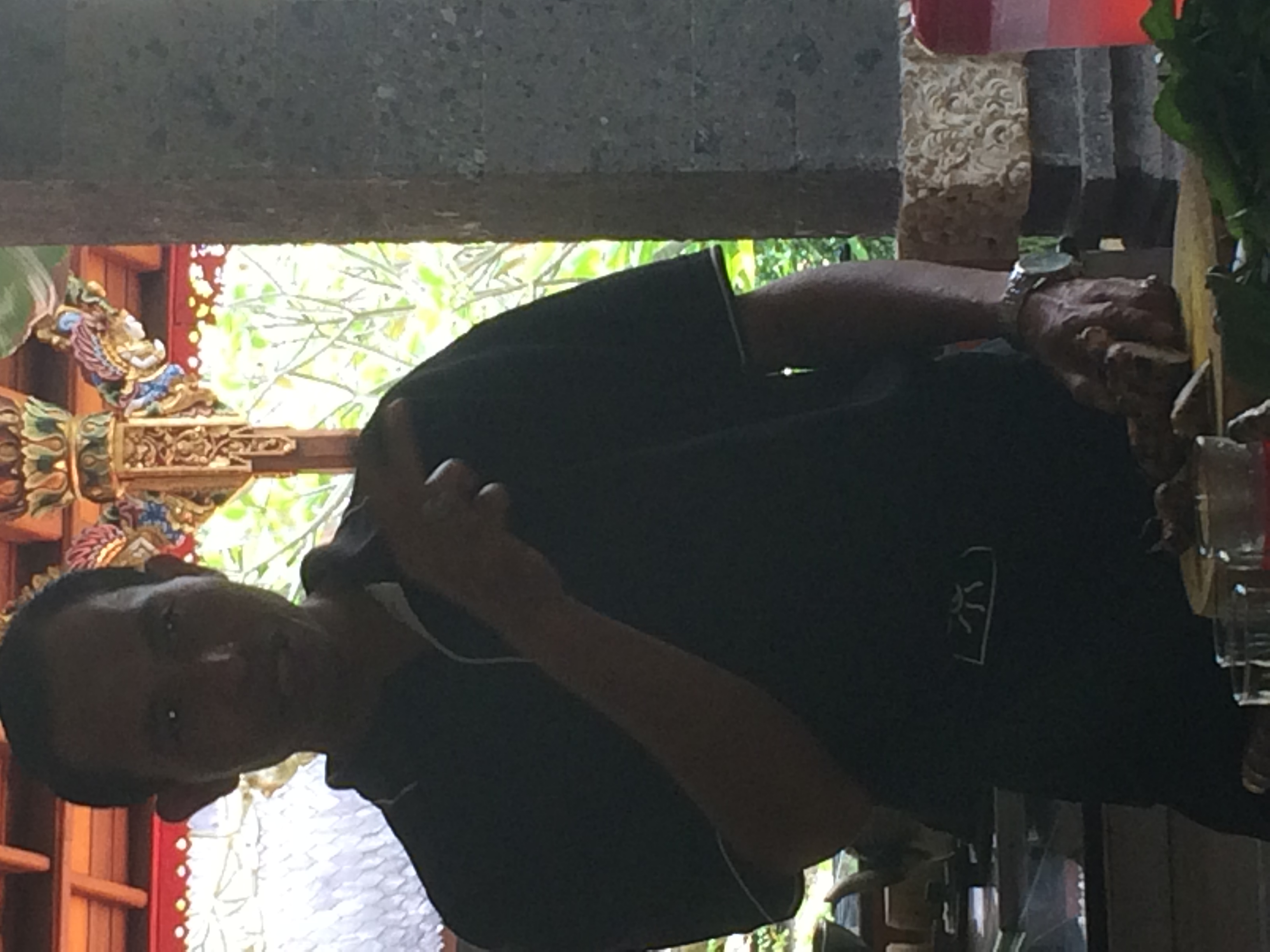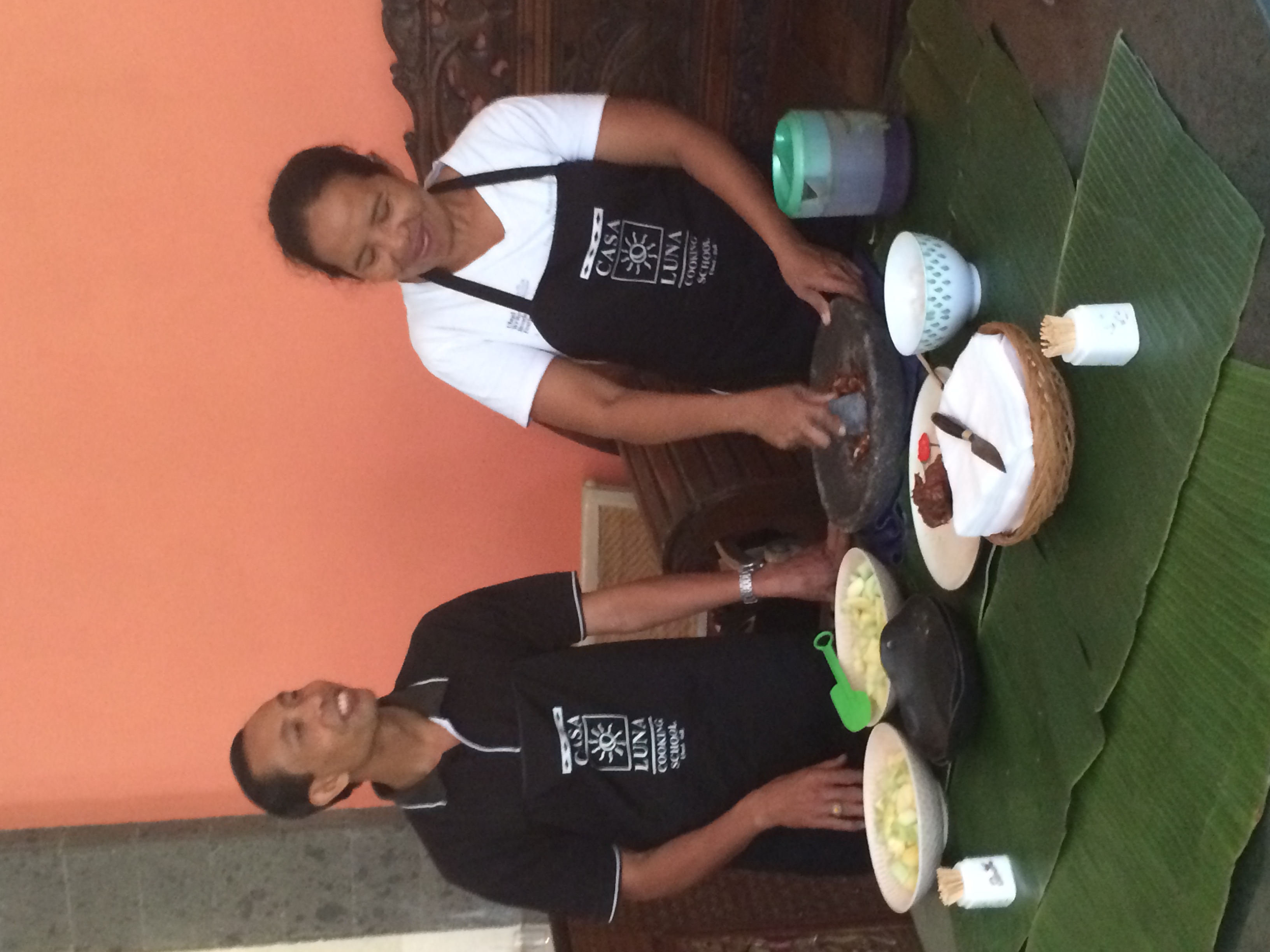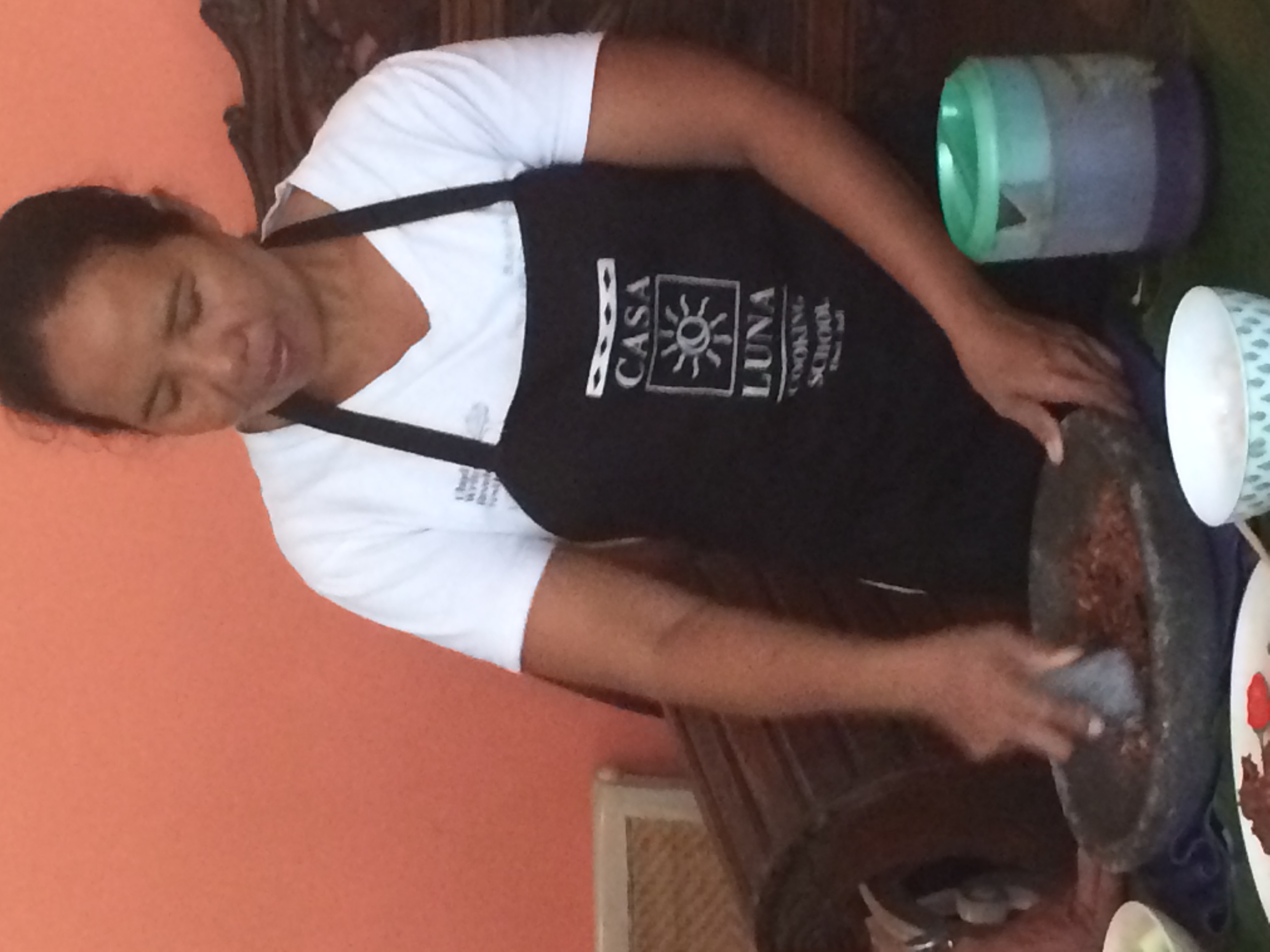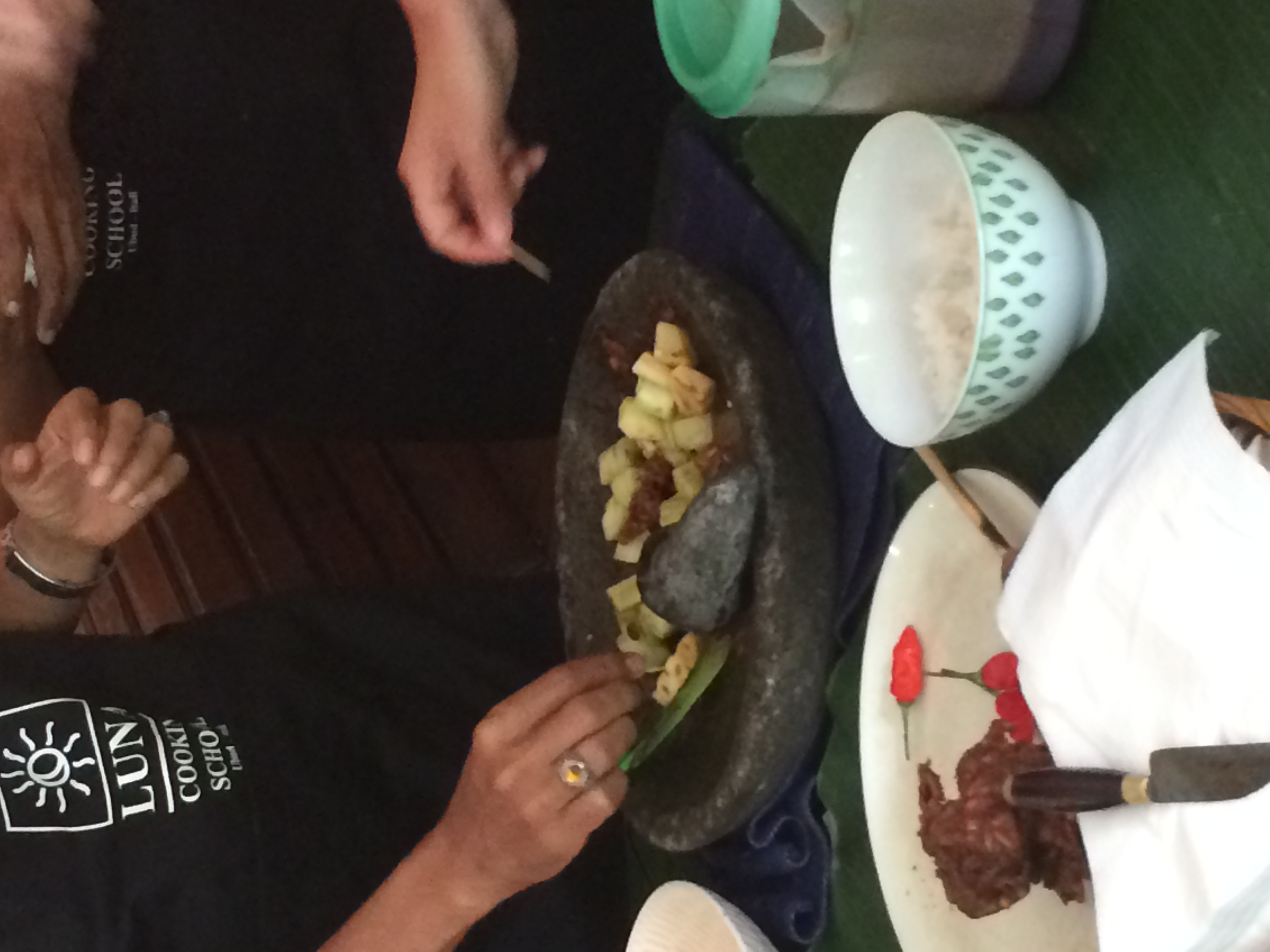 After the salad we made chicken satay with peanut sauce. The chicken satay had an awesome marinade with kecap manis (thick sweet soy sauce), shredded kafir lime leaves, garlic, oil, black and white pepper. They were grilled on a long small charcoal grill that really gave them good char and flavor.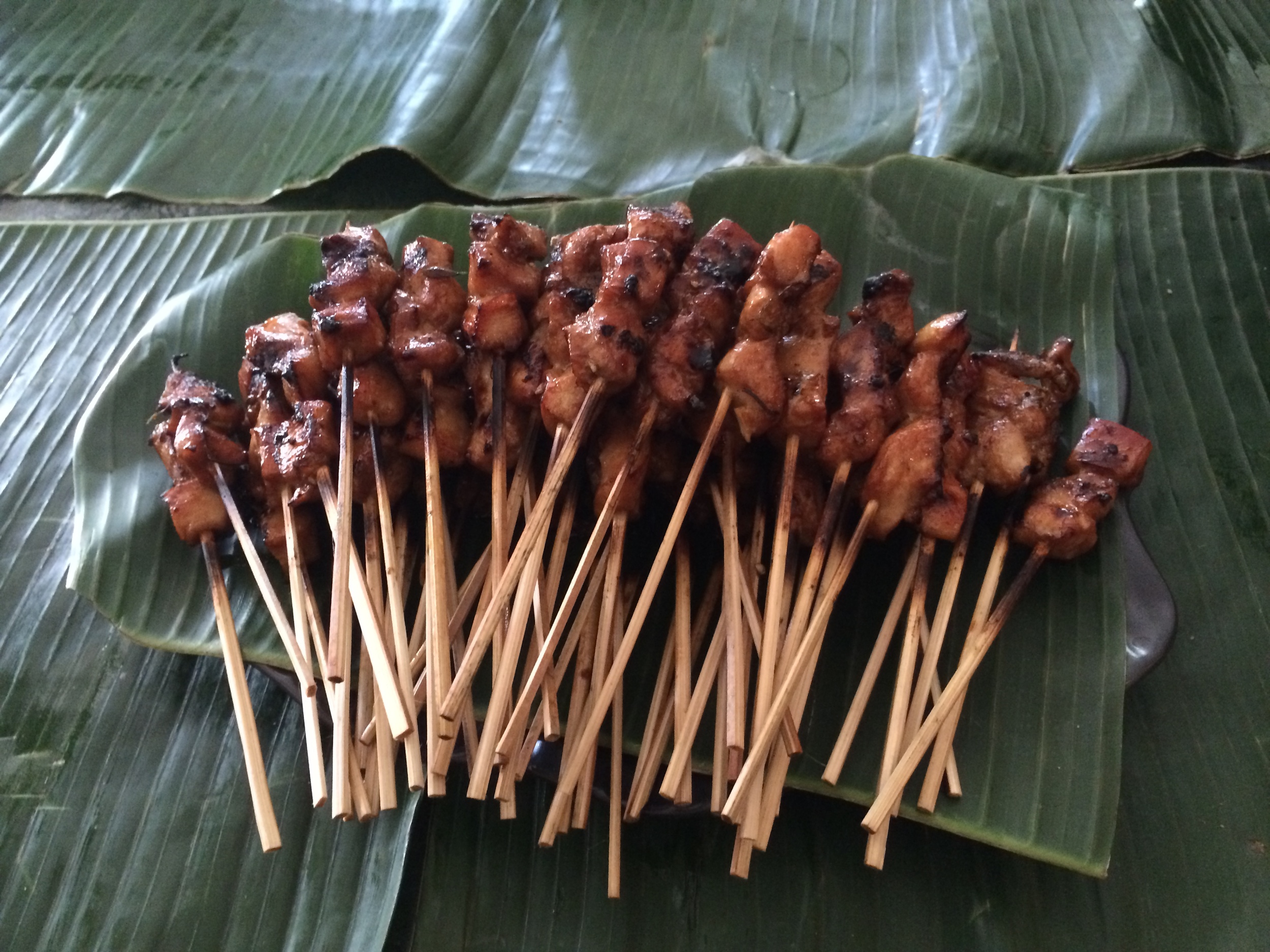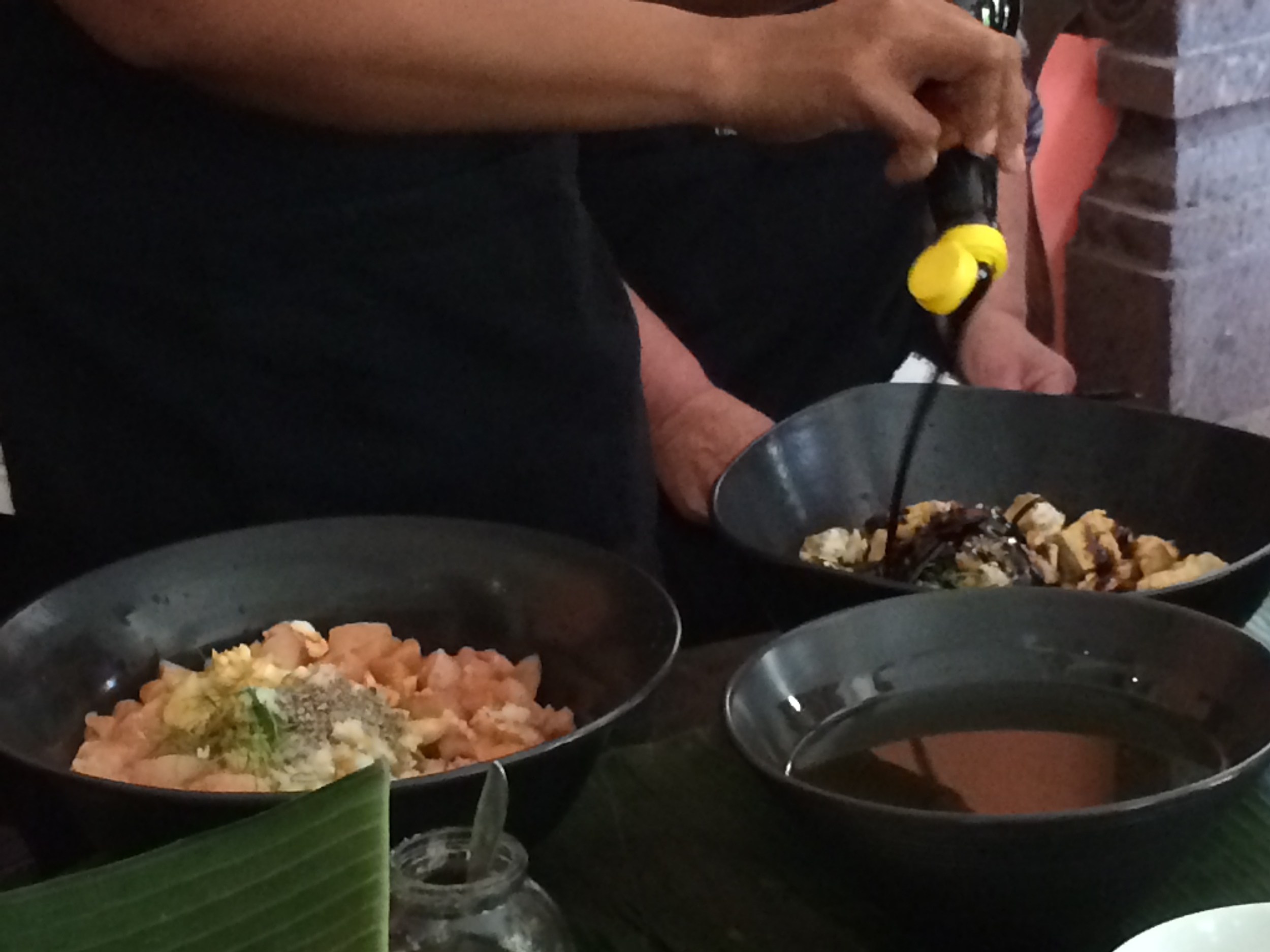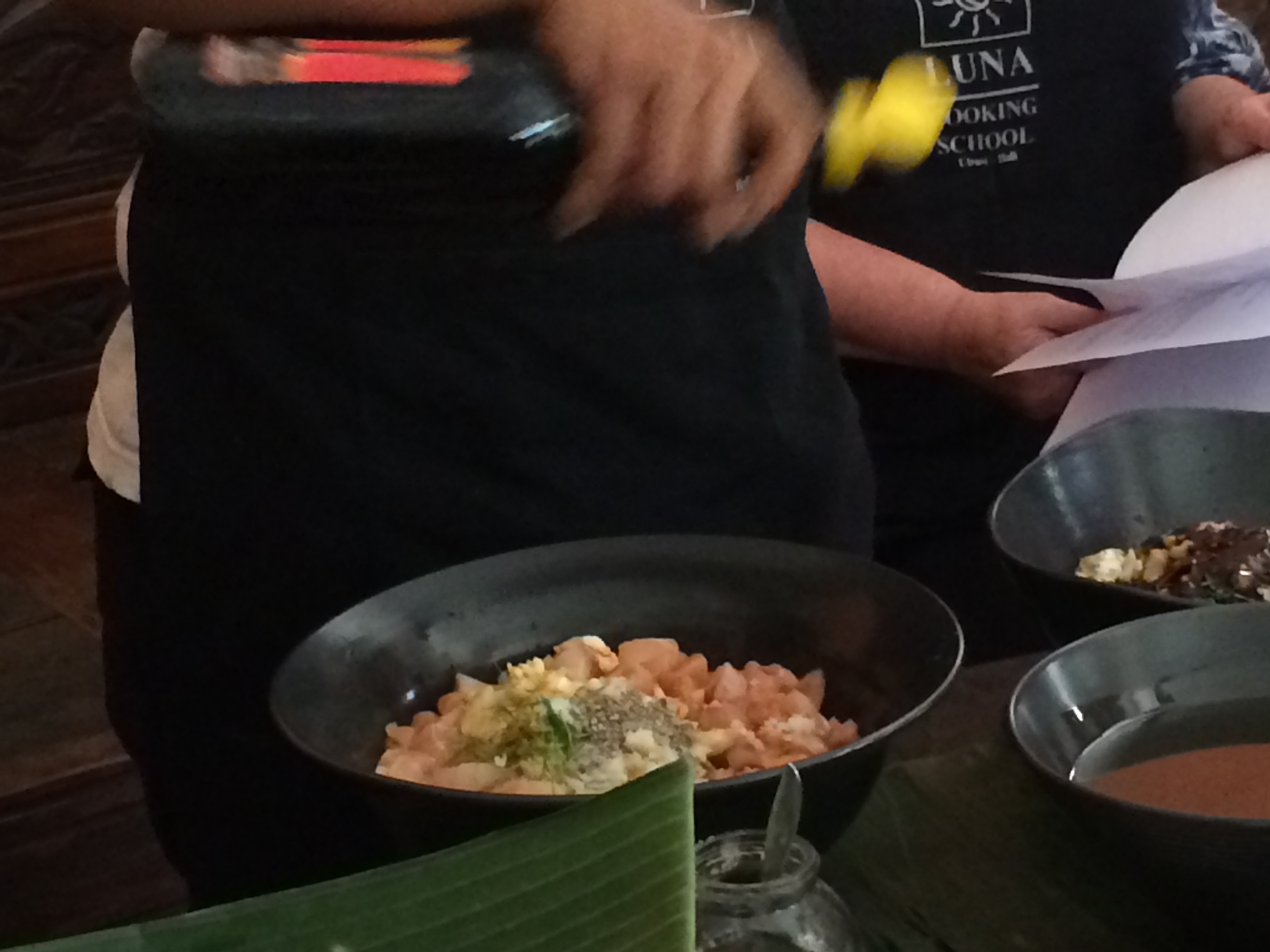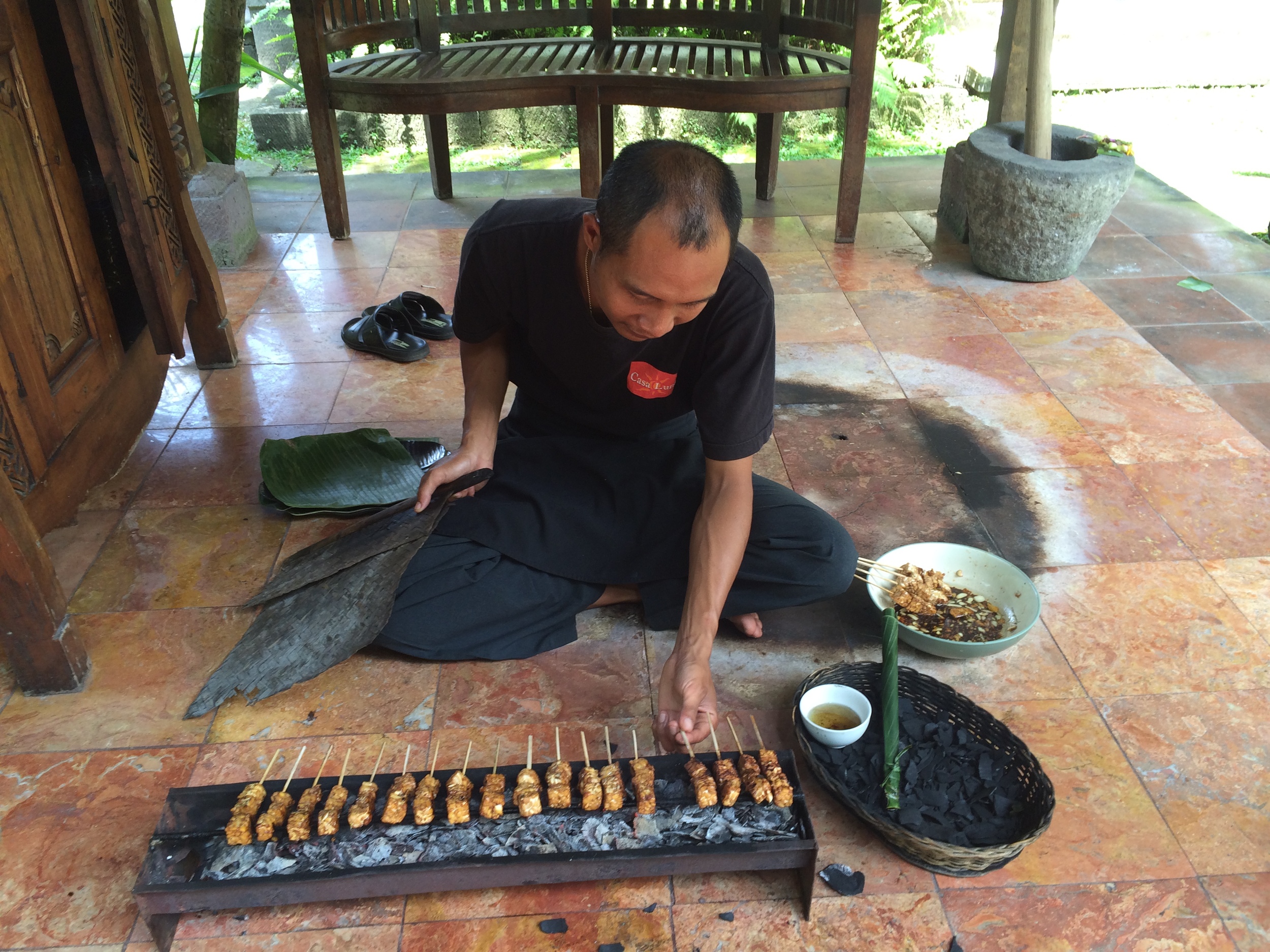 The main attraction for me was the peanut sauce or Bumbu Pecel. This was incredible. It was like Balinese peanut butter and was served both with the chicken satay and with rice crackers (aka Balinese chips and guacamole). I will give you the short run down. It starts with fried peanuts and garlic. These are put into a mortar and pestle and are molded into a crunchy paste. This is then mixed with a chili, onion and tomato paste. To that mixture, you add kecap manis, lime leaves, lime juice, a bit of palm sugar and a bit of warm water. Throw in some sea salt and you've got the most amazing peanut butter ever made.
The next dish was Nasi Goreng or Indonesian Fried Rice. This is Indonesia's most famous dish. The cooking part of the rice was easy, the preparation, however, was very extensive. A lot of ingredients go into this dish to make it so flavorful and delicious. Shallots, garlic, chili, leek, bok choy, cabbage, tomato sauce, kecap manis, fish sauce, light soy sauce, chicken and, obviously, rice. It was amazing how light and healthy this rice tasted. All of the ingredients were so fresh and local (including the chicken!) which made it that much more enjoyable.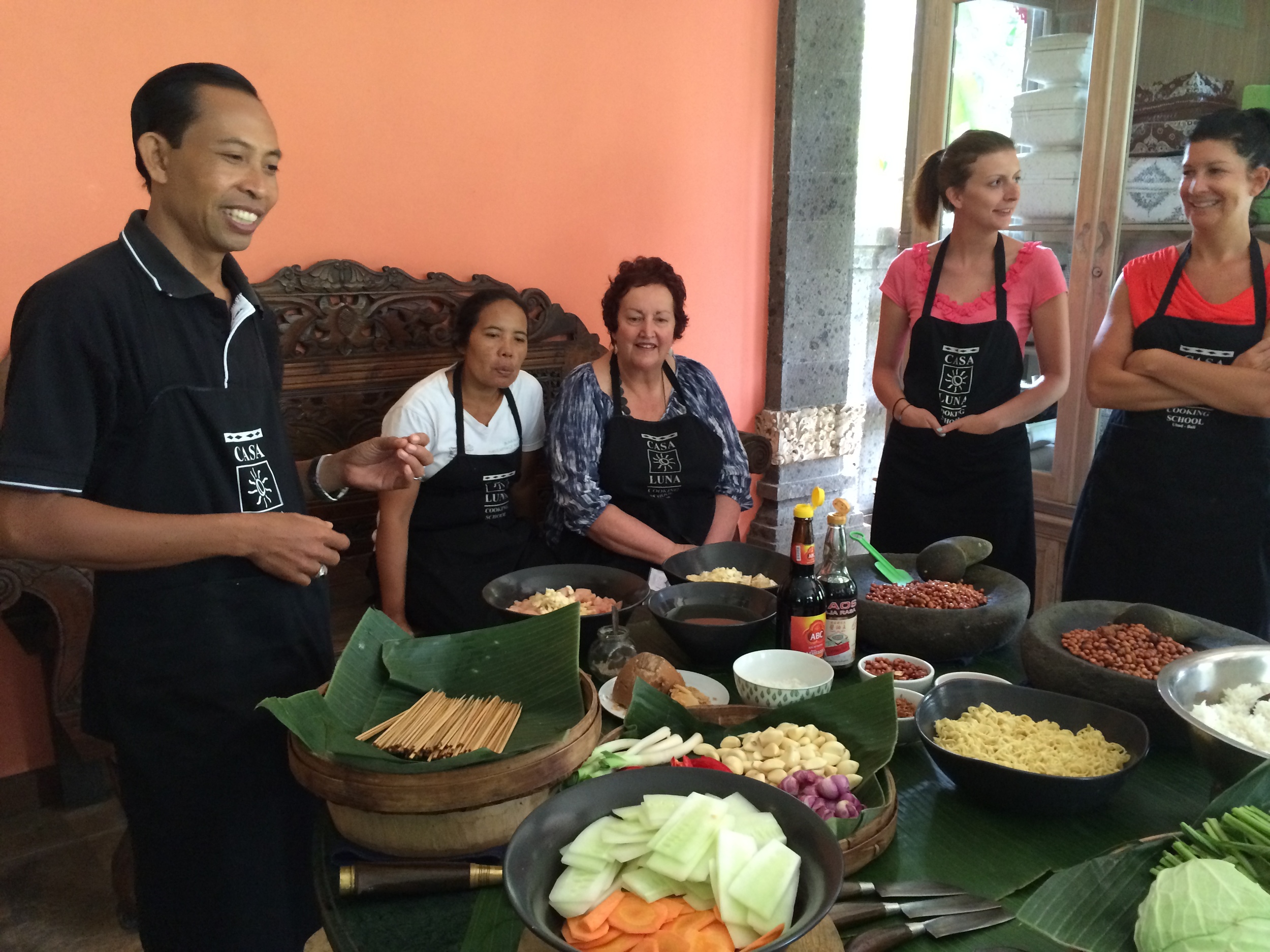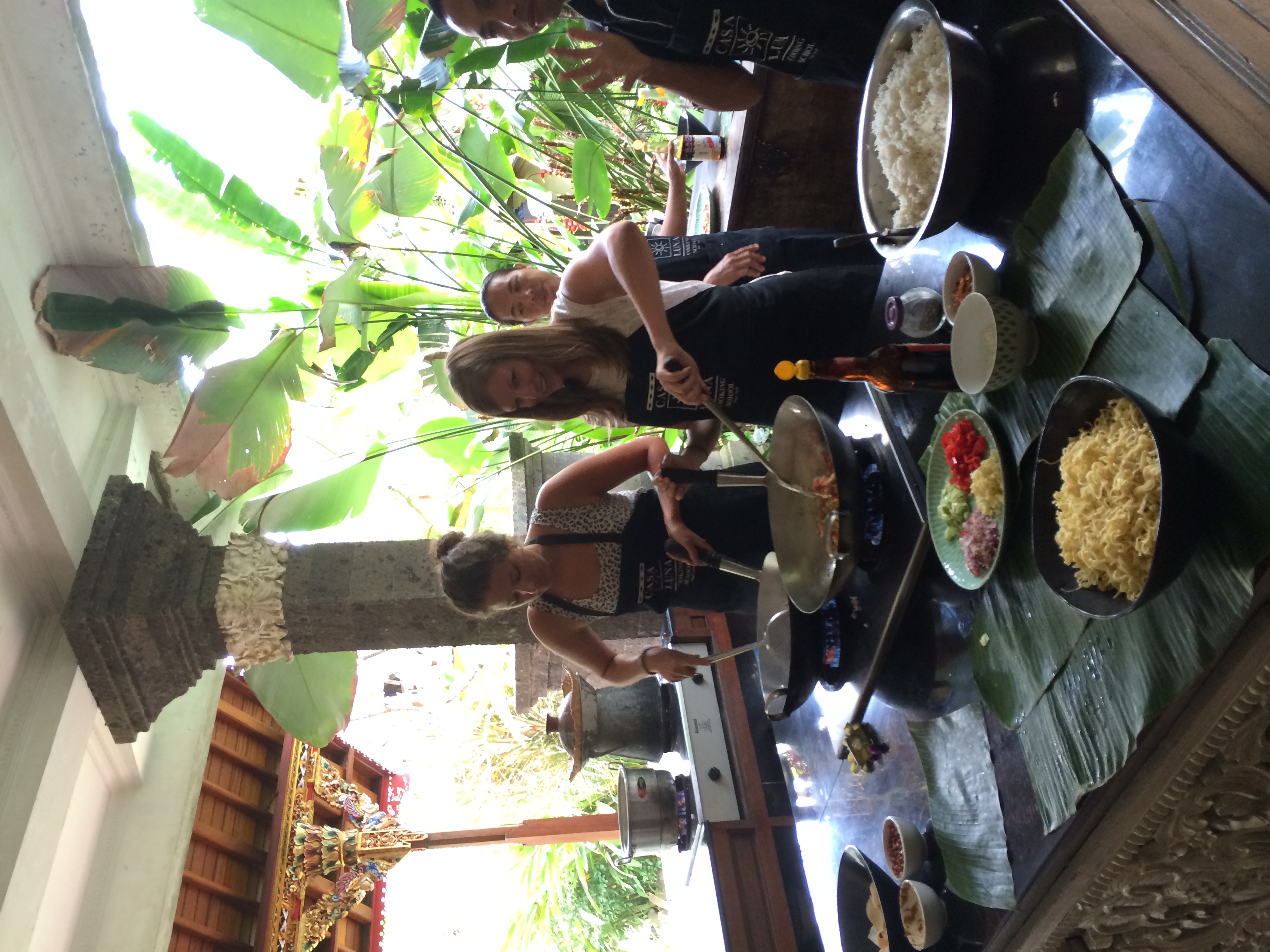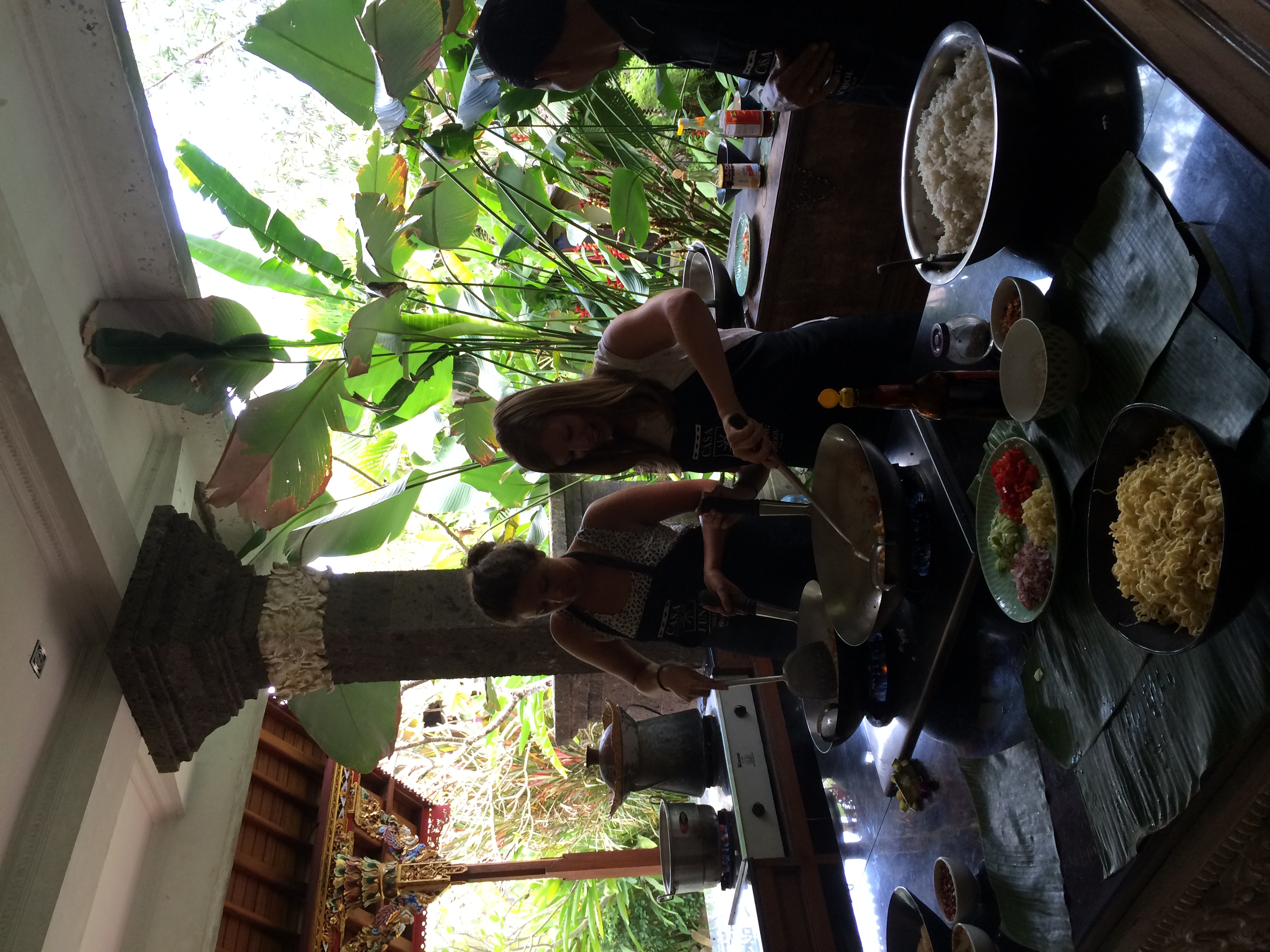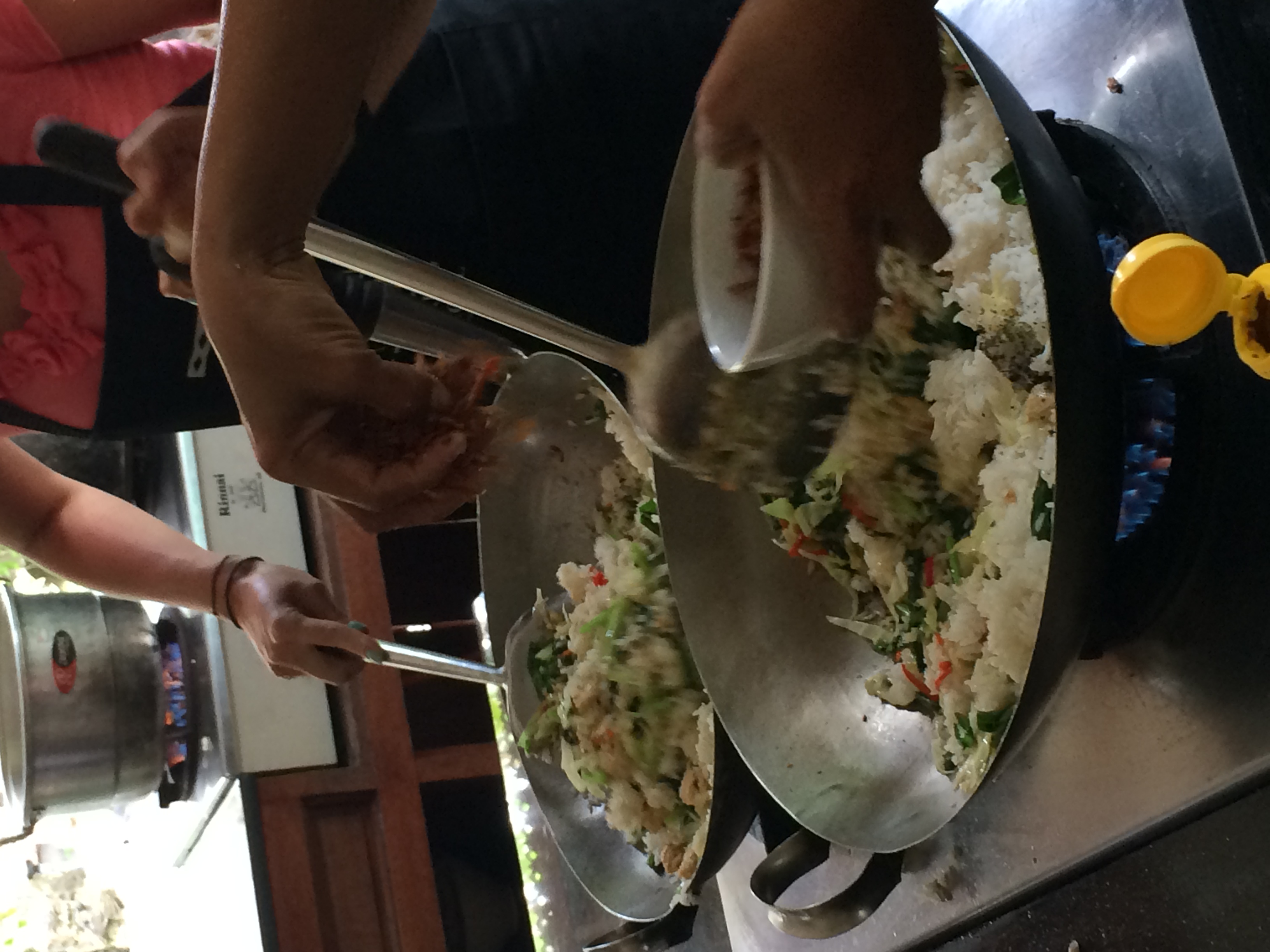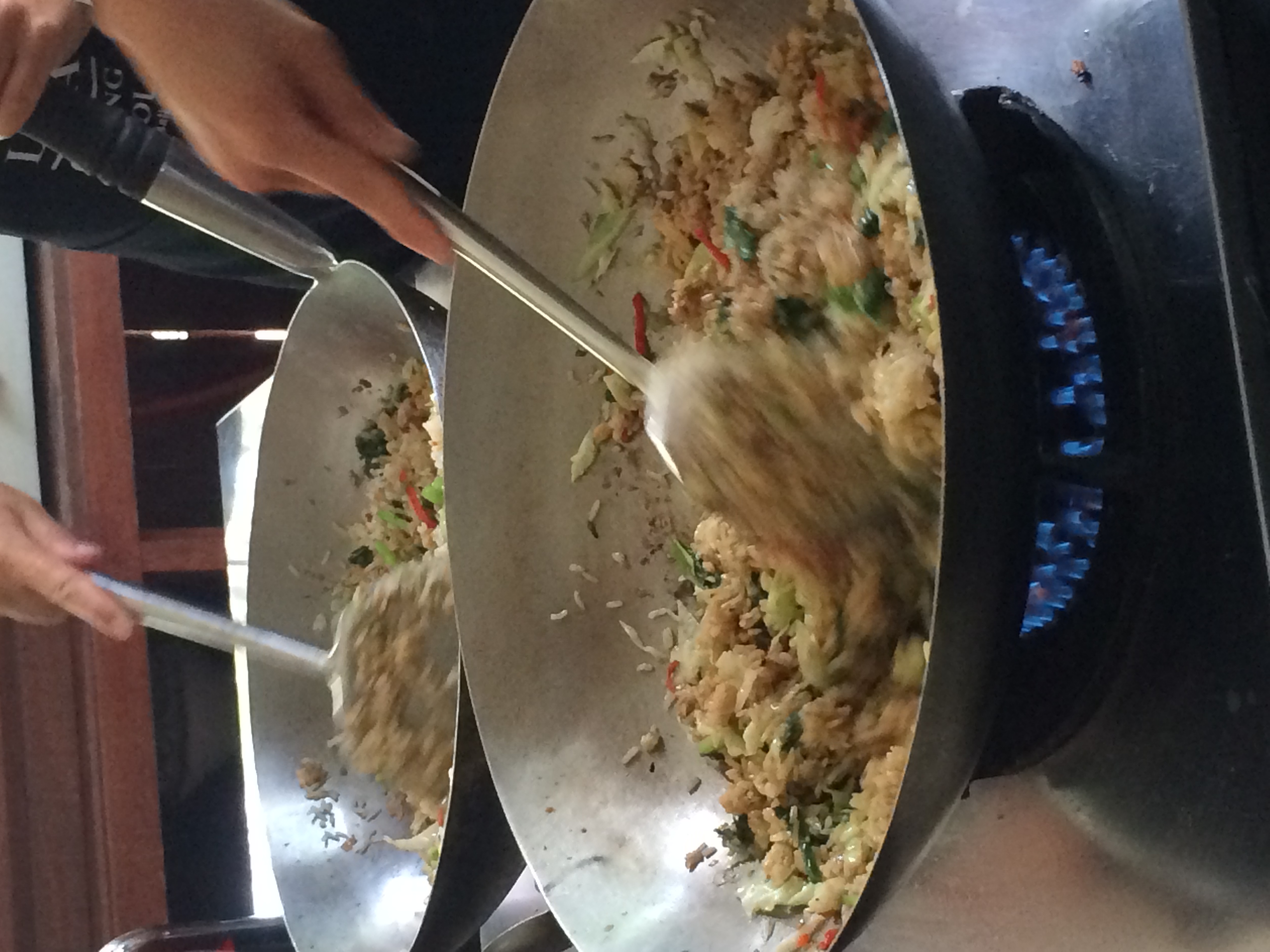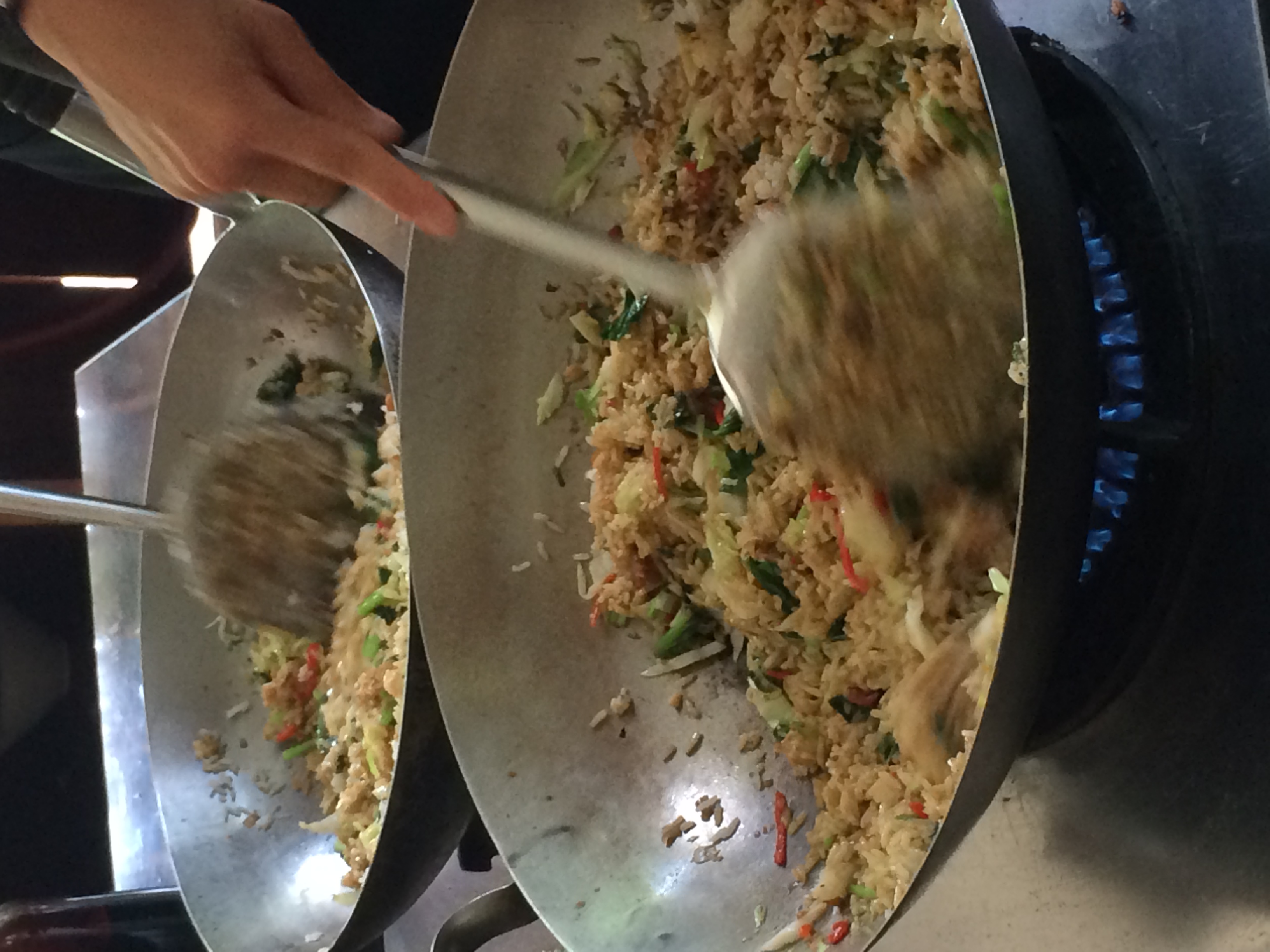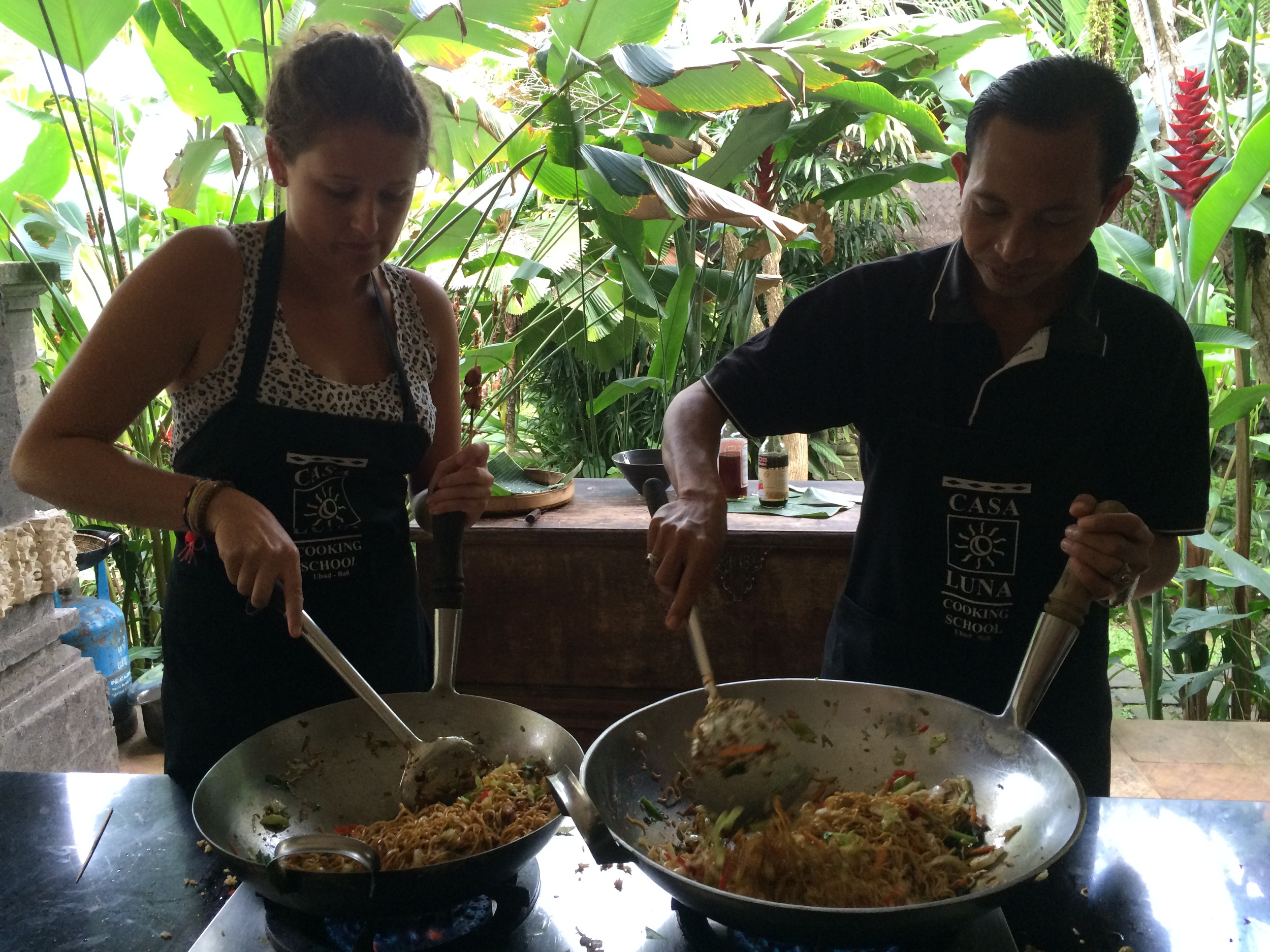 We also had a shredded carrot and cucumber salad which was delicious and super easy to make. It was literally carrot, cucumber, rice vinegar, sugar and sea salt. Voila!
The dessert we made was so simple I'm already thinking of different versions to make when I get to school. It was boiled coconut milk with pineapples and bananas- to that we added some palm sugar, cinnamon, tapioca flour and vanilla. This was served over vanilla ice cream. All of the flavors really complimented each other and it was so easy.
The cooking class was excellent and by far the highlight of my trip so far. I would highly recommend this class to anyone traveling to Ubud! Our teacher was so friendly and I feel like I learned a lot. It was interesting to me that the whole 'farm to table' movement isn't really a concept there because most restaurants are inherently farm to table and don't know any different. I wasn't sure if I would be inspired by the food during my trip to SE Asia but I think there is so much to learn from their simplistic style of cooking. Although I've only explored Singaporian and Balinese food I think that the farm to table concept really translates. It's all about bringing out the best possible flavor in really quality, basic ingredients.