The Butter Queen of Ireland
Hello! It's been a few days since my last blog post so I have lots to catch you up on starting with Wednesday- lecture day. The morning started with the biscuit of the week. These were a series of Tray Bake Squares including lemon drizzle, raspberry and coconut, chocolate and hazelnut, candied orange, blueberry cinnamon and plum with flaked almond. These are so easy to make and you can add your own twist to all of them. Perfect to go along with coffee or for a finger dessert. I'm thinking a rosemary lemon biscuit with a lemon glaze when I make them.
After this short demo, we had a class on how to make homemade butter, yogurt and cheese. This was taught by Darina and Eddie O'Neill, a dairy artisan food specialist. I know I'm starting to sound like a broken record, but this was really awesome. Darina, also known as the Butter Queen of Ireland, talks a lot about teaching 'forgotten skills' (she even has a book on it!) and I feel like I am learning just that. She said 'the craving to learn forgotten skills is a movement.' Every time something is taught that requires a blender or a food processor, she references the fact that not so long ago we didn't have these machines to do all of the work for us so it can be done without them. Exhibit A- BUTTER! Real butter is made from real cream. Full fat thick yummy cream. That's it- no chemicals, no additives and no artificial fats. Of course there is a bit more to it than that, but you can take comfort in the fact that if you are buying real grass fed organic butter there is only one ingredient in it. And now that Time Magazine has confirmed that butter is once again good for us, we can all sleep well at night. Happy tummies, happy times.
After butter we moved onto cottage cheese, ricotta cheese, Labneh and Srikhand. All are made in a very similar way and require a combination of curds and rennet, an enzyme that speeds up the setting process. The curds are then separated from the whey, however, there are various temperature, setting times, etc that determine how the cheese will turn out. We also learned how to make a semi hard Gouda cheese similar to the cheese I made on Monday. This, however, is a bit more complicated and requires a bit more attention and a temperature controlled environment.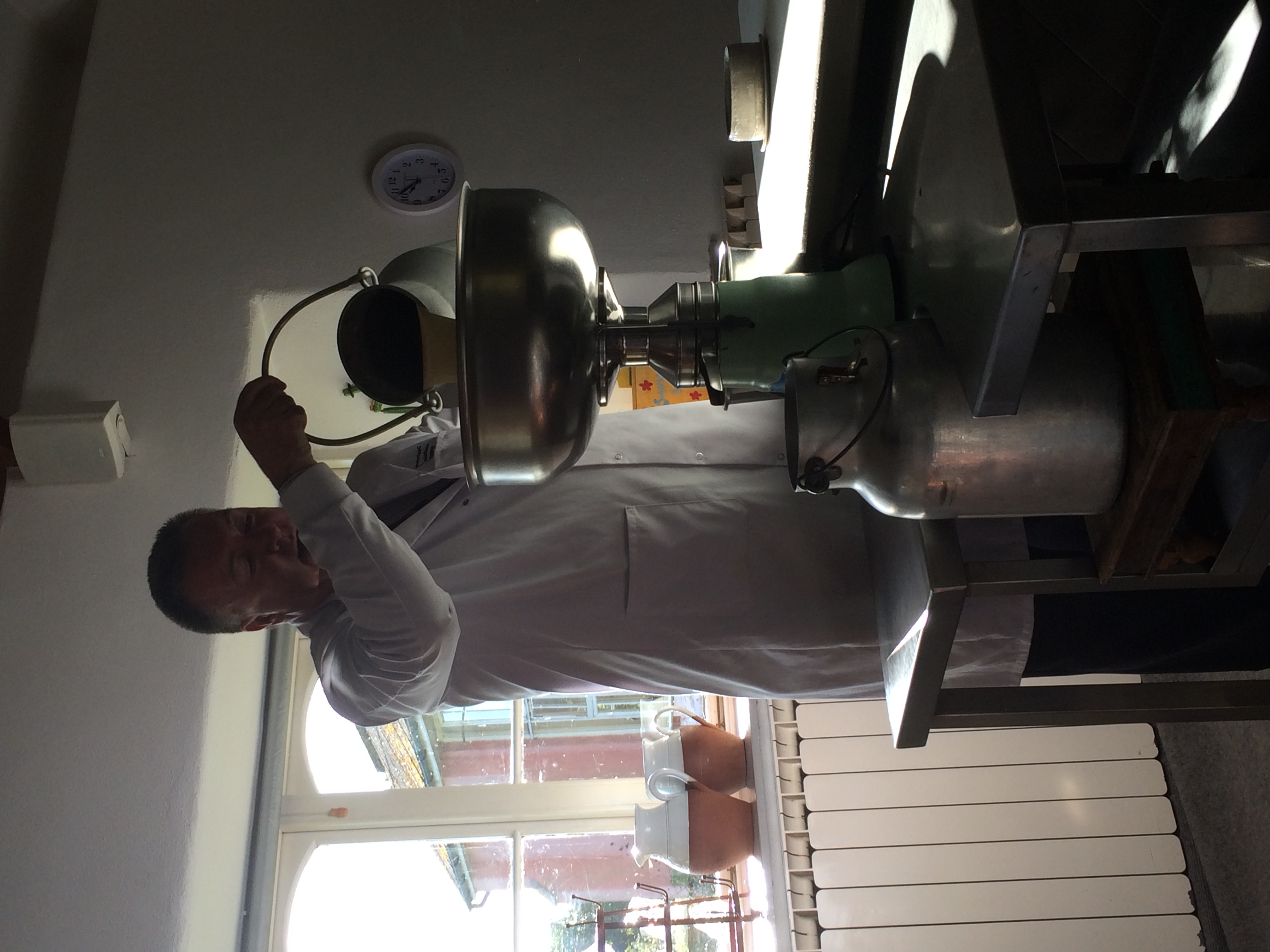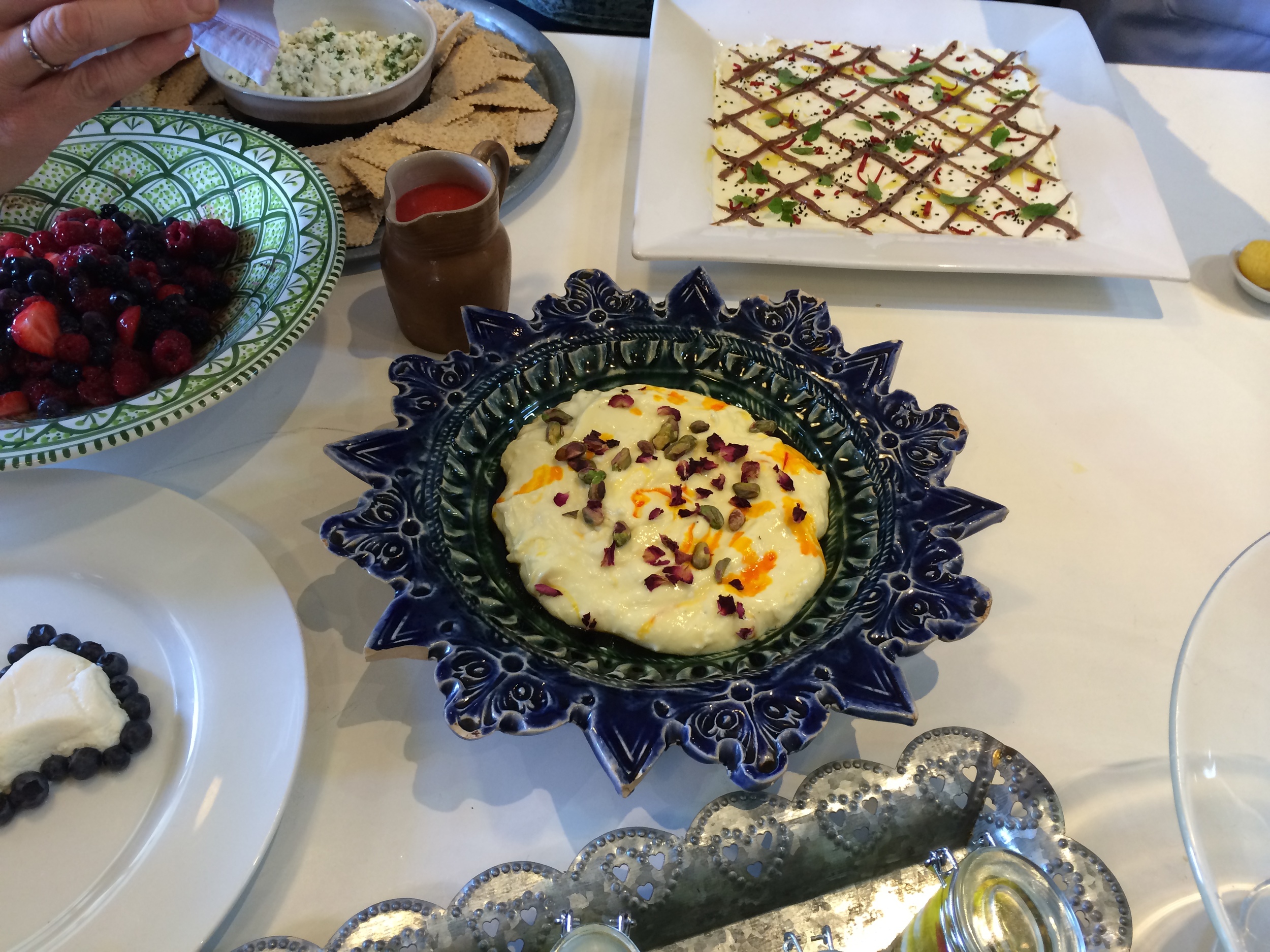 After cheese making we had a lovely group lunch and a break before our second wine lecture that afternoon.
Our wine lecture today was focused on Prosecco and Bordeaux. We started off the class with a glass of Prosecco. A bit of a palette cleanser after our lunch to prepare us for the reds we were about to taste. Prosecco is Italian sparkling wine that is produced from the Prosecco grape (more commonly known by wine buffs at Glera). The grape originated in the Italian village of Prosecco and is produced in both the Veneto and Friuli Venezia Giulia regions of Northern Italy.
A little sparkling wine background for you- you are probably most familiar with Champagne, Prosecco and Cava when it comes to sparkling wines. These all have distinctive characteristics that allow them to be called their respective names. All sparkling wines undergo a secondary fermentation that gives them both flavor and bubbles. Champagne and Cava are both undergo secondary fermentation in the bottle while Prosecco undergoes secondary fermentation in the tank. Champagne, however, only refers to sparkling wines that comes from the Champagne region of France. Cava refers to sparkling wines from Spain (mostly likely Catalonia) produced using the traditional Champagne method.
Back to Prosecco- Prosecco gained popularity for its light, crisp taste and ease of drinking. These wines tend to be inexpensive and less dry than other sparkling wines, therefore, more approachable. Dissimilar to Champagne, Prosecco does not carry the characteristics that allow it to age well with time so should be consumed while the wine is young. It's perfect to serve to guests at the beginning of a dinner or a cocktail party either on its own or in a cocktail. Personally I prefer it on its own or in the form of a Rossini. To make a Rossini, simply put some fresh strawberries in a blender, pour some of the blend into the bottom of a Champagne flute and top with Prosecco!
Moving onto Bordeaux. As I'm sure you're all aware, France is the mother ship of wine. You will be hard pressed to really understand anything about wine until you understand French wine. Bordeaux is the largest wine growing area in France. The main red grape varieties grown here are Cabernet Sauvignon, Cabernet Franc, Merlot, Malbec, Petit Verdot and Carmenere. The main white grape varieties grown are Semillon, Sauvignon, Ugni Blanc, Muscadelle and Colombard. Red Bordeaux's tend to be blends of wine with Merlot and Cabernet Sauvignon being the dominant grapes in the blend (so think before you say you don't like Merlot!), while Semillon and Sauvignon tend to dominate the White Bordeaux wines. The main reason for the popularity of Bordeaux is it's perfect environment for growing wine. The Gironde Estuary runs through Bordeaux separating the left and right bank and giving way to the 'entre -deux-meres' region. The estuary separates into the Garonne and the Dordogne rivers providing excellent vegetation and irrigation for the soil and giving Bordeaux it's oceanic climate. Cabernet Sauvignon tends to dominate the left bank while Merlot dominates the right bank.
The Red Bordeaux that we tasted today was 60% Cabernet Sauvignon, 25% Merlot and 15% Cabernet Franc. Cabernet Franc is known as the little sister to Cabernet Sauvignon. It's usually added to make the wine a bit lighter and more balanced in flavor. Colm decanted the Red Bordeaux in a decanter called the Riedel Eve. Apparently there are only two in Ireland. How pretty is it?!
The primary reasons for decanting a wine are to add more air and fast track the aging/softening of the wine or to get rid of sediment from a rather aged wine. Decanters are very helpful because they gets air to all of the wine. When you open a bottle and let it sit to breathe, this is only getting air to the top of the wine. The purpose of this Riedel Eve is that it gives what is known as a double decant. Many young wines can benefit from this. Not only are you aerating the wine but pouring it out of the bottle and into a decanter, but you actually have to turn the decanter for each pout which is bringing more air and softness into the wine. If any of you are looking for a Christmas gift for me- hint, hint ;)
That concludes our wine lesson for today. Feel free to send any questions you might have my way- it was sort of an information overload!
See below for pictures and tips and some epic Darina quotes from today's lecture. Cheers!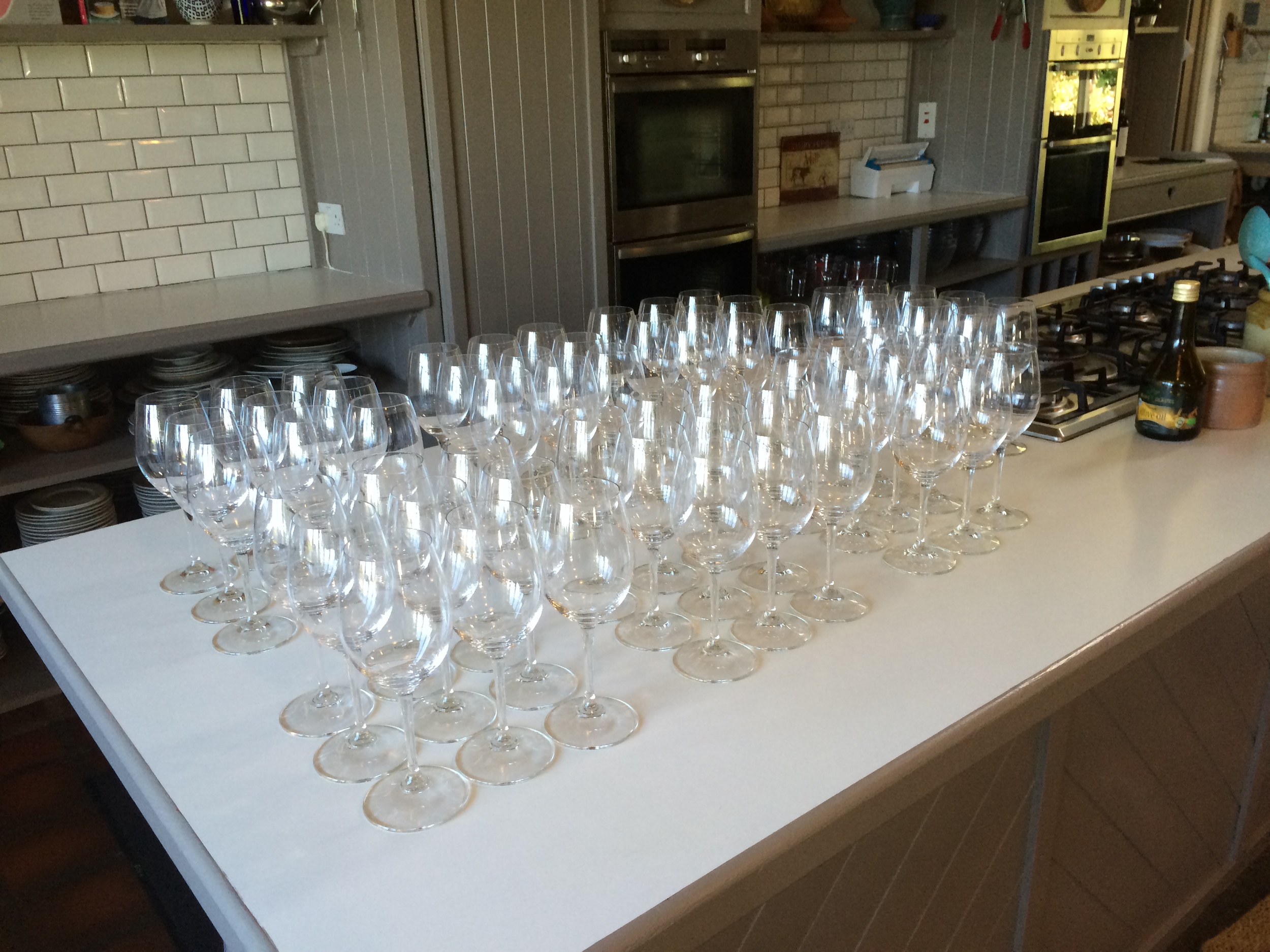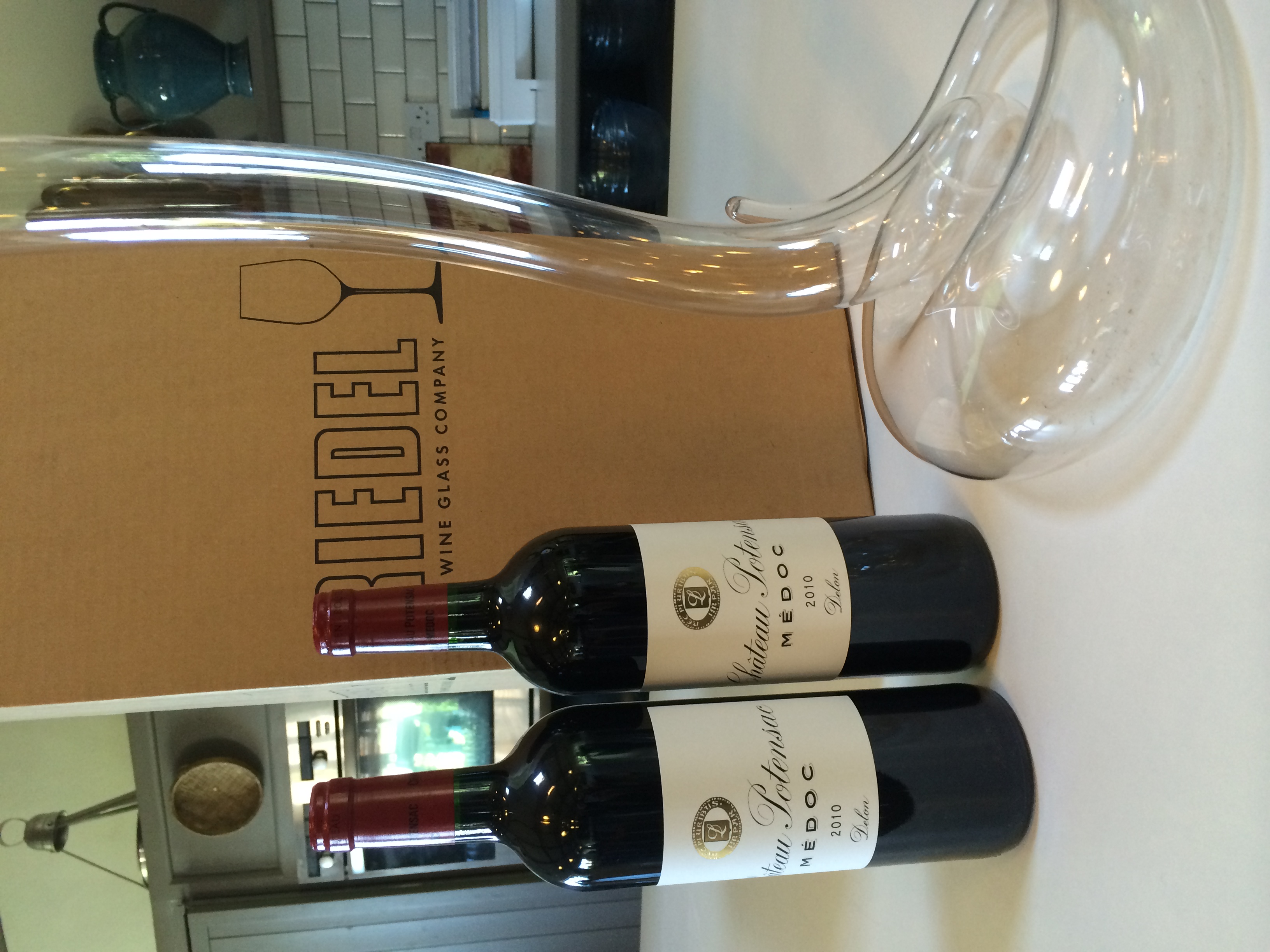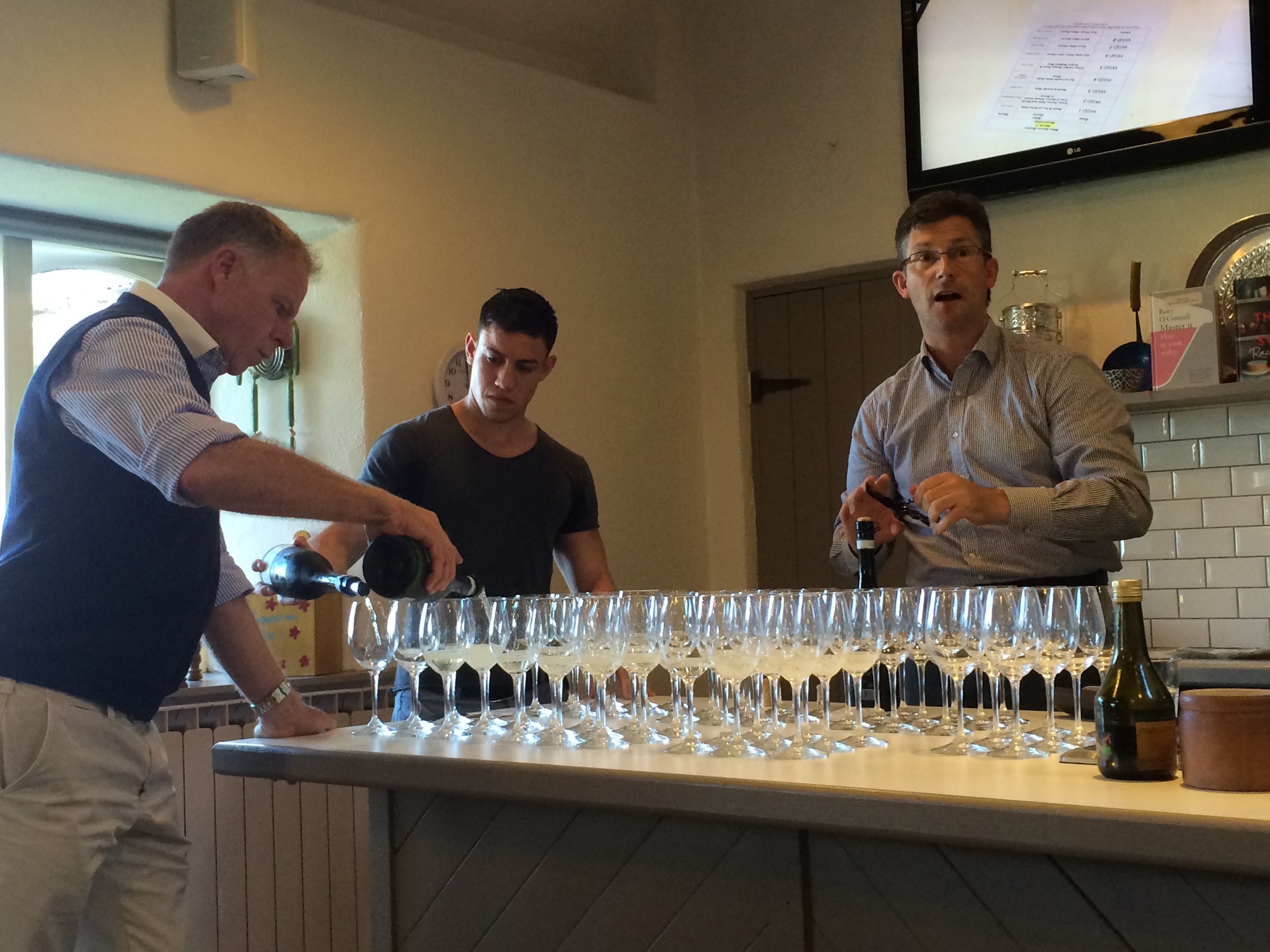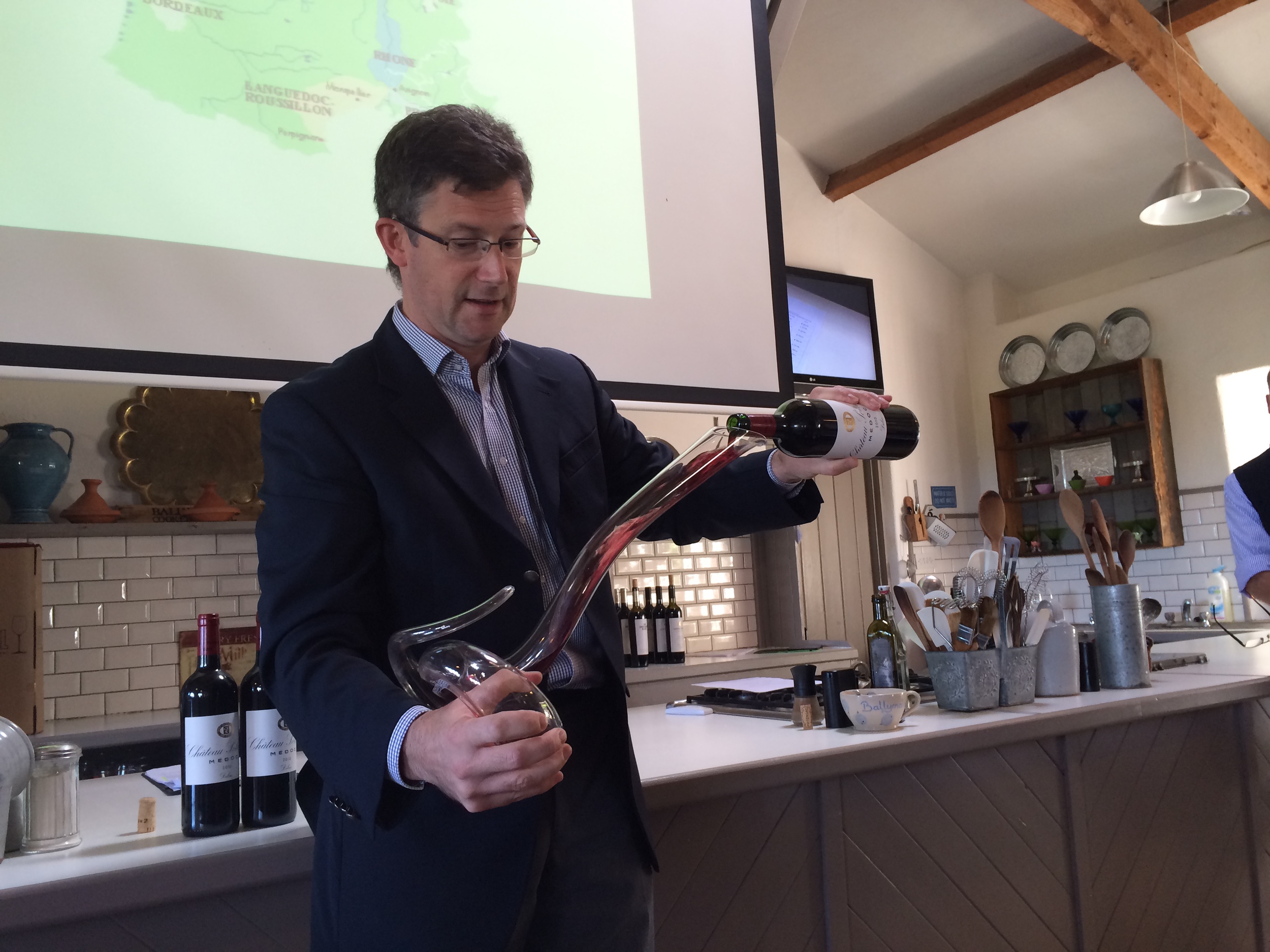 Tips on butter, yogurt, cheese and wine, oh my!
-Do not put butter in your fridge uncovered because it picks up all the flavors in the fridge
-Butter is back! Check out Darina's blog post on butter.
-Bacteria is not a bad thing! In one tsp of yogurt there are approximately 50,000,000,000 bacteria. When you eat yogurt, your stomach kills about half of them. Real yogurt is one of the safest food products you can eat.
-The bacteria in your cheese is hugely responsible for the taste
-It is best to serve cheese on a wooden board because it is completely natural, easy to clean, soaks up moisture and allows the cheese to breathe.
-Old World wine refers to Europe. New World wine refers to all other regions. South Africa is the oldest of the New World wine countries.
-When serving Prosecco, freeze cranberries or another type of berry to put in the prosecco. This will act as ice to keep the drink cold without diluting it, and looks lovely!
-The primary reasons for decanting a wine are to add more air and fast track the aging/softening of the wine or to get rid of sediment from a rather aged wine.
Quotes from the Butter Queen:
Remember the charm of freshness. Sometimes the beauty of food gets lost along the way.
It's important that your menu reflects the season.
The craving to learn forgotten skills is a movement
How disconnected we've become from the way food is produced.
My heart sinks in despair at the quality of yogurt products in Irish super market shelves